If you want to download Skype Installer in 2021, the latest version is 8.74.0.152 for Windows desktop PC. An exclusive build 15.72.94.0 is also available from the Windows 10 App store for mobile and ARM-based devices. The old version, Skype Classic, has been discontinued, and Microsoft is compelling all users to upgrade to the Skype 8 to continue using the app. Currently, a Skype offline installer is available on Windows, macOS, and Linux desktop systems. The UI of Skype 8.74 is like a responsive web app- it is feature-rich and offers a similar design and facilities on all compatible devices.
Download Skype 8 offline installer for Windows PC
The initial response for Skype 8 was negative when Microsoft pushed the first Windows version in 2018. Not the change in UI but removing existing features and forcing users to download a half-baked release was unacceptable. Thanks to the negative customer feedback, Microsoft now ships Skype 8 with all functional aspects of Skype Classic minus the design.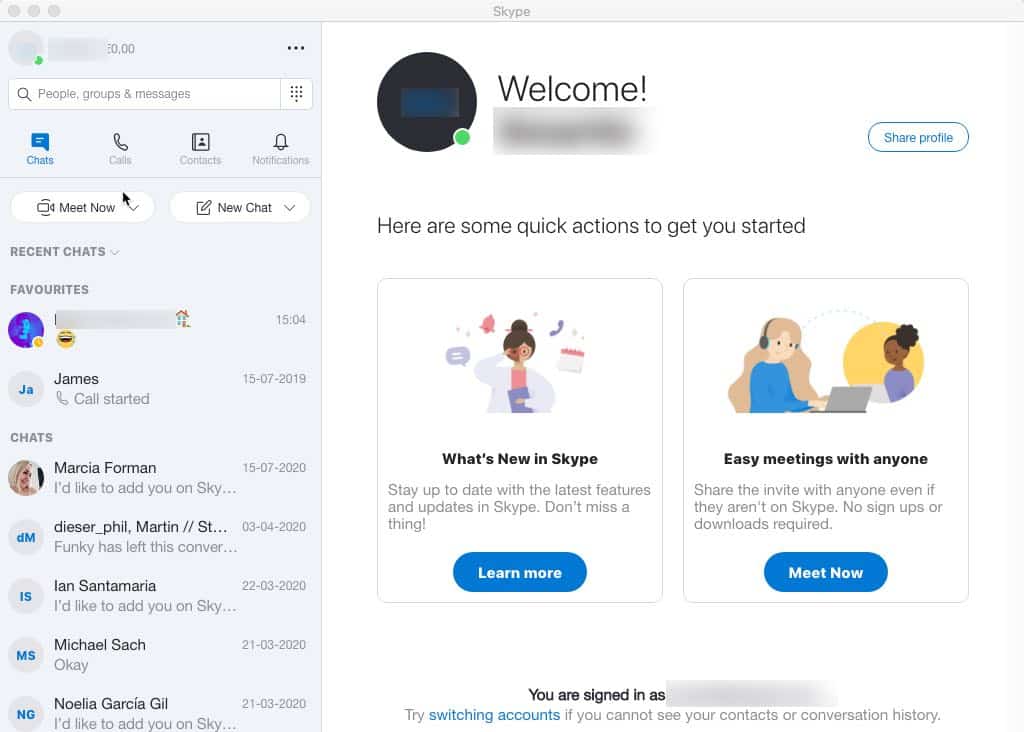 Coming to downloading Skype for Windows, you have multiple options depending on your requirement. The new standalone Skype 8 installer is compatible with Windows 7, Windows 8, and Windows 10. If you already have Skype installed your PC, you may rely on the update process to download Skype 8. Otherwise, click on the direct link below.
Download Skype 8.74.0.152 full installer here
Apart from this, Microsoft also has a Windows10 only version of Skype 15.72 in their App store [LINK]. Customers need a Windows Store credential for downloading this version of Skype. When Microsoft launched Skype 8, they wanted to push the Store version instead of the offline installer. However, this requirement got removed after a few weeks.
Related:Get a browser that pays for browsing the web- Brave Offline installer
Where is the download link for Skype 64-bit?
You don't need a 64-bit Skype as most of its functions operate smoothly under a 32-bit PC configuration. If you need to Skype for large-scale group video calls and meetings, consider subscribing to Skype for Business, which offers a 64-bit installer.
Skype 8 portable for Windows
Computer admins usually prevent students from installing third-party programs in colleges and schools. Instant messaging apps like Skype is generally in the block list. If you are facing this problem, you may download Skype portable, and carry in it on a USB disk.
Skype MSI (8.74) standalone setup, download here
Finally, Microsoft has released the MSI version of Skype for Windows. The Skype 8 MSI is also an offline installer of the application, generally used by network administrators. With the launch of Skype MSI Installer, it is now easy for admins to install and update Skype on a network of computers under their control.
Skype Classic for Windows
Skype Classic, the previous edition of Skype is no longer supported by Microsoft, the download link has also been removed from the official website. Microsoft has disabled all means to login to Skype Classic- so now its worthless to download the application on Windows platform. However, if you are interested, you may visit our page discussing old classic version of the Skype.
Get Skype 8.75 beta [preview] for Windows, here
Skype Preview program is designed to push the beta builds of the Skype app to the developers. Dev community helps Skype programmers to polish the app and fix bugs before its launch to the mainstream users. Regular users may also download Skype preview 8.75 if they would like to test new feature additions before it is publicly available. Some features of Skype Preview may not work if the person on the other side is not using the same build.  Also, there may be security issues with Skype preview builds, but it is rarely reported.
Download Skype for Business Windows (32-bit or 64-bit), here.
Skype for business is a special edition of the IM with more advanced tools that are useful for enterprise customers. Microsoft had a product called Lync until 2015, until Skype for business replaced it, by combining the best of two software. Elements of Skype for Business is tightly integrated with Office tools like OneDrive, PowerPoint, Outlook, etc. The application allows clients to do online meetings with hundreds of users at the same and supports full HD video calls, screen sharing, or to do collaboration work. However, the features of Skype for business on Windows depends on whether you are subscribed of Office 365 or not.
Although there are limitations, the basic version of Skype Business for Windows also supports audio/video calls and small-scale meetings.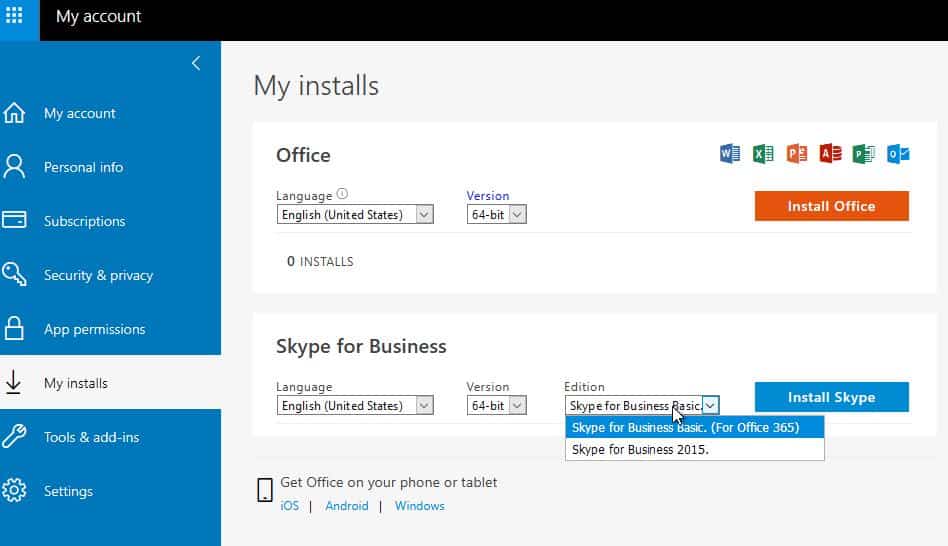 Sign-in to the Microsoft online portal with your business account to download the version you need. As shown in the screenshot, you can download Skype for Business 2015 or the basic edition for Office 365. Skype for Business is available for both 64-bit and 32-bit Windows editions.
There won't be any major release for this app in 2021 as Microsoft is migrating all it's features to the Teams app, which would eventually replace Skype for Enterprise. It is possible to download and upgrade to MS Teams right now by logging into the Office portal, but it is not easy to go back and downgrade if you proceed.
Install Skype on Windows 10 without app store or Microsoft account
Sometimes, on Windows 10, Skype shows an error message, " Please install Skype from the Windows store for the best experience." The Skype offline installer that you download from the link above won't work. Instead, it quits and opens the Windows Store page listing the Skype app. Check the video below to fix this error and make the Skype setup file working.
Microsoft wants customers to use the Windows Updates or the Store to get Skype on Windows 10. However, as in the case of Google Chrome, offline installation is more useful for a person who wants to run Skype on multiple machines; for example, a system admin.
If you see the dialogue box saying to install Skype from Store on Windows 10, just close it.
Download the Skype full installer 8.74 (link above) and save it to the desktop.
To install Skype offline, right-click on the installer and select Properties. Click on the Compatibility tab and find the Compatibility Mode section.
Choose to run Skype on compatibility for Windows 8 as shown in the image and save.
Restart the installation.
Now you would be able to run Skype for Windows 8.74.0.152 without using a Microsoft account.
Skype 8 for other platforms
The good thing about Skype nowadays is that it gets equal attention on all desktop and mobile platforms. Skype is now one of the best IM apps in Linux operating system like Ubuntu; that is a good sign. Check below if you wish to get a copy of Skype on Windows alternatives.
Download Skype for Mac
 Skype 8 for Linux: Download Deb, RPM installers or alternately if you are using Ubuntu, try SNAP for installation.
Apple iOS and Android mobile users may directly search the respective App Stores to get the Skype 8, Skype for Business, Skype Preview and  Skype Lite (version designed for a low-speed network).
Advantages of the latest Skype 8 for Windows
Skype 8 follows a fresh and flat design concept. Most of the UI elements are the same across mobile and desktop versions.
The re-design is more mobile-focused and modern. It offers quick access to contacts, chats, and calls.
Skype 8 brings a new notification tab for updates and alerts with the app.
Users have the option to customise their Skype colour and theme soon after installation.
Option to send larger files and documents up-to 300 MB.
Skype 8 adds several tweaks to the messenger tab. The one I like most is the Gallery, which stores all your media files.
The option to quote, forward, and react to chats, share the location, insert GIFs from third-party services, get read receipts, etc. are new for Skype.
Skype's USP is the group calling and messaging. In version 8.0, you get 1080p HD video support for calls, for up to 25 people. You can also create meetings with "Meet Now" feature, and welcome others join the meeting by sharing a link.
Moderated groups feature has been introduced — admin can ban users or change their roles. Participants in a group chat now have the option to use @ to mention specific contacts. It is also possible to generate group invite links.
Skype 8 has end-to-end encryption to make your calls and chats more secure. Call recording, subtitles, and the option to share screen on mobile and web is also useful.
For Skype a video calls, you can now blur your background, or change it images of your choice, just like Zoom. This feature is called Skype backgrounds.
Disadvantage of the new Skype 8 for Windows
The Skype team keeps on adding new and innovative features in every release of application. So except for the design, which some people dislike, everything is positive about Skype 8.