Skype has two desktop builds for Windows PC as of 2022. One is a standalone version Skype 8.89.0.403, compatible with Windows 7 and higher. Then there is an exclusive build, Skype 15.89.403.0, available in the Microsoft Store for Windows 10 & 11. The new Skype 8.89 has a similar design and features across all it's desktop builds. The old version, Skype Classic, has been discontinued, and Microsoft now requires all users to upgrade to the Skype 8 to continue using the app.
How to download Skype installer for Windows (8.89)
We wrote this article when Microsoft only provided an online installer for Skype. At that point, customers had to rely on the Windows store to download and install Skype updates. The move was causing displeasure among users looking for an offline Skype installer, so we provided a solution on our site. However, the company subsequently changed that model; now, everyone can download Skype directly as a full installer from the Microsoft website.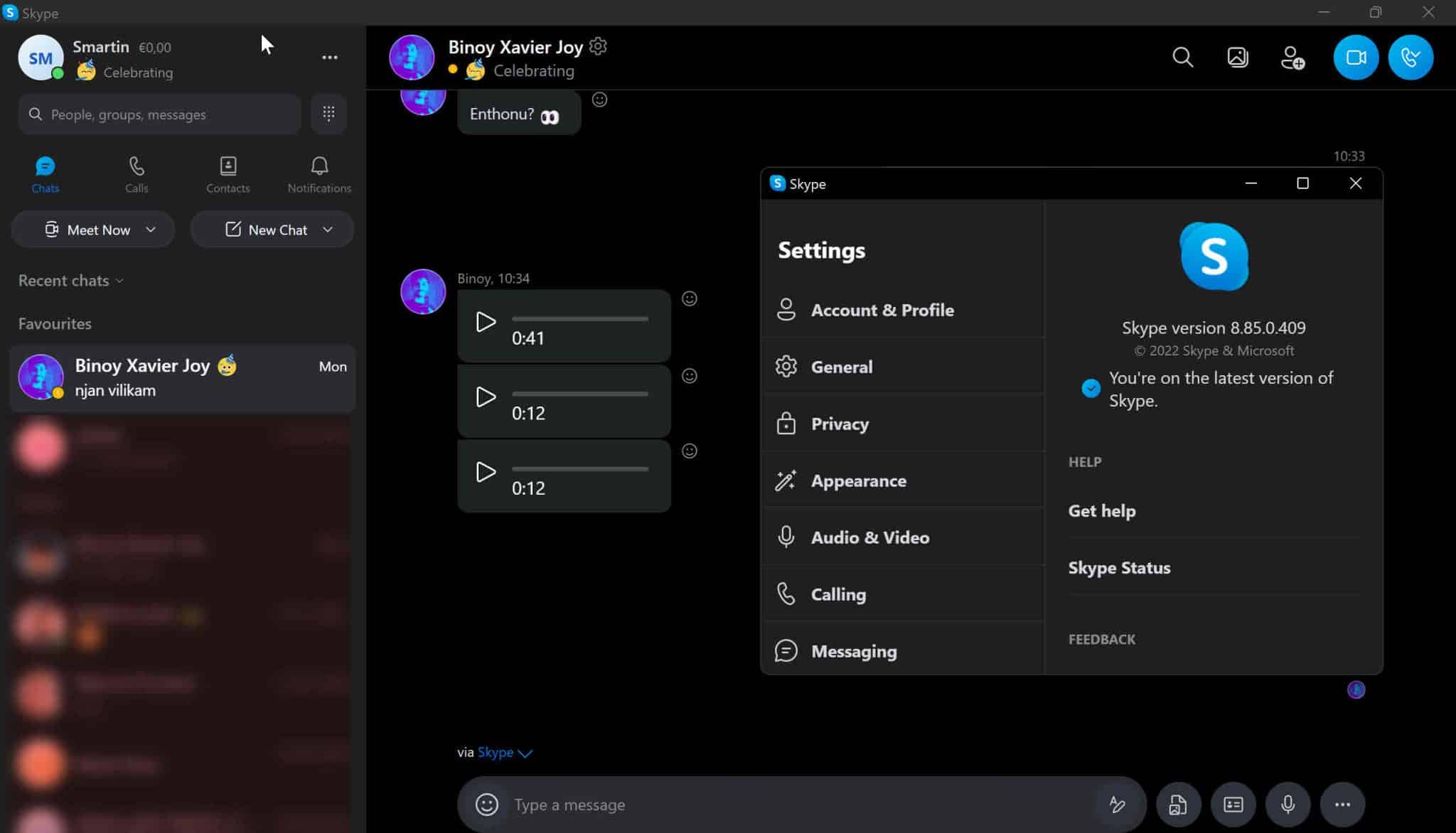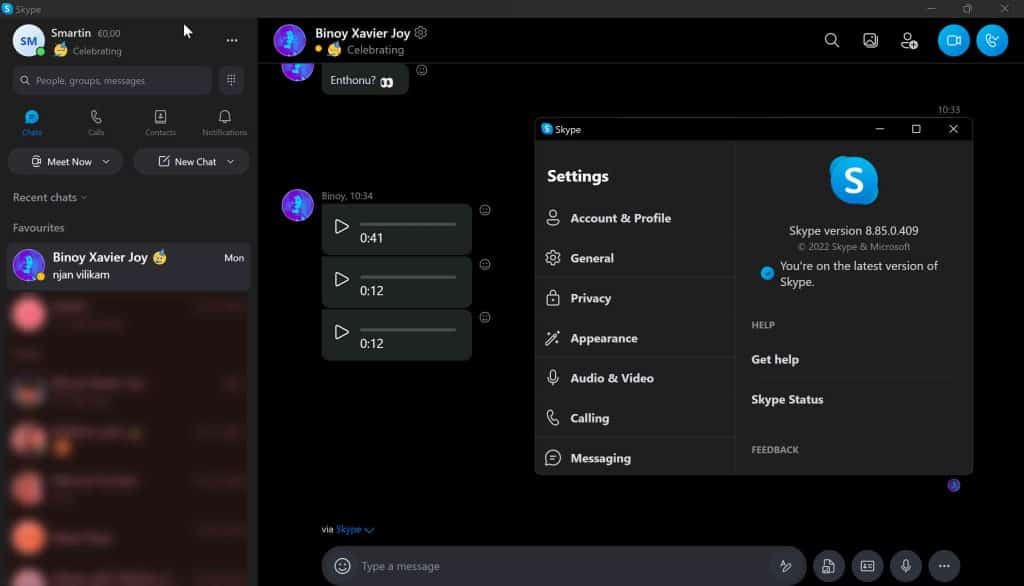 Click one of the following links or type in that URL on your browser's address bar to download the Skype offline installer directly from Microsoft. We provide links to both stable and beta versions of Skype, and these links always get you the latest edition of Skype for Windows regardless of the version number we have mentioned below.
How to download Skype 15 Offline Installer (Microsoft Store)
There isn't much difference between Skype for desktop 8.89 and Skype app for Windows 15.89.403.0 available in the Microsoft Store. The Skype 15 app is for Windows 10 & 11 PCs and tablets. Typically, one must sign in to the Store to download this version of Skype. However, those who cannot get Skype 15 from the Store may follow this method to get an offline installer for Skype (Appx/AppxBundle/Msixbundle) from Microsoft servers.
Get the official Microsoft Store link for the Skype app

Click on this link to open the Skype app listing in Windows Store. Now copy the URL to the listing from the browser.

Extract the download link for Skype appxbundle/msixbundle file using a third-party website.

Now open this website and paste the Skype's App Store link on the box as shown in the image. Then select the Retail channel and press the tick button.

Find the Skype app's full offline installer file and download it

It's a bit tricky to find the download link for Skype 15.89.403.0 from the file list. It should start with Microsoft.SkypeApp and ends with an extension something like .appxbundle or .msixbundle.

Download Skype 15 for Windows 10/11 without Microsoft Store.

Once you find the web link for the latest version of the Skype 15 app, right-click on that link and use a download manager like IDM to save it to your Windows PC or tablet.
After download, you can double-click on the file to install Skype as usual. Since it is an offline installer of Skype 15 for Windows, you can transfer it to any Windows 11/Windows 10 PC and proceed without app store access.
Download Skype 8 portable for Windows
Using Skype and other social media platforms is not allowed in some schools and colleges. Hence, the network admins put rules that block the induction of additional programs in the systems owned by the institution. Skype for the web is an alternative when the system admin doesn't allow you to install the desktop version.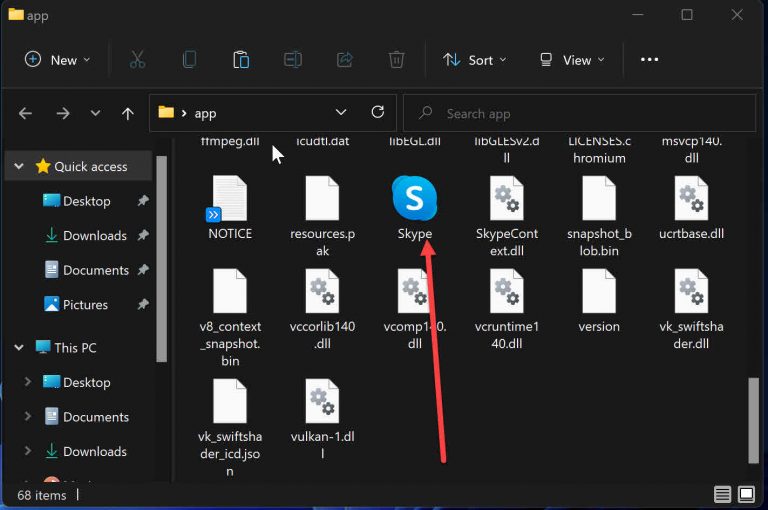 However, if that is even blocked, try downloading Skype portable. The portable Skype installer is also an offline version of Skype for Windows developed by third-party developers by making certain modifications to the installation process. It comes as an archive with Skype files inside it. You can click on the Skype icon inside extracted Skype portable folder to open and run it – no installation is needed.
Download Skype MSI (8.89) for Windows
The Skype 8 MSI edition is also a full-size and standalone version of the application, generally used by network administrators. Microsoft hadn't launched the .msi version of Skype 8 when they announced the new software to replace the Skype Classic version. With the introduction of the official Skype MSI Installer, it is now easy for admins to install, repair and update Skype on a network of computers under their control.
The Skype 8 MSI edition is also a full-size and standalone version of the application, but you don't need it in most situations unless you manage many systems running Skype.
Download Skype Classic for Windows
Skype Classic, the previous edition of Skype is no longer supported by Microsoft, the download link has also been removed from the official website. Microsoft has disabled all means to login to Skype Classic- so now its worthless to download the application on Windows platform.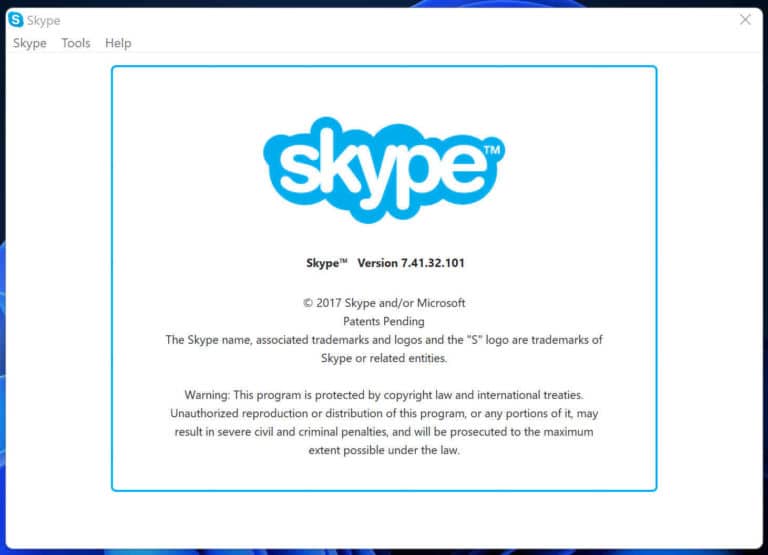 However, if you are interested, you may visit our page discussing old classic version of the Skype.
Download Skype for Business Windows (32-bit or 64-bit)
Sign in to the Microsoft online portal with your Office 365 business account to download the Skype version you need. As shown in the screenshot, you can download Skype for Business 2015 or the basic edition for Office 365. Skype for Business is available for both 64-bit and 32-bit Windows editions.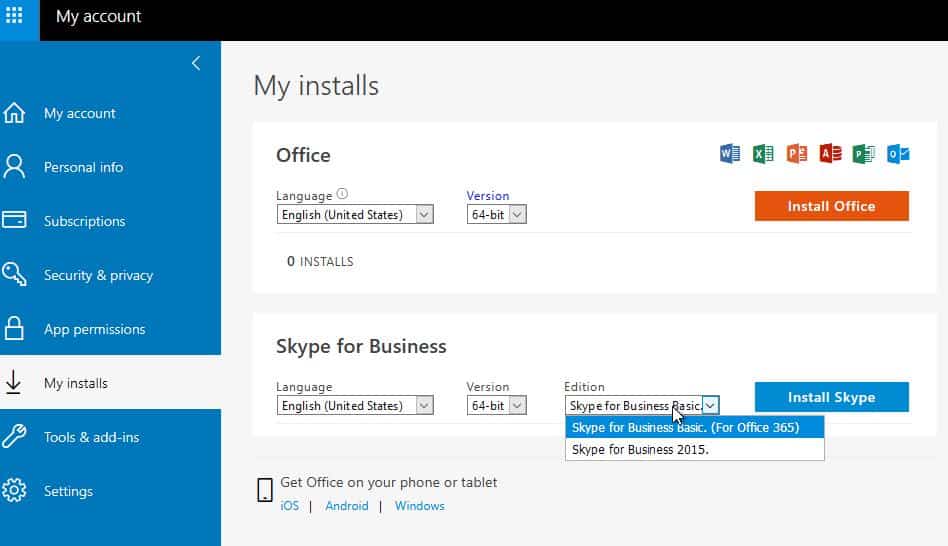 There isn't any major release for this app in 2022 as Microsoft is migrating all its features to the Teams app, which would eventually replace Skype for Enterprise. It is possible to download and upgrade to MS Teams right now by logging into the Office portal, but it is not easy to go back and downgrade if you proceed.
How to download Skype installer- FAQs
Where to find the latest feature changes in Skype for Windows?
You can refer the official changelog portal to read what's new in Skype 8/15 for Windows.
Can I install Skype on Windows 11/10 without a Microsoft Store account?
If you cannot download or sign in to the Microsoft store for some reason, you can download the offline installer listed above. It doesn't require logging into the Windows Store for installation.
How to get Skype installer in 64-bit format?
Unfortunately, you can't download Skype for Windows in the 64-bit format as Microsoft doesn't provide that installer. Upgrade to MS Teams if your requirement is large-scale video calls that need higher memory resources.
Where can I download Skype for Business offline installer (Windows)?
There is a specific page on the Microsoft website for downloading Skype for Business 2015 basic version. Sign in to Microsoft online or the Office admin website (mentioned above) for other variants.
How to download Skype desktop installer for MacOS and Linux?
Skype has macOS (DMG) and Linux (DEB & RPM) versions. In Ubuntu systems you can install it using SNAP.
Can I use Skype Classic old edition now?
Skype Classic is officially dead- you can't download it from Microsoft nor use it on any Windows platform.
What is the difference between Skype for desktop and Skype app for Windows 11/10
You can differentiate the Skype app from the desktop build 8.89 by its version number 15.87.406.0 given in the Skype Settings> Help & feedback. You will also find some advanced options for Skype in the Apps tab of the Windows Settings if it is the Microsoft Store version.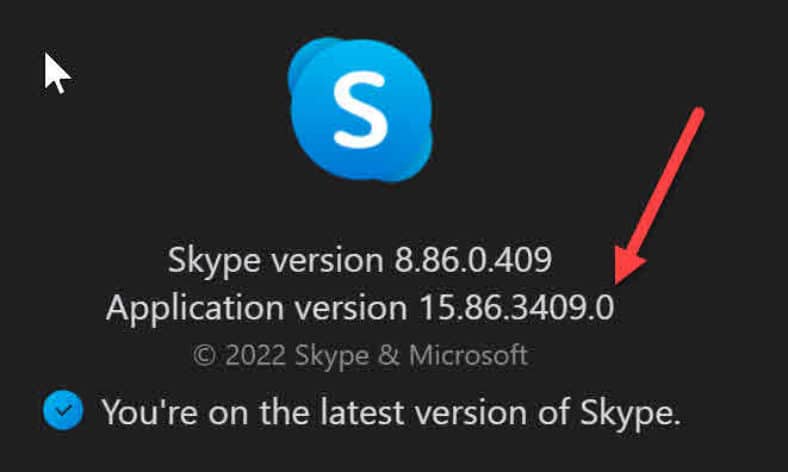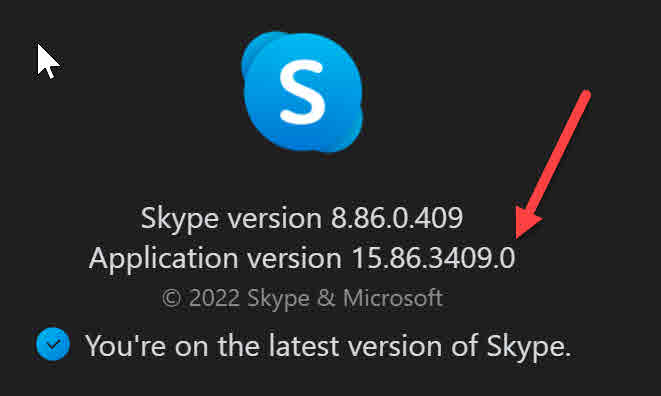 How to manually update Skype for Windows installer.
Depending on the installation route, you can update Skype for Windows from the Store or manually from Skype for the desktop app. Open Windows Store> Library and click on Get updates. In the desktop version, take the Help & Feedback tab in settings, and the application itself will check for new versions.