Download Google Chrome portable 119 (zip) installer [2023]
Google Chrome portable is a unique build of the popular web browser; you can carry it anywhere in a USB disk. It can also be considered as a Chrome offline installer, but you don't need to install the portable edition to use it, unlike the regular installer.
Chrome portable for Windows 119.0.6045.160 (latest stable version). Format: ZIP. Size: ~ 150 MB.
Note: If the host(OneDrive) requires a sign-in, press the download link again.
After download, extract the Chrome portable ZIP (32-bit/64-bit) file to the Windows desktop. Then, double-click on the Chrome icon in the download package, and it's ready for use.
Why you need to download Chrome Portable ZIP
Chrome or any portable software works well when it is available in ZIP format. Unfortunately, a popular website providing portable apps has a different way. When you download their version of Chrome portable, you get an online installer of about 2MB size. And during installation, it also needs to connect to the internet to download Chrome separately. They do provide a folder with Chrome files in the end, but the overall experience is underwhelming.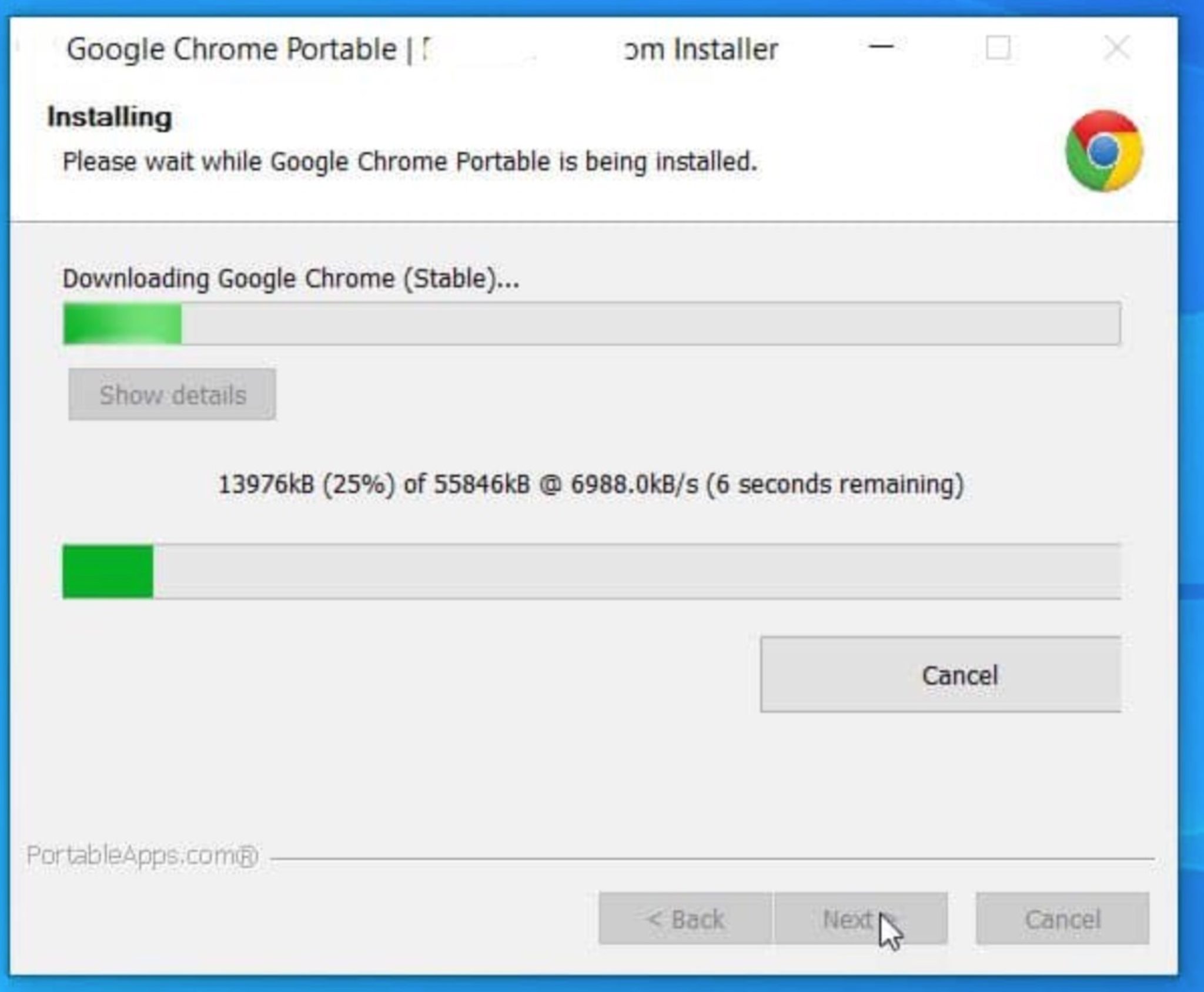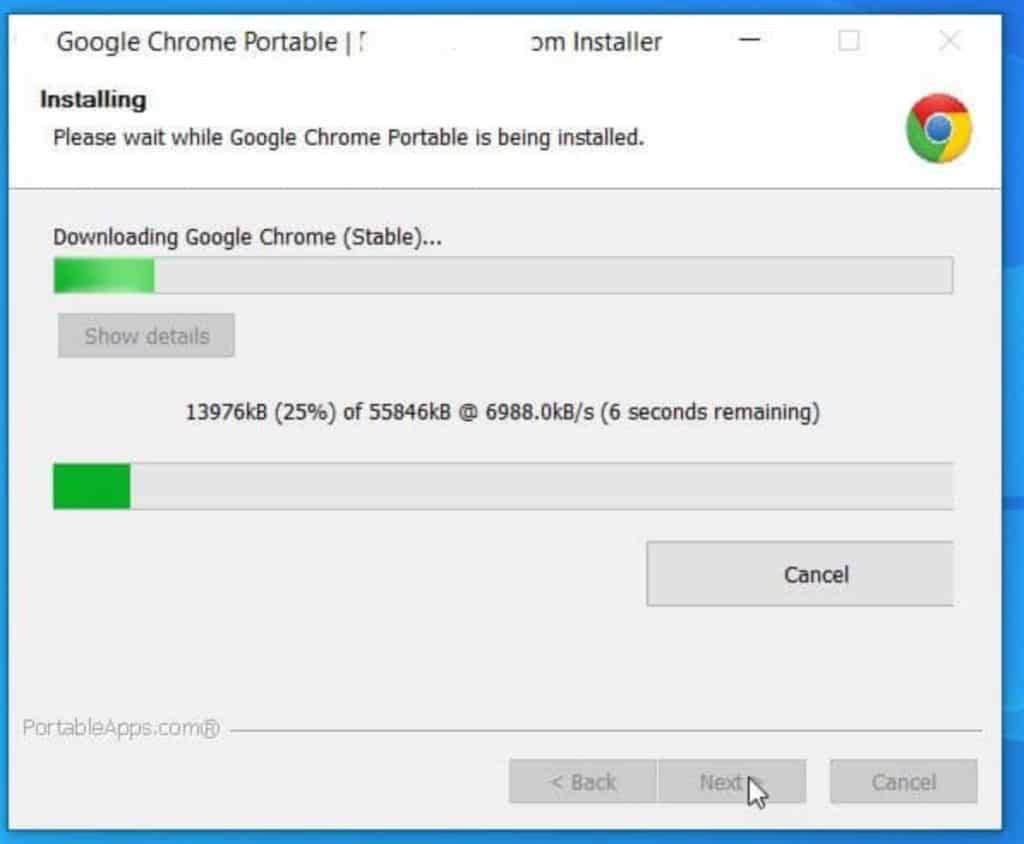 People prefer portable installers for Windows when they don't have permission to install a particular software. Privacy and managing the browser without local system interference is the main advantage of downloading portable Chrome. However, the download from PortableApps is not an offline version of Chrome, as anyone would expect.
We invite you to test our downloads if you want the latest Google Chrome 119 Stable & 120 (Beta) in a portable format. Just like our download for Brave, it is in an archive format that you can extract to your desktop. Currently, we have links for Beta and Dev variants of the Chrome as 32-bit zip files, and we are trying to add the 64-bit shortly.
Is Chrome Portable Safe?
Our download for the Google Chrome portable is tested with VirusTotal for any malware, and you can see the results here.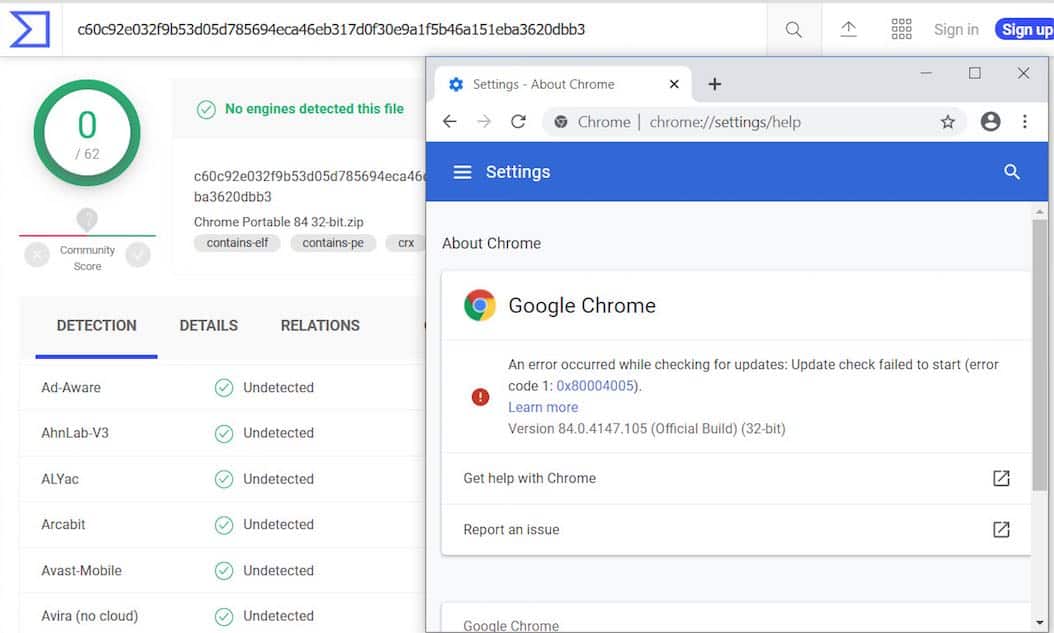 The disadvantage of Chrome Portable is, unfortunately, with the update process. Since it doesn't install on the system, it can't use the Google update to download and upgrade Chrome to the latest version. We will add the Google Chrome portable 120, 121, 122 and all upcoming releases on this page — please bookmark this page if you are concerned about the update.
How to run Google Chrome Portable from a USB
The portable edition of Google Chrome lets you open and run the browser from a pen drive. It is useful when you are at the school or college, where the external installation of software is prohibited. And the process is straightforward if you download one of the ZIP files we have given above.
First, download the 32-bit or 64-bit version portable Google Chrome installer 119.0.6045.160.
Extract the zip file to a folder on desktop or USB Pendrive.
Now, check for the Google Chrome icon in the folder and double-click on it.
That launches Chrome for you without any local Windows installation.
System admins have the option to block Chrome update installations on your computer through group policy management tools. But if you download Chrome portable 90 and follow the above process, you can use the latest browser without touching the local installation.