Google Chrome Portable is a handy version of the popular web browser that can be carried with you in a Pendrive. It is also an offline installer, but unlike the regular Chrome executable file, the portable version needs no installation. We recently had a requirement for the Chrome portable installer for our Windows PC in 32-bit or 64-bit format, and yes, few sites are offering the latest version 80.0.3987.149. However, we were unable to find the Chrome Portable in ZIP format, which people prefer downloading.
Google Chrome portable (zip) installer for (64/32-bit) Windows PC [2020]
Chrome or any portable software works well when it is available in ZIP format. Unfortunately, a popular website providing portable apps has a different way. When you download their version of Chrome portable, you get an online installer of about 2MB size. And during installation, it also needs to connect to the internet to download Chrome separately. They do provide a folder with Chrome files, in the end, but the overall experience is underwhelming.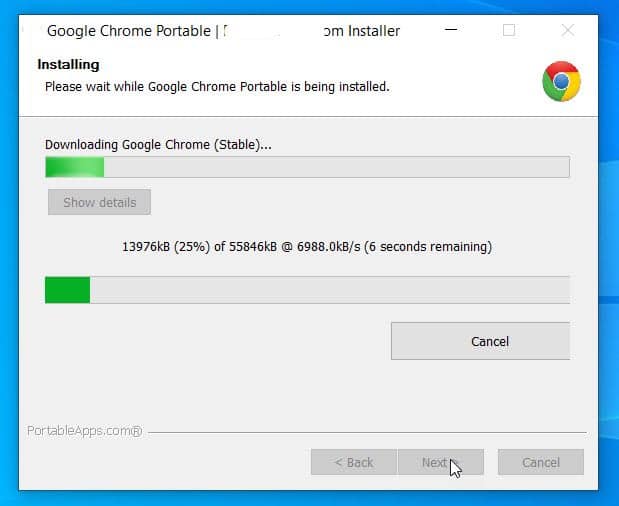 People prefer Chrome Portable for Windows when they don't have admin rights to install a particular software. Privacy, and running the browser without local system interference is the main advantage downloading portable Chrome. However, as shown in the screenshot, the installer from PortableApps is not an offline version of Chrome, as you would expect.
We invite you to test our downloads if you want the latest of Google Chrome 80.0.3987.149 stable, 81 Beta, and 82 Dev installers. Just like our download for Skype, it is in an archive format that you can extract to your desktop. Currently, we have links for Beta and Dev variants of the Chrome as 32-bit zip files, and we are trying to add the 64-bit shortly.
Download Google Chrome 80.0.3987.149 Portable zip 64-bit (Click here), 32-bit (Click here). (stable installer version)
Portable Google Chrome installer 81 (Beta) (Click here) 82 Dev (Click here).
If you want the regular version, and see what's new in the browser, check our page on Google Chrome offline installer
Alternative for Google Chrome 80.0.3987.149 portable installer
Our download for the Google Chrome portable is tested with Virustotal for any malware and you can see the results here.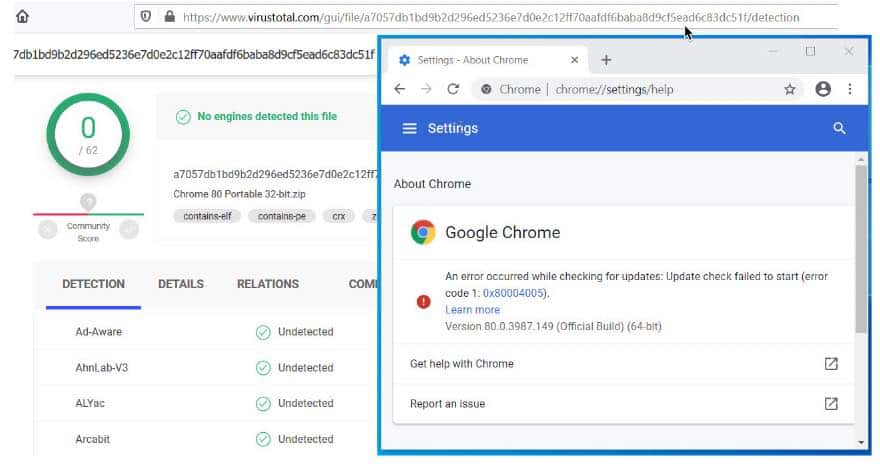 However, if you are not convinced, you can get the ZIP archives for Chromium Browser for Windows 32-bit and 64-bit PCs. The Chromium browser 80.0.3987.149 is similar to Chrome except for the unavailability of certain features. Use 7-Zip/WinRAR/WinZip to unzip the Chromium portable on Windows 10, and copy the entire folder to your USB drive.
How to run Google Chrome from USB pendrive when you can't install it
The portable edition of Google Chrome lets you open and run the browser from a pen drive. It is useful when you are at the school or college, where the external installation of software is prohibited. And the process is straightforward if you download one of the ZIP files we have given above.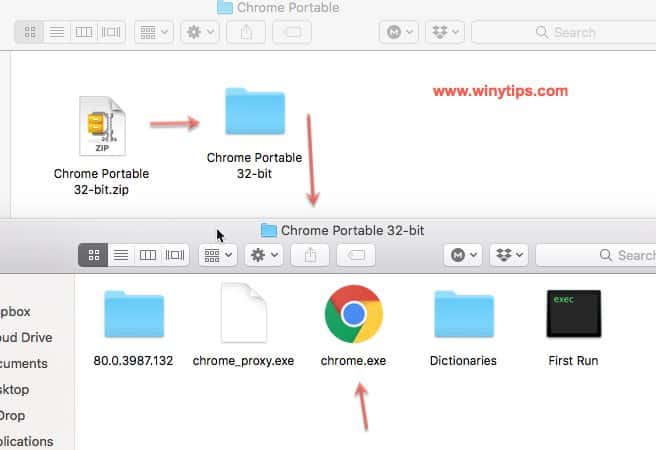 First, download the 32-bit or 64-bit version portable Google Chrome installer 80.0.3987.149.
Extract the zip file to a folder on desktop or USB Pendrive.
Now, check for the Google Chrome icon in the folder and double-click on it.
That launches Chrome for you, without any local Windows installation.
A disadvantage of Chrome Portable is you can't update it from within the browser. You may have to download your plugins and settings every time you switch PCs. Finally, keep in mind that this variation of the browser is not from Google, the developers of Chrome