Old versions of Skype for Mac, especially Classic 7.59 and below always had a feature difference when compared with the Windows equivalent. But you won't find that gap if you download Skype 8, the latest build of the app for macOS. The design of the new Skype for Mac may not be pleasing for some, but I like the visual similarity across all platforms. Here, I don't have to worry about the settings when I switch between the devices. With this update, Skype on Mac OS gets everything you may want in a new-age social messaging cum video call app. Check out the Skype 8 changelog for macOS, and download links, below.
Download Skype for Mac [2021]
Skype is there in Mac OS from the last few years, far before WhatsApp and Telegram launched their desktop versions. But the Skype Classic version 7.59 is a bit outdated when you count the features in 2021. However, Skype 8 is on par with its competitors on all fronts. It looks like Microsoft is also committed to keeping Skype up-to-date on macOS. We see app updates releasing once or twice every month along with Skype for Windows.
What's new in macOS version of Skype 8.74.0.152? Check Skype portal for the changes. Among the new additions, the one I like is "Meet now" that lets you create a quick meeting and invite participants through a sharable link. The version 8 of Skype for macOS brings settings to merge calls, re-size video previews, have a draft option for unsent chats, block calls from unwanted numbers, and support for large group calls up-to 50 people, blur video backgrounds, share screen, set mood messages, etc.
Alternatively, you may also get the macOS preview or beta build of the upcoming version of Skype (8.75).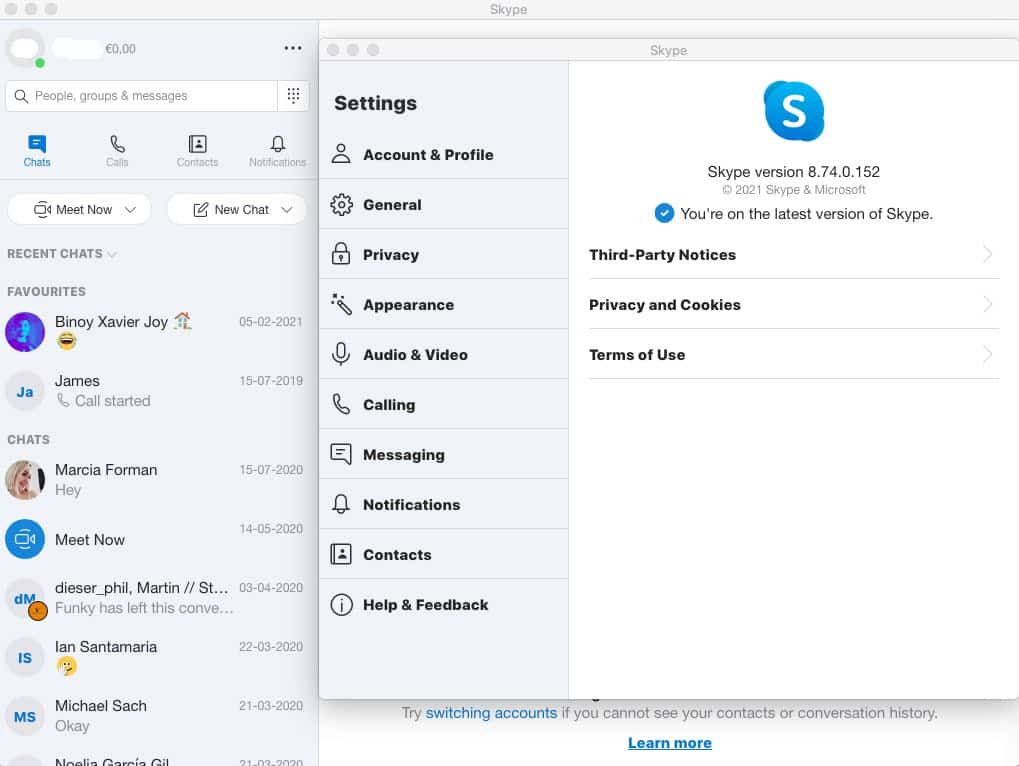 Reasons for downloading Skype for Mac 8.74

The new Skype has a mobile-centric design and is customizable than previous version for Mac.
Being a cloud-based application, Skype for macOS can sync media, contacts, and chats across all installed devices.
A notification pane has been established to keep all new messages and updates in one tab.
Option to record calls is a new feature in version 8 of  Skype.
Although not enabled by default, end-to-end encryption is available if needed.
Skype 8 for Mac OS allows sharing larger file sizes. You could also share things from OneDrive, and other third-party services from within the app.
Skype 8 can display subtitles for conversations in a few supported languages.
There is a media library in new Skype for macOS in which you could search and locate all your media files that get generated in a chat.
The quality of audio has improved in Skype 8. Now you may stream full HD video even for groups calls.
There are a lot of feature additions to the chat window.  Read receipts,  option for replying to selected messages, send and receives GIFs, schedule a call, create a poll, and many more.
The above list touches only those major advantages of updating to the latest Skype for Mac. Download the app to check the call/video quality and all other changes.
Skype Classic for Mac; download the old version 7.59
Skype 7.59.37 is the last version of the old Skype app in macOS, also known as the Classic Skype. Unfortunately, Microsoft started limiting sign-in through Skype classic since April 2019, and the following method no-longer works.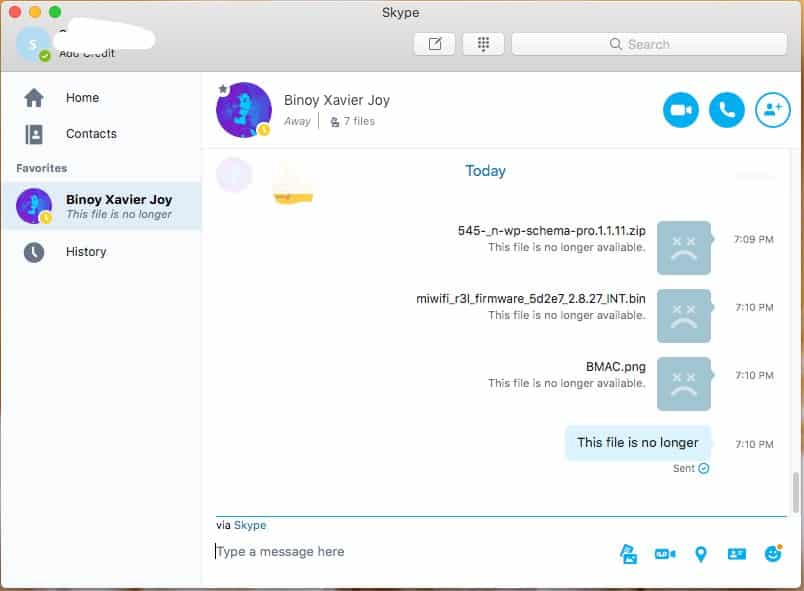 Download Skype Classic for macOS, from OneDrive.
Still, some people want to keep using the Skype Classic for its design and or some odd reasons. If you're one of them, here is a way to get the old Skype working on macOS for some more time.
Install the Skype classic 7.59 for macOS by dragging the app file from DMG installer to the applications folder.
Login to Skype for macOS with your account details.
Quit the installation when you see Installer downloading Skype 8 automatically or if you the message" Unfortunately Skype is not available right now."
Go to Applications folder and find the Skype icon. Right-click  and take the option to show the Package Content.
Locate the info.plist file inside the "Contents" folder. Now, open that file in a regular text editor and search for the term "7.59." Change that number to something you like and save.
Restart the Skype Classic app for macOS and sign-in as usual.
Update: It looks like Microsoft has permanently disabled access to Skype Classic for Mac. The above trick re-directs you to the login page only.
Download Skype for Business (Mac) 16.29.0.57
Skype Business for Mac is not a download for regular users. However, those who are using Skype 8 may contact and make video calls with the business customers after adding them in the contacts. If you or your company has an Office 365 premium (business) subscription, you may want to download Skype for business (Mac) on your system; a link to the macOS version is below.
After downloading Skype for business, double-click on SkypeForBusinessInstaller-16.29.0.57.pkg to install the app on your Mac.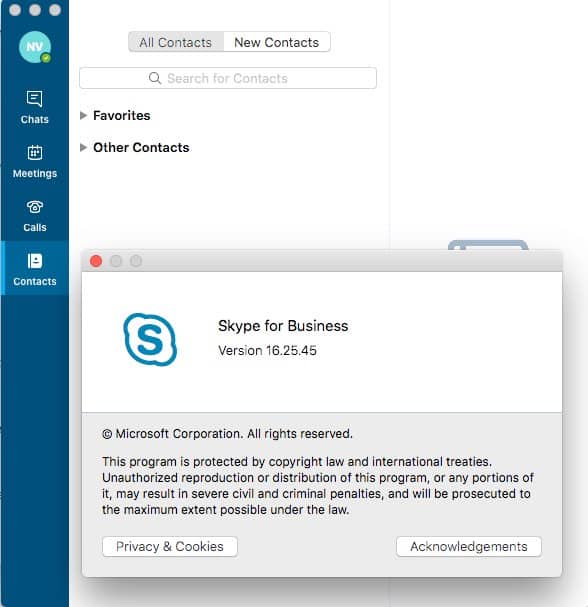 Many of the collaboration tools available in the Windows version of Skype for Business is not there in macOS.  Still, the latest edition of Skype for business, 16.28 is an excellent choice for group audio/video calls and online meetings. Microsoft has already announced plans to discontinue Skype for business and move all it's features to the Teams application, in the near future. But as of now, macOS users don't have an alternative to Skype for business. They may continue using it until Microsoft Teams get a standalone installer on macOS.
How to install Skype for Mac 8.74
Skype is not listed in the macOS app store. Therefore one need to download Skype for Mac 8.74 directly from Microsoft webpage listed above and install it manually.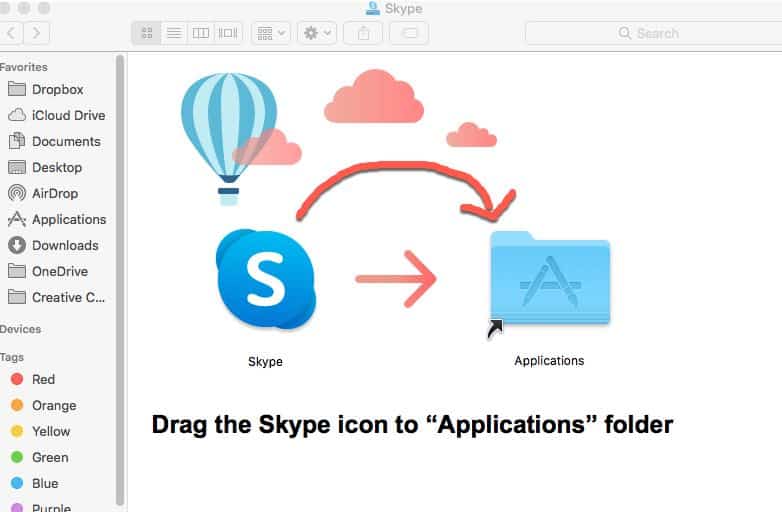 The Skype for Mac download comes in DMG package which includes the app in compressed form.
Mount the Skype DMG file on your Mac by double-clicking on the disk image.
Now you will see the Skype 8 icon and a folder on the right side, as shown in the image.
Drag and drop the Skype for macOS app to "Applications" to complete the installation.
After this, you may click on the Launchpad and scroll through app list to confirm whether Skype has been installed on not. The first time when you launch the Skype 8 app on Mac OS, the system may prompt a message "Skype is an app downloaded from the internet." Just press Open and proceed with login.
Download Skype 8.74 for macOS [2021]