Skype portable is a build of the popular instant messaging software designed for users accessing the service on public computers. The portable Skype is exclusively for Windows users on desktop PCs who do not have permission to install third-party software. As a portable software, one can easily carry Skype on a USB pen drive and click to run it anywhere without installation. Though Microsoft does not endorse portable Skype, the tool is widely used and considered safe. There is an active community building portable apps; they have a version for old and new versions of Skype.
Download Skype Portable ZIP [2021]
The regular Skype is downloadable as a single .exe or .msi installer file in 32-bit format. As of April 2021, the latest version of Skype is 8.68 for Windows and Mac. On the other hand, the Skype portable comes in a zip format. One needs to use an app like WinZip or WinRAR to extract and use it after downloading from the links given below.
Download Skype Portable 7.41 Classic [zip]: Click here
Download Skype Portable 8.68 [zip]: Click here
Developers produce the portable versions for software like Chrome, Brave, etc. from the original installer after adding support files and folders. This package is then compressed to form a ZIP or 7ZIP file for quick and easy web transfers.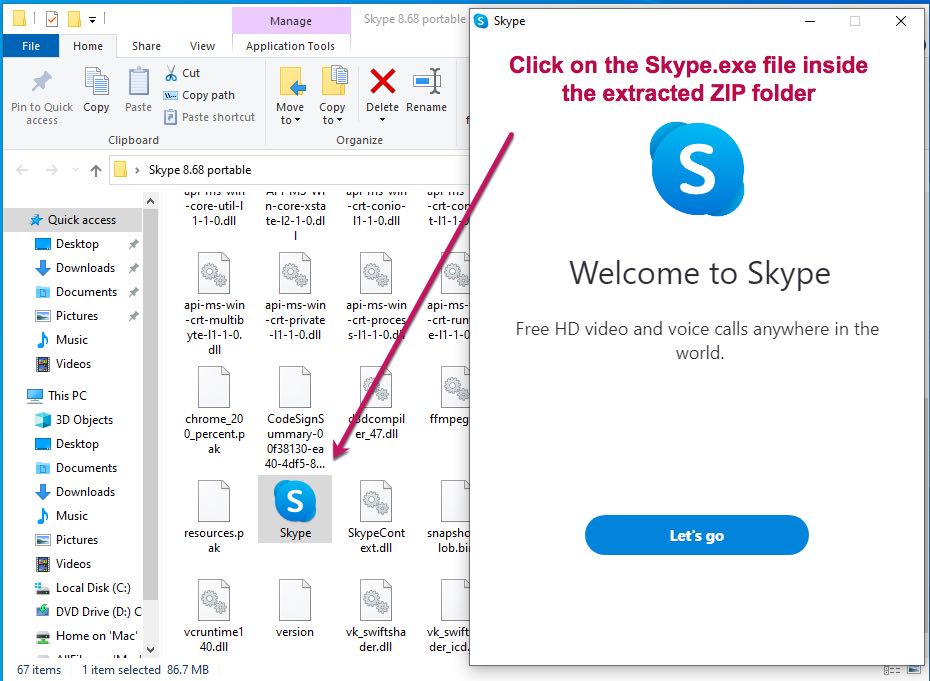 Since Microsoft has no role in creating the portable edition, there are chances you get a malware-infected version of Skype if you download it from unknown sources. That is the main disadvantage of Skype Portable. We have scanned all the uploads with the VirusTotal engine; it is free from all kinds of threats.
How to run Skype without installing or administrator rights
Portable Skype is the best choice for School and College students and people who use Internet cafes. System administrators usually disable the installation of chat and video calling apps in networks to prevent security issues and resource misuse. Skype portable is at your help when you don't have admin rights. Here is how a portable version helps you run Skype without installation.
Download a suitable version of the portable Skype from the links above.
Copy and carry the ZIP file to your USB or storage device.
Extract the ZIP file to a folder when you are on a machine without installation permission.
Please browse through the folder named Portable and find the Skype icon inside it.
Double-tap on the Skype.exe to launch the app.
Skype is ready. Sign in to your Microsoft account and start using it.
[embedyt] https://www.youtube.com/watch?v=mtk0vDnfQCQ[/embedyt]
Just like as shown in the video, you don't need admin privilege/password to use Skype portable.
Alternative to Skype portable for using Skype without installation
There is another way to use Skype if the portable version is not working for you. Browse to the web version of Skype.  Skype Chat, video, and audio calls work on the online version if you useChrome on macOS or Microsoft Edge browser on Windows.
Download Skype Portable edition for Windows PC