I have Norton security as my Antivirus & Internet protection suite for all my PC and Mac. Usually, I depend on my.norton.com website to download and install Norton security and 360 on my devices. However, lately, I have issues with the Norton installer on Mac running High Sierra. I get an error "The application "Install Norton 360 Security" can't be opened" if I use the download from the official website. Similar to Brave and Skype, NortonLifeLock provides an online installer when you download their software. So it becomes impossible for the customer to activate and get necessary protection if the online install fails. Have issues with the Norton security/360 installation? Check the ways to download the full Norton offline installer on Windows and macOS.
Download Norton full offline installer (360/Security/Antivirus Plus) 2020
If I download Norton Security or Norton 360, I get an 8 MB file setup.zip. I have to extract this archive to the desktop and then execute the "Install Norton Security/360" app to download the Norton offline installer for macOS and Windows. The online setup goes well on Windows, but the disadvantage is that you download the files again and again for activating more computers. Get Norton security full installer PKG or EXE for Mac or Windows as a solution for all these issues.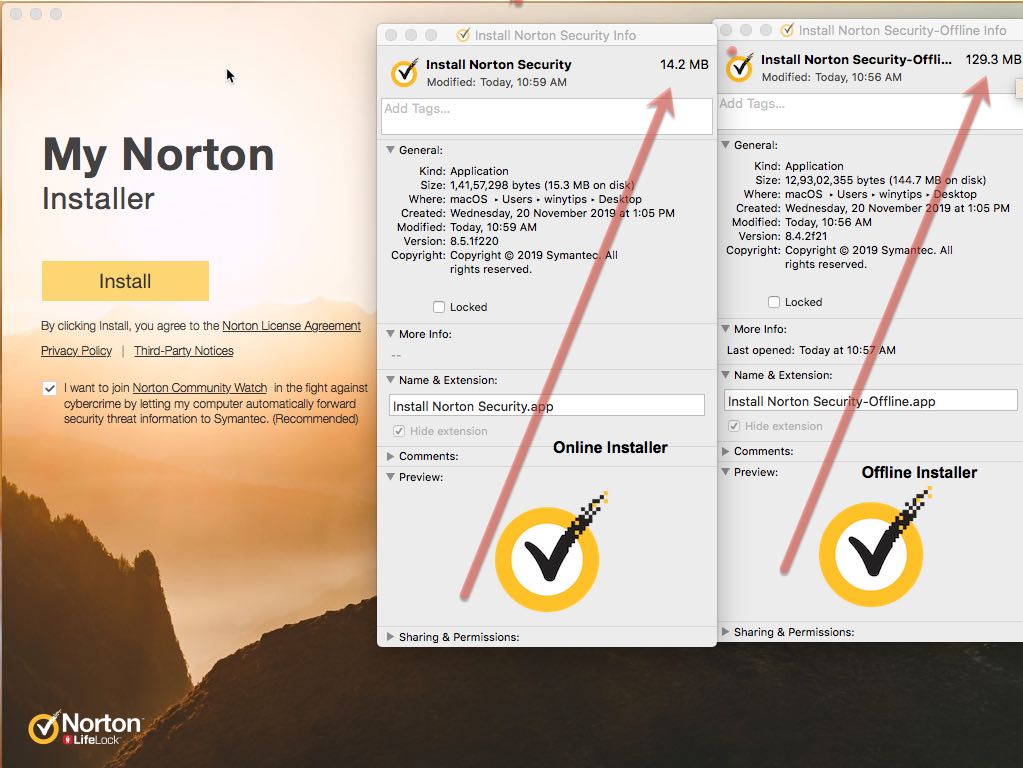 Norton offline installer for Mac 2020: Security: Click here, Internet security: Click here. Antivirus: Click here.
Norton Security full installer for Windows 2020: Premium/Standard, or  Deluxe.
Norton Antivirus Plus 2020 standalone installer: Click here.
The consumer division of Symantec products now comes under the NortonLIfeLock brand, and offerings are also seeing a change. Norton security has been replaced by a new version of Norton 360 in the USA.
If you are a Norton Security customer, you can now freely upgrade to Norton 360 for Windows or Mac by contacting the chat support. Uninstall Norton security and install 360 using the download link below. Then use the activation key shared by the support agent to activate the Norton 360.
Norton 360 offline installer (22.20.1.16) for Windows: Click here. Norton Secure VPN: Click here.
The new NortonLIfeLock 360 comes with VPN protection, parental controls, password manager, and 75GB cloud backup, in addition to the security features in the current version.
Alternative to get new Norton 360 offline installer 2020
An official Norton 360 offline installer is not available at this time; you may have to stick with the NS if you don't want an online installation. However, if you have a multi-user license, you could copy the Norton folder on your desktop and use it as an offline installer.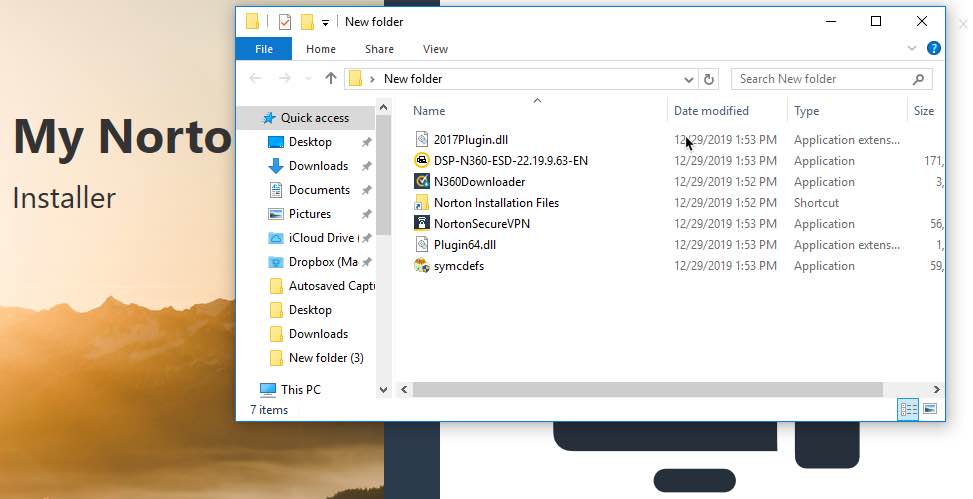 As you can see above, the online installer downloads Norton 360 full installer and latest virus definitions to my PC during installation. You could copy this folder and transfer it to USB for offline setup on other devices. This method is also possible on a Mac if you can find the temporary cache folder.
Fix "The application Install Norton Security/360 can't be opened" error in Mac
Stop using WinZip on Mac for extracting Norton online installer archives — use the default Archive utility. Another option is to download Norton Security offline installer for Mac from the above link. If these methods don't work for fixing Norton installer issue on you Mac, and if you want to download the latest Norton 360 online, try the method given below.
Step 1:Extract the Norton Security or 360 online Installer to your Mac.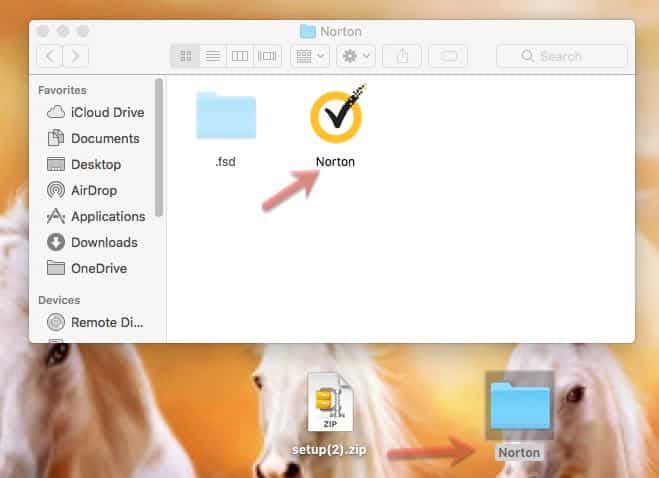 Give the folder and "Install Norton 360 app," a single-word name. I'm labeling both as Norton.

Step 2: Right-click on the installer app and take the option "Show Package Contents."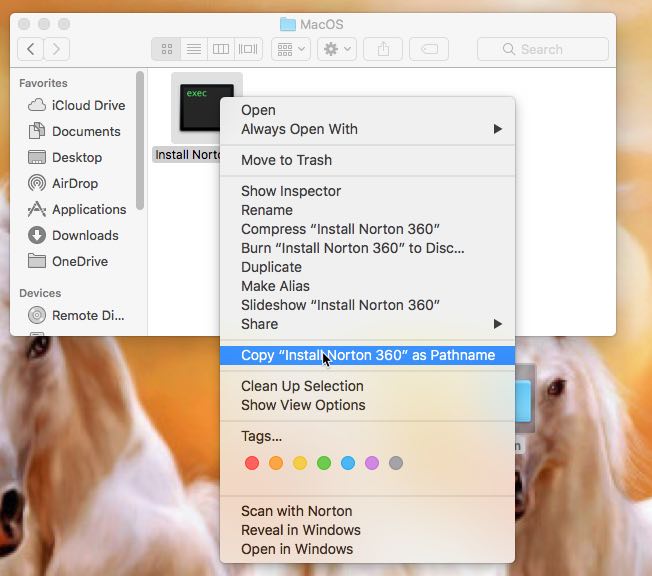 Browse through the Contents folder and press on the macOS folder. Now, right-click and Press Alt/Option key and choose to click on the menu option "Copy Install Norton 360 as a pathname."
Step 3: Open the Terminal app in your Mac. Type "CD," leave a space, and paste the clipboard content to it, and click enter.



In the next line, type chmod +x 'Install Norton 360' and execute the command.
Step 4: That's it. Click on the Install Norton Security/360 app once again to start the installation.
From now on you won't see "the application Install Norton Security 360 can't be opened" message. Remember to keep your Internet connection ON to download the full offline installer of your Norton product.
Norton 360/Security/AntiVirus Plus full offline Installer