Just like Chrome, if you download the Windows version of Brave Browser, you get an online installer from Brave.com, the official website. BraveBrowserSetup.exe, a 1.5 Mb file, then downloads the 64-bit or 32-bit version of the software depending on the hardware. You always need the internet to set up a Browser like Brave and verify it with Uphold for rewards. However, some people may want the full installer of Brave Browser, for installing it up on multiple computers. Although it is not easily accessible, Brave Browser has an offline installer for Windows PCs.
Brave Browser offline installer 1.15.72
Previously webmasters like us were the beneficiaries of people visiting websites and seeing ads. Brave Browser brings a new concept of paying users for their web browsing while keeping their session more private and secure. I was not a big fan of Brave Browser as it blocks all kinds of ads that financially support web portals like ours. But now, this site is also a Brave publisher, after learning about the Brave developer's plans to help web publishers through BAT rewards.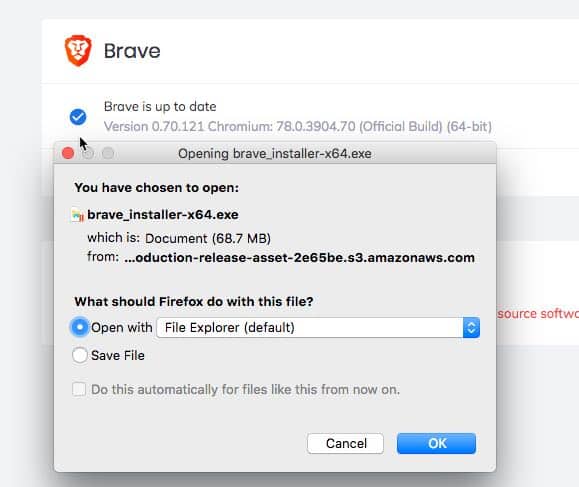 If you are new to Brave Browser, or just want to update the application, click here to download it on macOS, Linux, and mobile non-Windows devices. Check the following screenshot for Brave 1.15 change-log, for desktop platforms.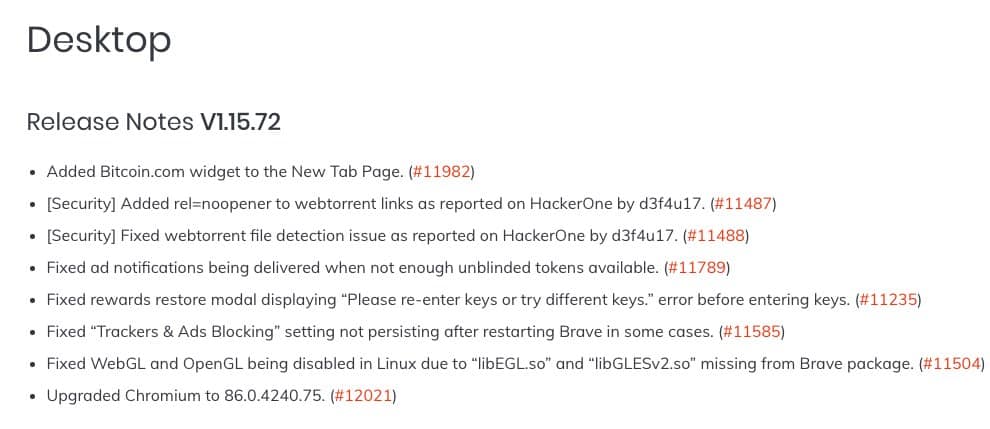 The new versions of Brave Browser allow you to redeem your BAT rewards to Gift Cards. The addition of this facility enables Brave users to exchange their earnings (BAT) with Gift vouchers for Amazon, Apple, Uber, Walmart, etc.
Steps to download Brave Browser full installer (32-bit or 64-bit)

The Github channel of the Brave Browser lists the latest versions of the app, in the beta, dev, release and nightly channels. As you know, it is not recommended to use the test version of any Browser, as a regular user. So here, we show you a simple trick to download the stable and full installer of Brave browser 1.15.72 from the same page.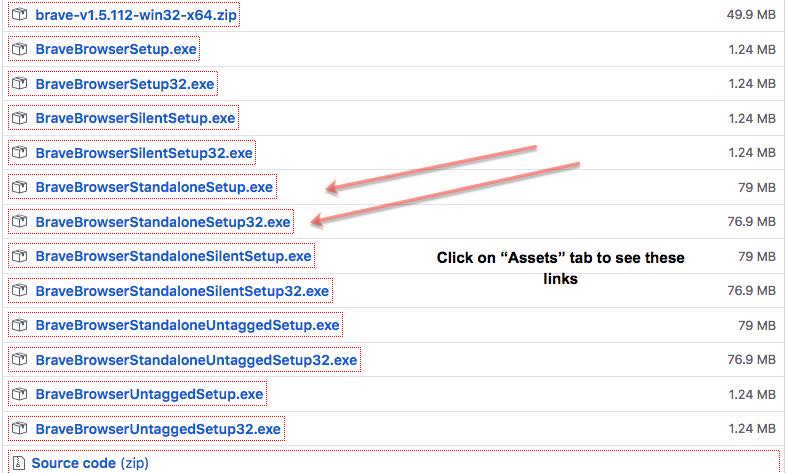 Note down the latest version number of the Brave Browser for Windows, from the change-log website.
Go to this this Github page for Brave Browser.
Find the section for the latest stable release channel for Brave 1.15, and click on the "Assets" tab below the release notes.
Scroll down to find BraveBrowserStandaloneSetup.exe, and BraveBrowserStandaloneSetup32.exe links.
Click on one of the links to download the 64-bit or 32-bit version Brave as a full offline installer.
Tip: If you want, you can save the link location (that you get above) as a note on your PC. Later, if there is a new stable release, just change the version number to download the updated Brave installer.
For those who want the direct download link to Brave Browser 1.15.72 setup for Windows PC, here is it:
64-bit
and
32-bit
.
We are suggesting the above method as a simple alternative if we couldn't update this page for future versions of the browser. If you are a Brave user, and if you like this post, please consider tipping this website, www.winytips.com– it helps a lot.
Download Brave Portable Installer 2020 for USB Pen Drive
The Brave Browser reward program is very attractive. Users from 31 countries have the option to earn revenues (BAT) for seeing private ads on Brave. As of today, the value of BAT is around $.20 and is expected to reach $1 or more in the coming years. So it is crucial to be an early adopter and as collect as many as BATs you can. The easiest way to collect BAT is by using Brave Browser and referring others to download and install Brave.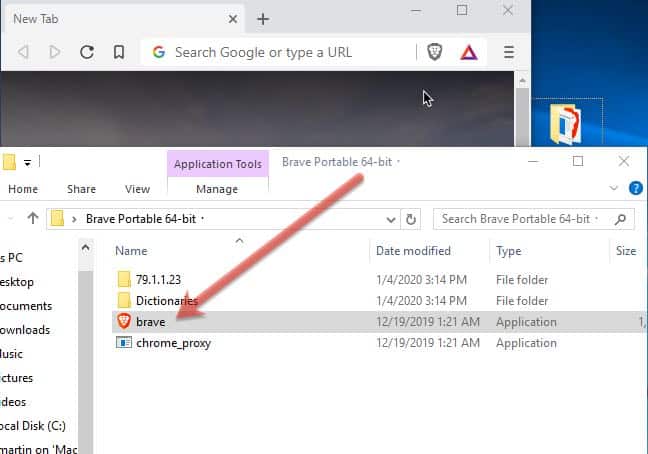 The Brave offline installer allows you to set up the browser in all the Windows computers in your control. Now, if you are in a college or workplace where installations are prohibited, you can use the Brave Browser portable installer as an alternative. We have the Brave Portable for 64-bit or 32-bit Windows PCs.
Download Brave Portable 1.13 (ZIP) 64-bit, 32-bit.
Once you download Brave Browser portable installer, extract the ZIP file to your desktop. Now find the Brave icon inside the folder as shown in the screenshot, click on it to launch the browser. Brave portable is also an offline installer, you can carry the files on a USB Pen drive and use it whenever you want.