A USB installer can significantly save time when installing macOS on multiple Macs without an internet connection. Additionally, it serves as a useful tool for system recovery after a startup failure. Creating a macOS USB disk from the full installer downloaded from the App Store is straightforward, as Apple provides clear instructions for this purpose. However, people only utilise this feature when encountering issues with their Mac, particularly when their system fails to boot up. This article will explore various methods to create a bootable macOS USB for High Sierra 10.13, Catalina, Monetary 12.4, Ventura 13.4 and other macOS versions on Windows PCs and Macs.

How to make macOS USB installer on a Windows PC
Using a Time Machine is the most secure and convenient approach for restoring a faulty Mac in offline mode. However, if you don't have a backup, you must perform a clean installation using a bootable USB/DVD drive or the Internet. In my case, I faced a problem with the boot partition of my iMac and, unfortunately, did not have a Time Machine backup. Despite the option for internet recovery being available, I faced repeated failures in downloading the necessary OS files from the servers.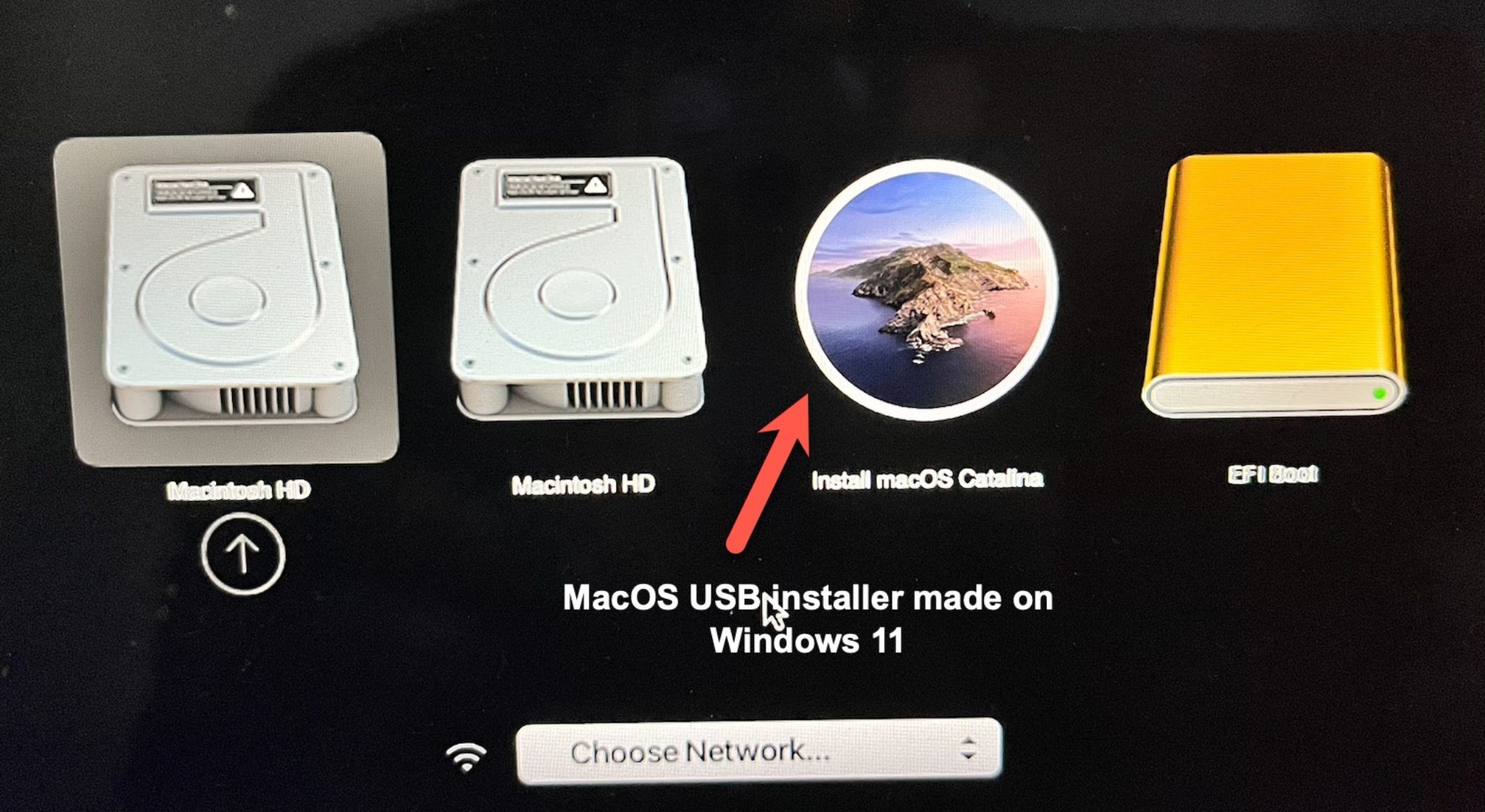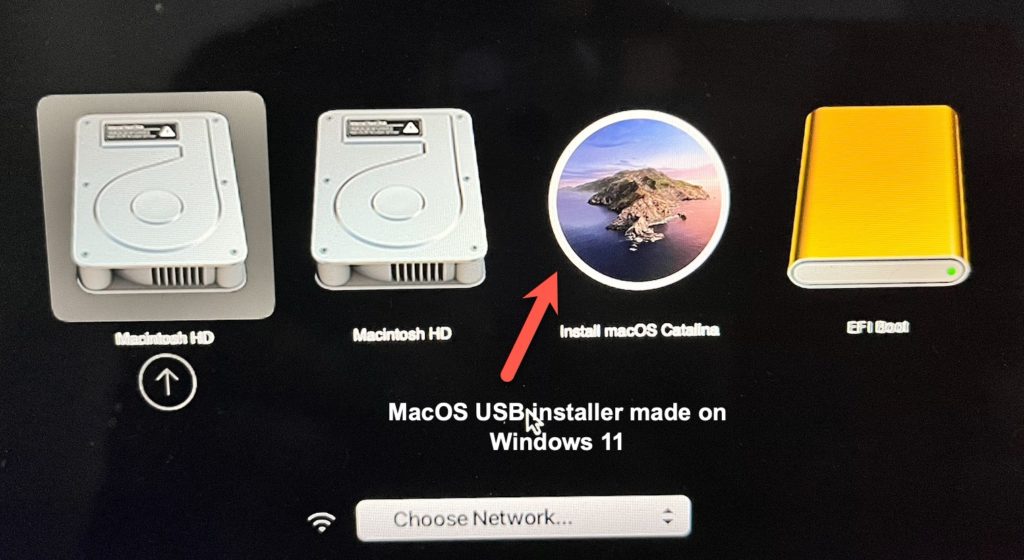 Since my iMac was the only Mac I had access to, I had no other options until I stumbled upon a method that involved utilising a Windows PC to create a bootable USB installer for macOS. I used the following the steps to create a macOS High Sierra USB drive and successfully restored my iMac. I am using macOS Catalina, but the process described below is compatible with all macOS versions, including Ventura. It's important to note that I have tested this method on an Intel Mac, so I cannot guarantee its effectiveness on M series hardware.
Step 1: Download bootable macOS [DMG] for Windows
As previously stated, a Mac is needed when it comes to creating a bootable macOS USB disk. The options are pretty limited if you consider doing this task from a Windows computer. This is due to the compatibility issues between these two operating systems. Certain file formats that are commonly used on Mac cannot be opened in Windows, and vice versa. Fortunately, some Windows applications support a bootable macOS disk format called DMG. Therefore, if we have access to the right and bootable DMG file, it is be feasible to make a macOS USB installer even within a Windows environment, provided we use a Windows tool capable of handling the DMG format.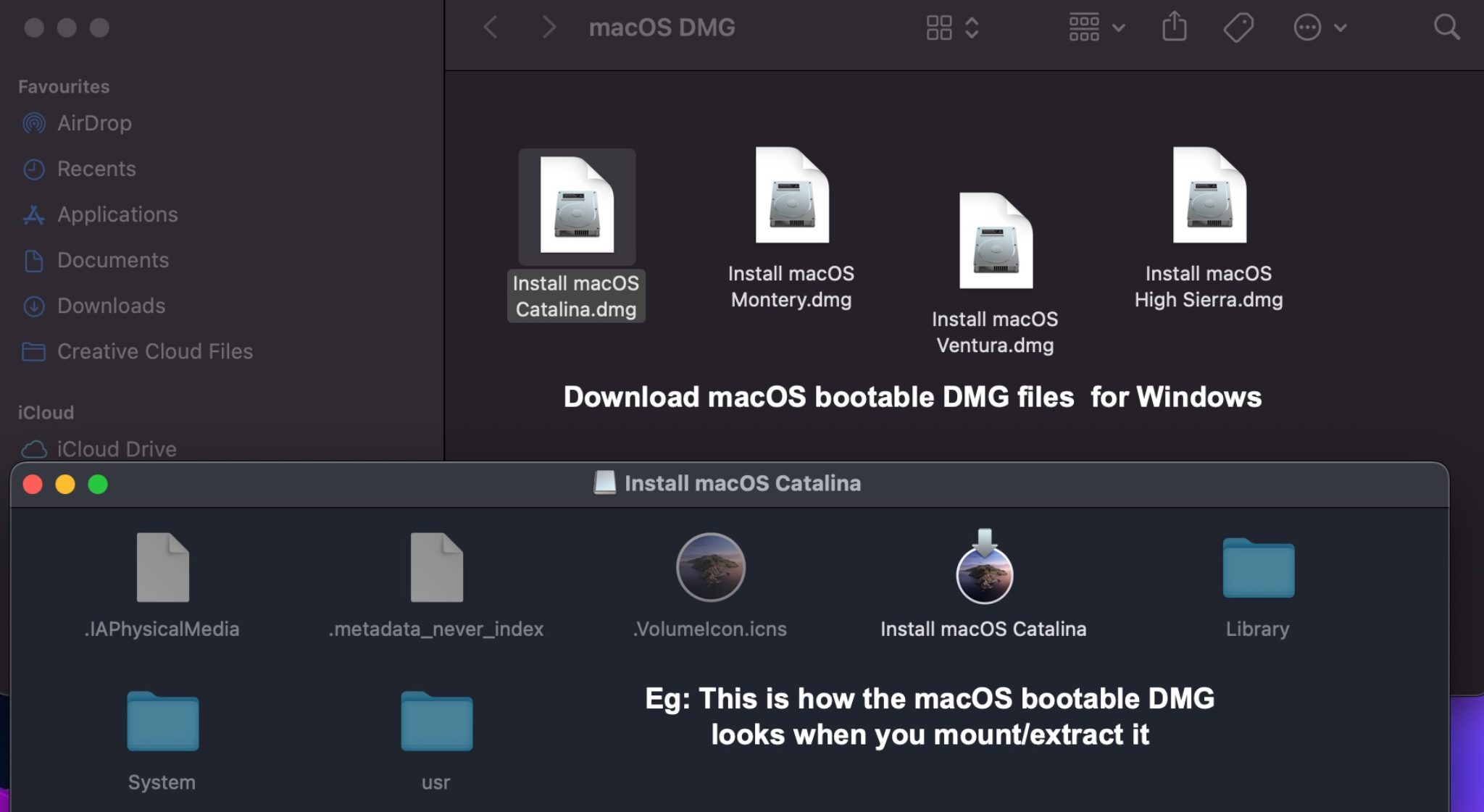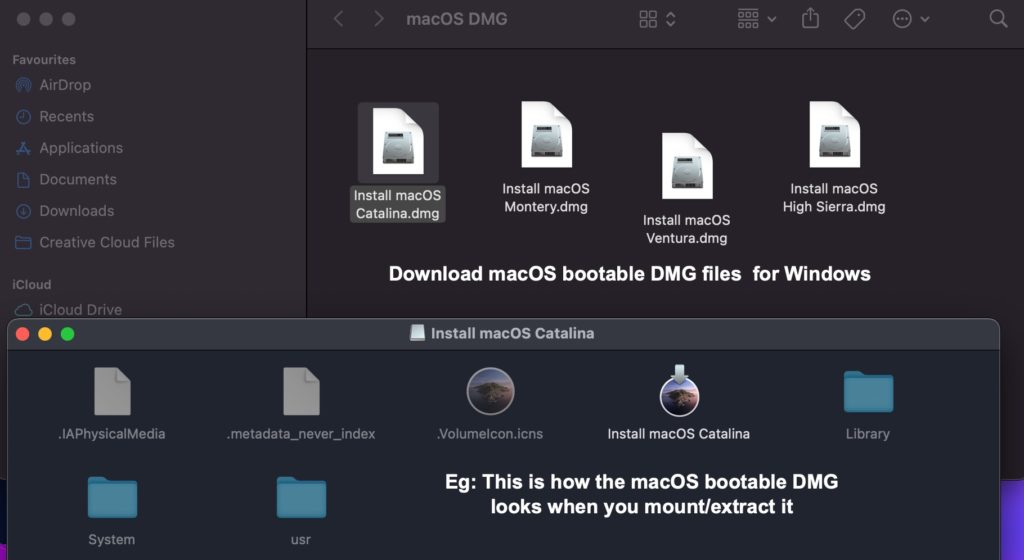 Most of the websites that provide instructions for creating the bootable macOS USB installer on Windows never mention the options for getting the DMG files used in the method. Now, if you are wondering how to download the correct DMG file (for any version of macOS), I suggest you contact me at [email protected]. I charge a nominal fee of $3.99 for this service, and upon payment you will receive a direct download link for macOS DMG version of your choice, within 12-14 hours depending on the time-zone. This fee covers the hosting charges and compensates for the time I spend handling your case. Once you have downloaded the DMG file to your Windows PC, you can proceed with the restore process as outlined below. Alternatively, you can visit our webpage dedicated to macOS offline installers and learn how to convert macOS installer .app into bootable DMG files.
Once you perform a USB restore using the DMG mentioned above file on a Windows system, all of the boot files, including the macOS installer, will be seamlessly transferred, just as if the process was executed on a Mac.


Check the following sections to learn about burning the DMG file onto a USB pen drive on Windows 11.
Step 2: Partition USB disk on Windows to make it bootable on Mac
Here we are creating a UBS installer for Mac on Windows. So make sure that we keep the partition of the USB disk to have an appropriate scheme. Converting the USB disk to have a GUID partition table (GTP) is recommended for this method work effectively.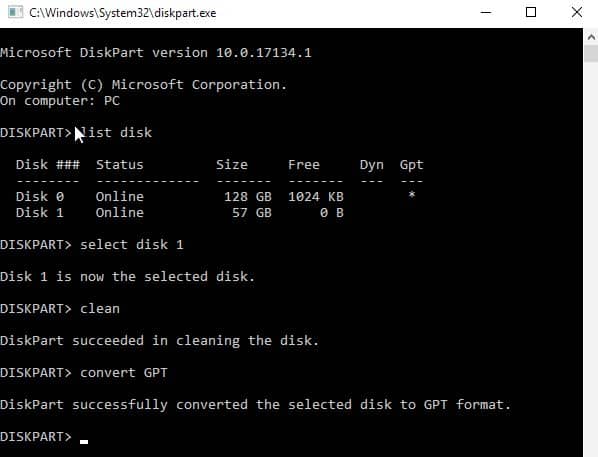 Connect a USB disk of more than 8GB free space to the Windows PC. Search and open the command-line tool, and run the above given commands in the correct order. It cleans and converts the USB disk to GUID partition table if it is using MBR or something else.
Step 3: Make bootable macOS USB installer (ref: Catalina) on Windows 11
In cases where Internet recovery becomes unresponsive and fails to download the necessary macOS files, Windows can serve as a helpful alternative for creating a bootable macOS USB installer. Among the various software options for managing macOS installer files (dmg) on a Windows system, Balena Etcher is the best choice. However, in this case, we use TransMac. Although Transmac is not free, the developers provide a 15-day trial period, which is typically acceptable for one-time use. Let's proceed to the step-by-step instructions for creating a macOS Catalina USB disk on a Windows platform using TransMac.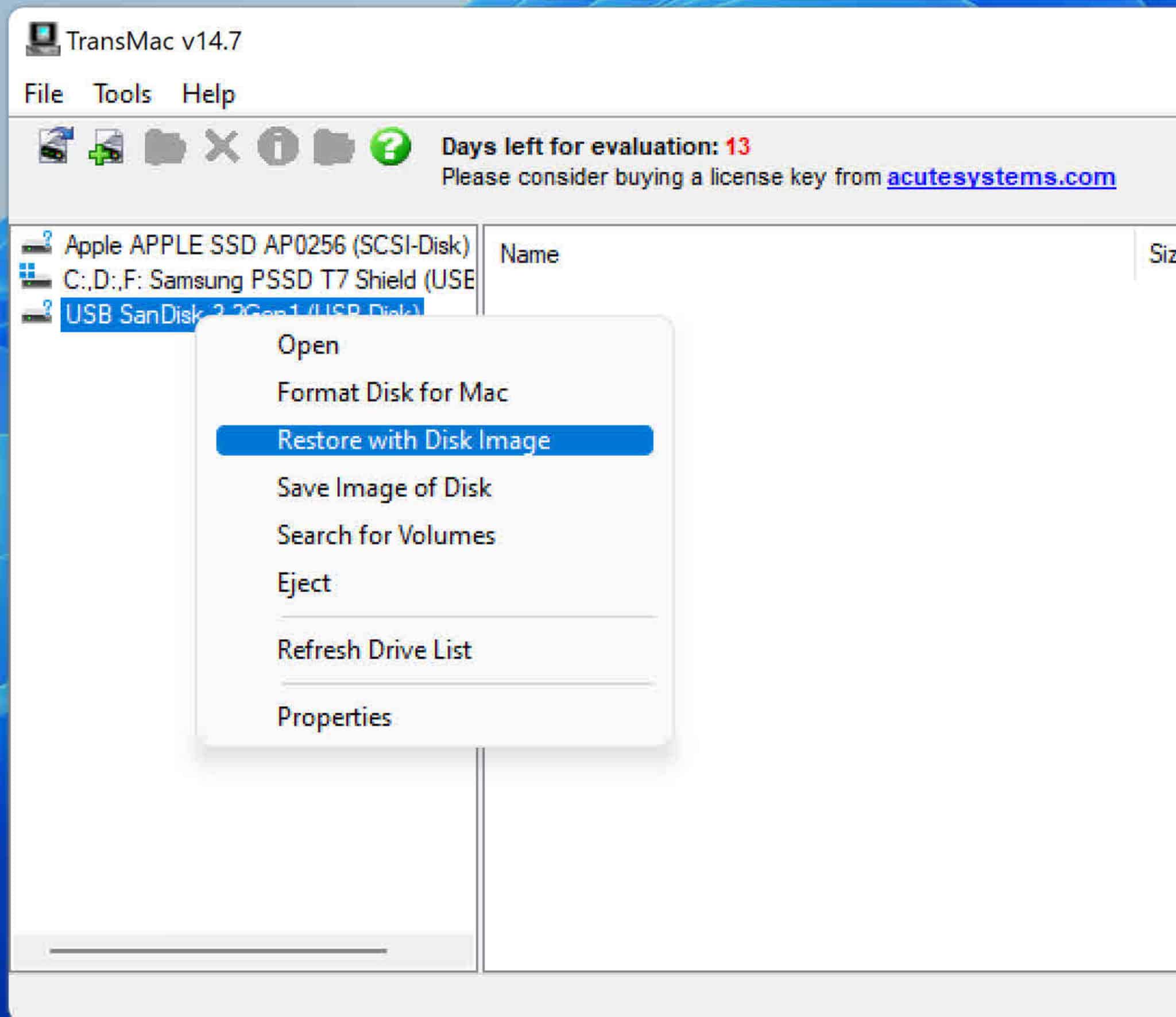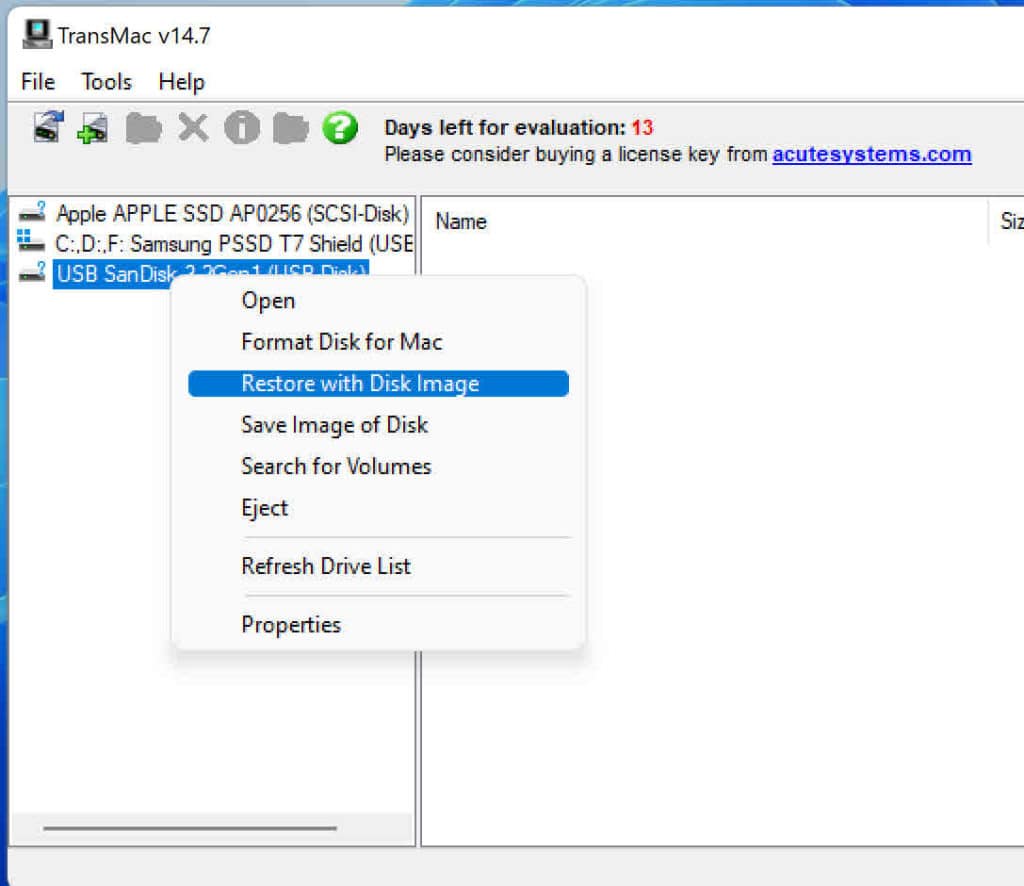 Transfer the bootable dmg file to Windows 11 desktop.
Install the Transmac 14.7 trial for Windows; download here.
Right-click on Transmac icon, and select to run it with Admin privileges.
As shown in the screenshot, right-click on your USB disk and pick the option Restore with Disk Image.
Point the Windows Explorer to the location where you have the bootable macOS DMG file.
Wait until the software completes restoring the USB disk with Install macOS Catalina app.
The disk is ready when you see the message "Restore Complete".
Now, safely remove the USB and connect it to the Mac you would like to recover.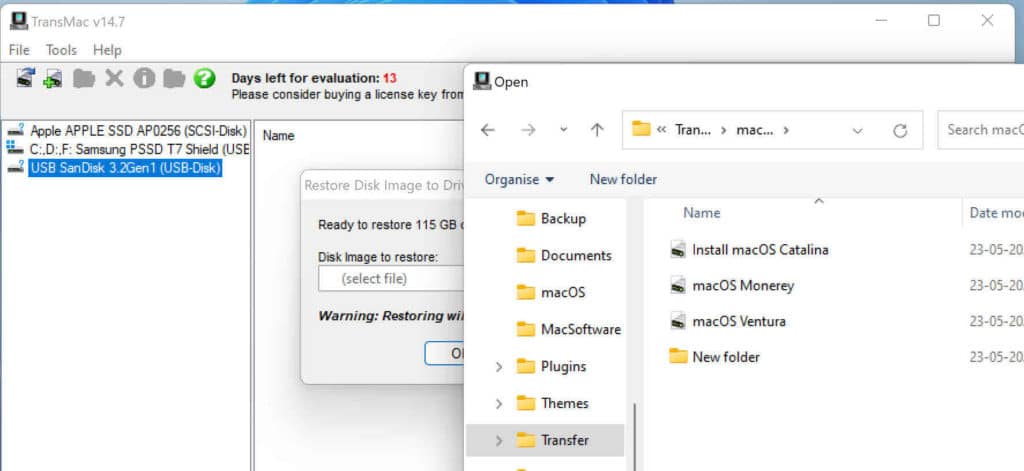 It's important to note that the method described is not limited to creating a macOS Catalina USB disk alone. It can be used as a reference for creating installer disks for other macOS versions, such as High Sierra, Mojave, Monetary, and Ventura. All you need is to obtain the corresponding DMG files for the desired macOS version and follow the steps explained in the procedure.

How to boot to macOS from USB Installer made on Windows
After connecting the macOS USB installer, we created on the Windows system to your Mac, wait for the startup chime. As soon as you hear it, press and hold the Option Key, which lists the various boot various options. Take a look at the image below to see our newly made macOS Catalina USB installer listed among the available boot options.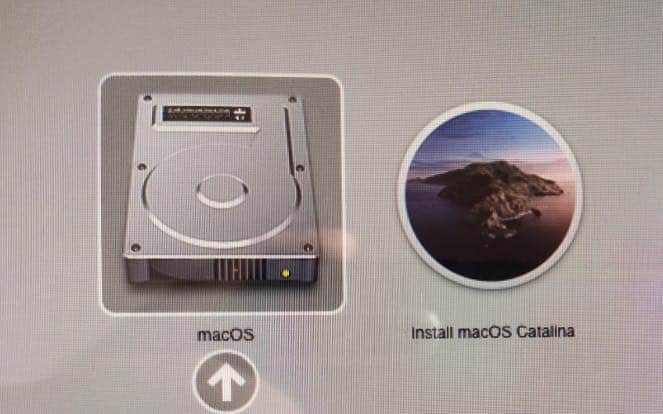 If, by chance, your Mac restarts after selecting the "Install macOS (Catalina or similar)" icon during the process, don't worry. Repeat the process and choose the USB installer again. Additionally, if you own a new Mac equipped with the security chip, you'll need to access the Startup Security Utility to make a few adjustments. To do this, press Command+R during boot to enter the settings. Once there, enable medium security and authorize booting from external USB media. This will ensure that you can successfully boot from the macOS installer you created on Windows.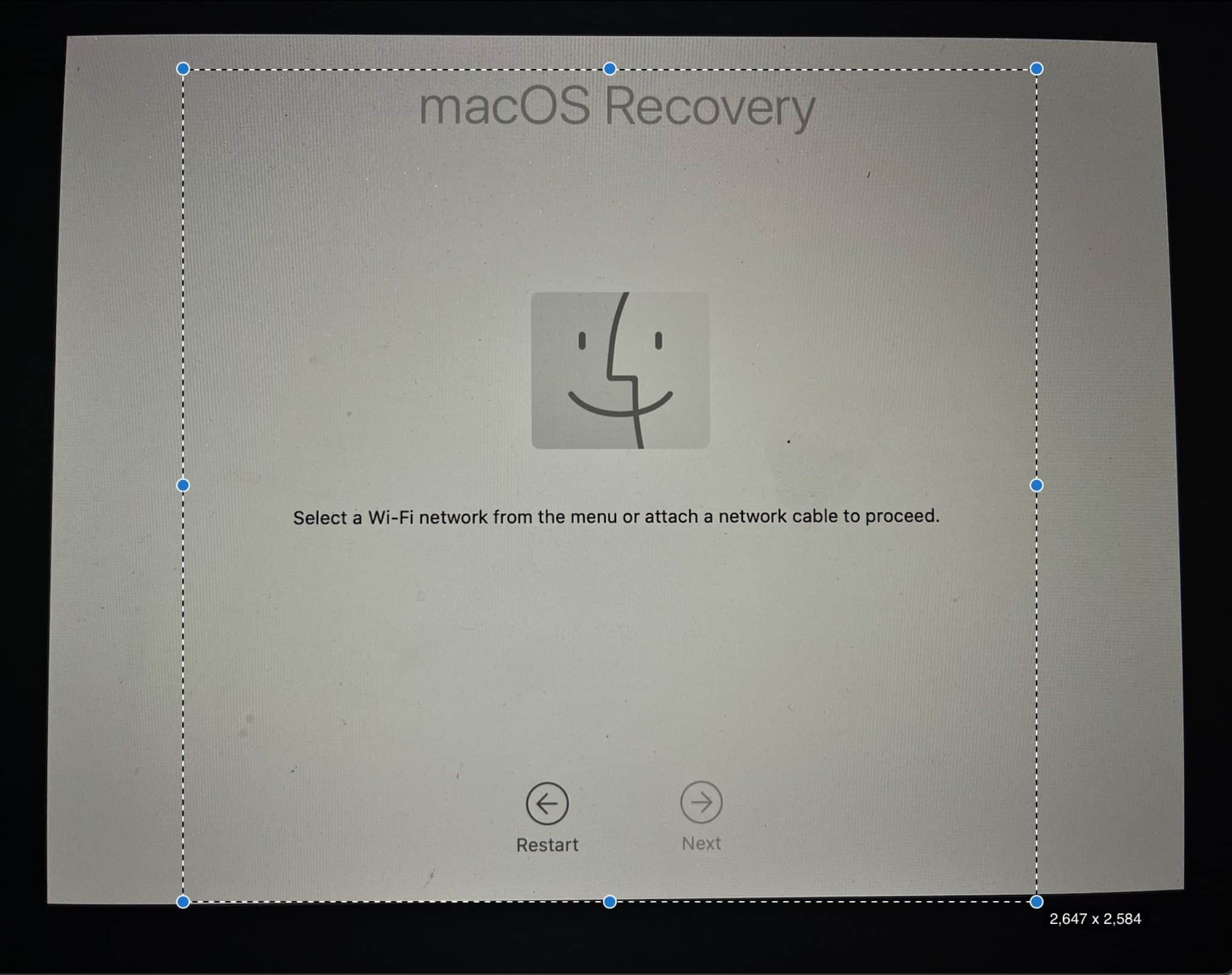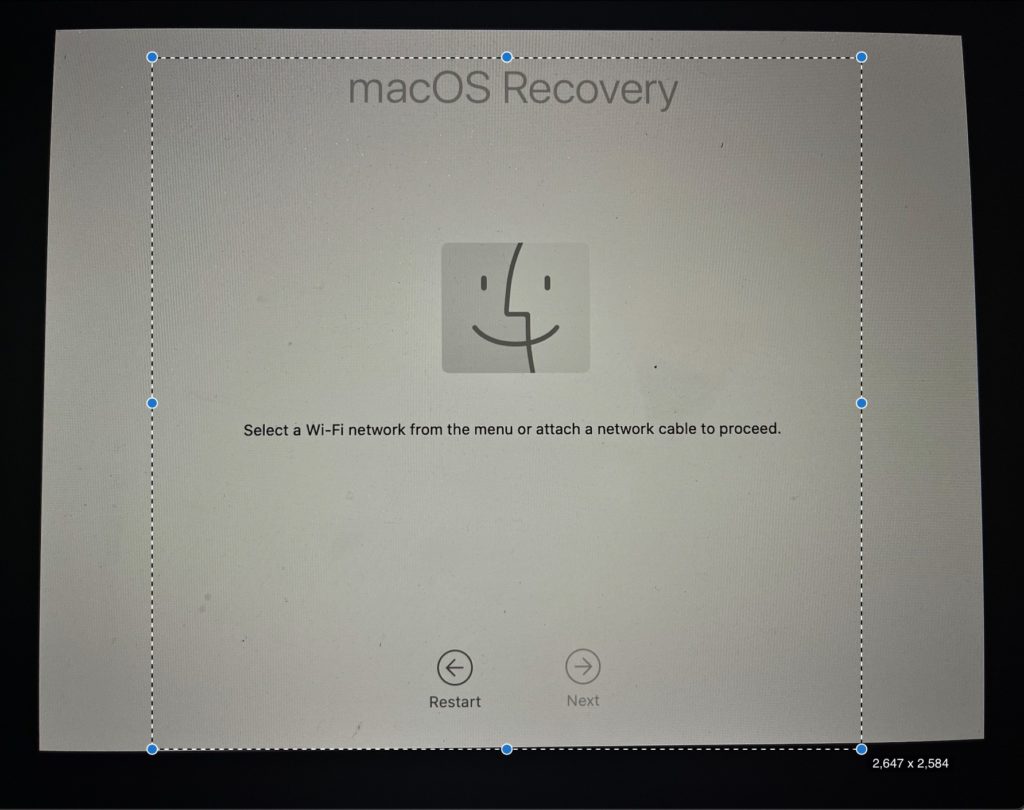 Also, there may be instances where you see the macOS Recovery window. In such cases, connect to a Wi-Fi network, from the Menu, and provide your Apple ID and password to unlock macOS and pass the activation lock window.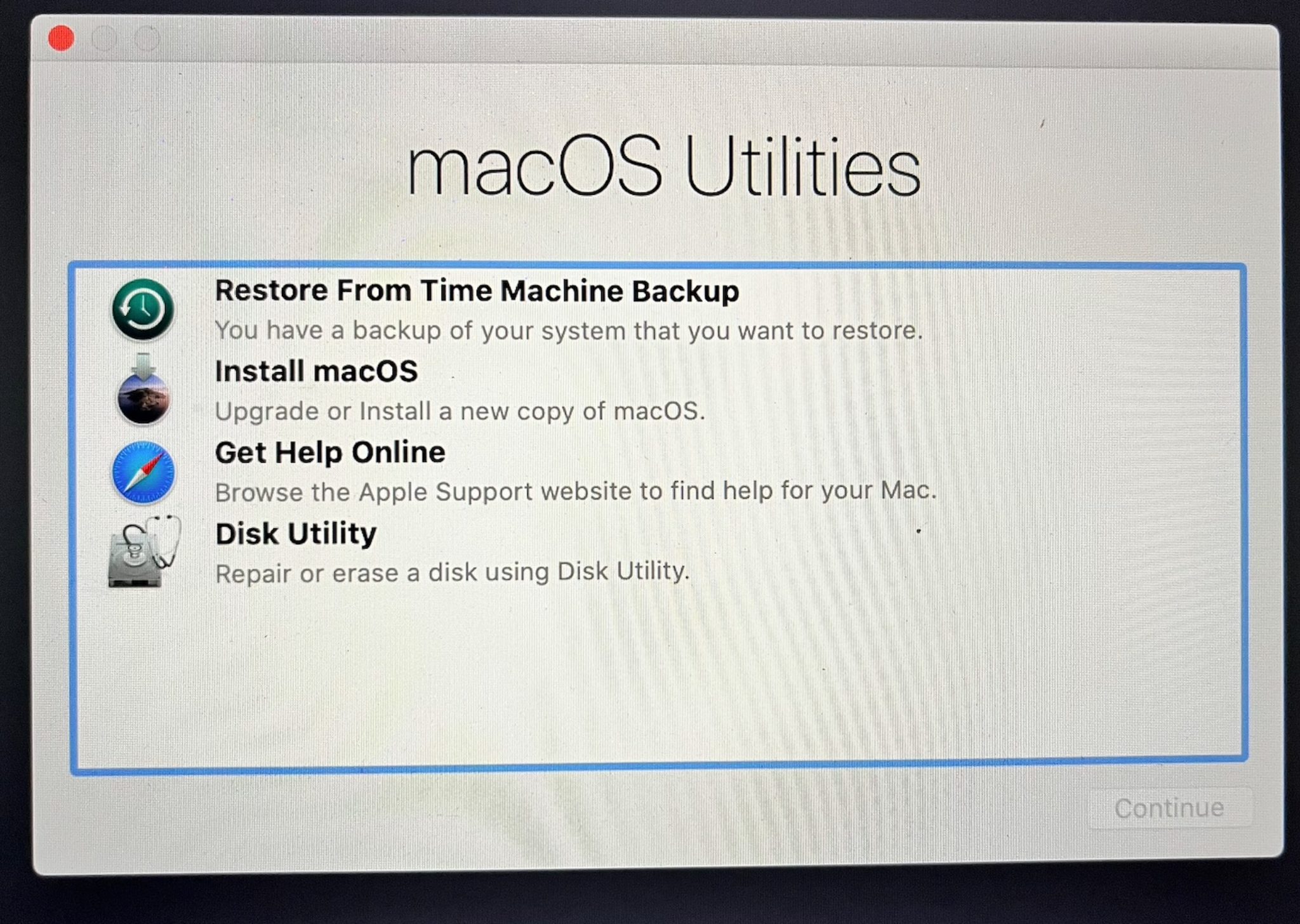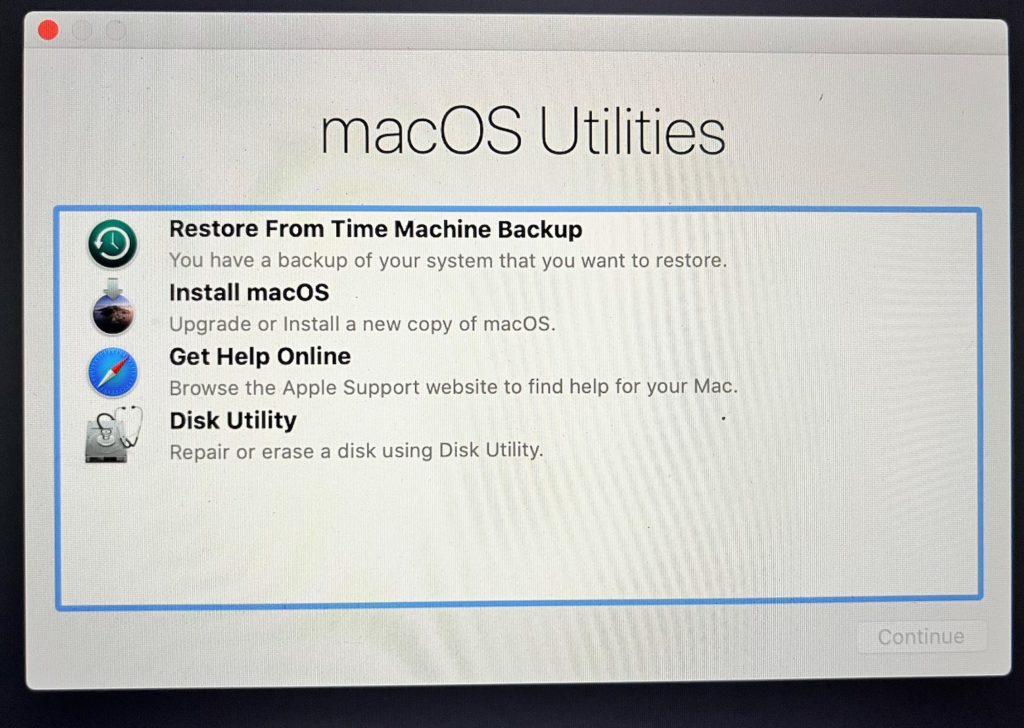 Following this, you'll find yourself in the macOS Utilities window, where you can select the desired macOS version (click on "Install macOS") and proceed with the installation process.
PS: You can use the same method explained above to burn macOS DMG to a DVD disc.