Apple distributes the macOS and apps through the Mac App store ever since the platform's launch on the Mac OS X Lion. They have a direct download link for newer and older macOS versions in PKG & DMG formats. But when you download from the App Store, the macOS installer has a .app extension. The app version of the macOS install package doesn't have some properties of the DMG version. It is similar to DMG's when you consider the ability to pack multiple files as an archive. However, we can't mount the macOS app installer or use it for making bootable macOS USB on Windows or Linux. But if you want, you can make macOS DMG or ISO from the Install macOS app downloaded from the App Store. This article explains a simple method to convert the macOS installer to bootable .DMG and ISO in a Mac

Main reasons for converting macOS to .DMG or .ISO
DMG and ISO files are highly portable and can run on different OS platforms.
It is easy for anyone to upload and transfer macOS DMG/ISO through the Internet.
With a macOS installer in DMG format, you can quickly create Install DVDs and bootable USB installers in a few minutes.
When you convert macOS Install .app to ISO format, you may* use it for running macOS on Windows PCs (Hackintosh).
Convert macOS Installer .APP to bootable .DMG or ISO
This article explains a simple method to convert the macOS installer to bootable .DMG and ISO in a Mac. Some people use the DMG and ISO version of macOS for Hackintosh and running macOS on Windows using software like VirtualBox. We haven't tested the macOS ISO/DMG generated using this method for the above usage cases. But you can confidently use the same for burning macOS DMG to USB in Windows.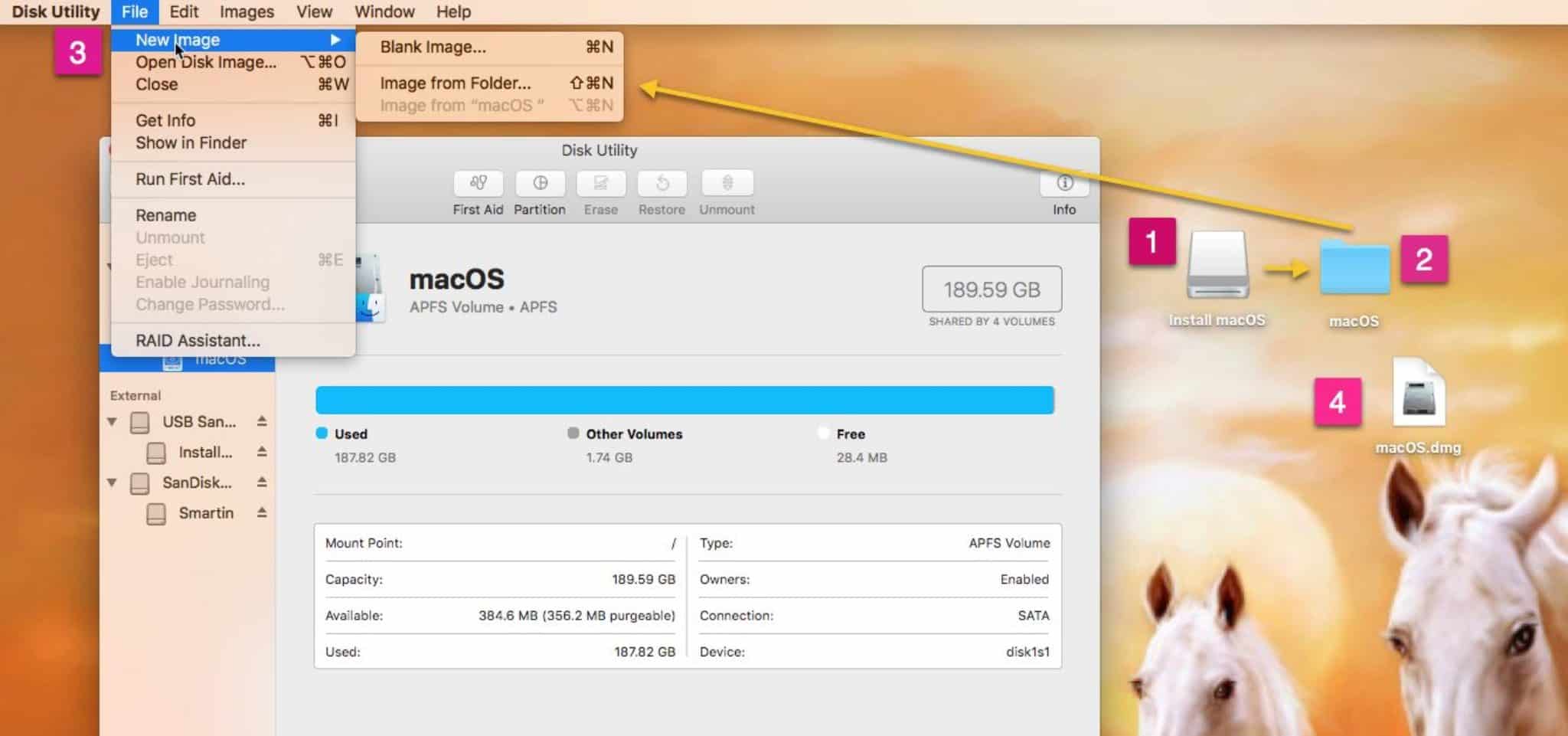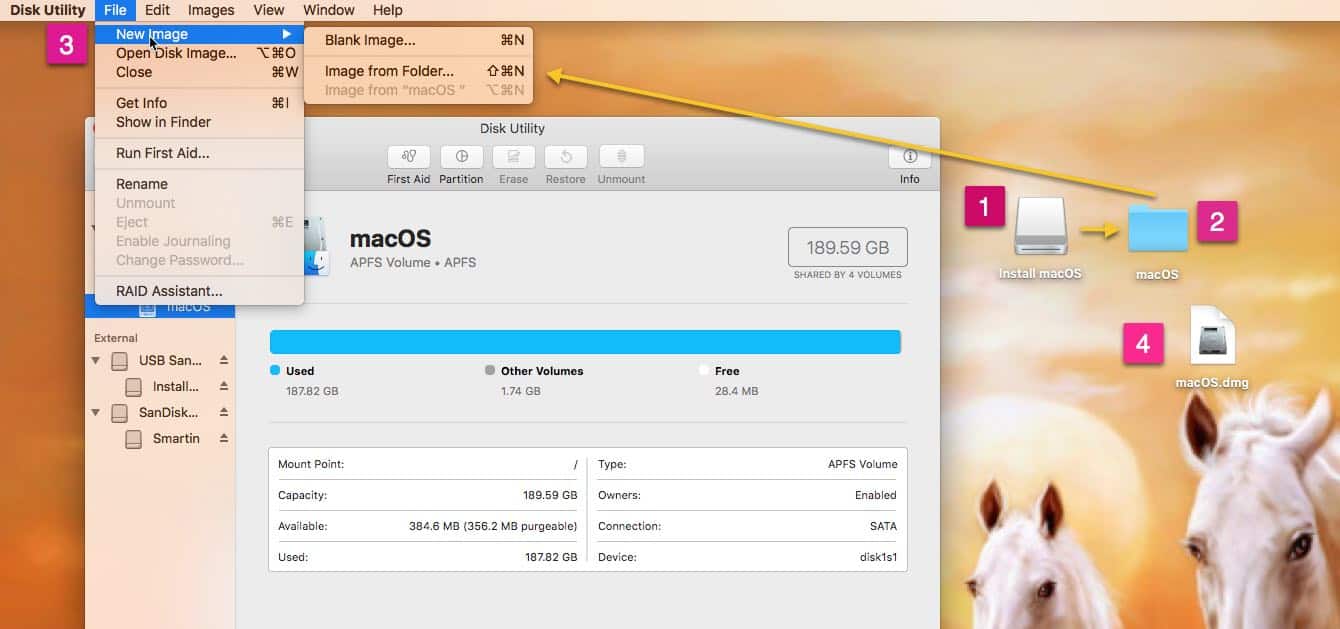 First of all, download macOS Lion, Mountain Lion, Yosemite, Sierra, High Sierra, Mojave, Catalina, Big Sur or Monterey full offline installer, and save it in the Applications folder.
Next step is to create a macOS USB disk from the Installer app. I prefer using the macOS Terminal app to create the bootable USB Installer using commands given in Apple website.
Now, copy the contents of the macOS USB to a new folder and give it a single word name, say macOS.
Then open the Disk Utility app and then take the "File" menu from the top left corner. Then select New Image > Image from folder, and direct the Finder to the "macOS" folder.
Choose the image format as Hybrid (HFS+/ISO/UDF).
The system will start converting the folder which has macOS installer files to the bootable .DMG file.
In the end, you will see the macOS.DMG file on your Mac's desktop. You may use it to make a bootable macOS USB from Windows or Linux; apps like balenaEtcher/TransMac can do it.
[embedyt] https://www.youtube.com/watch?v=TWD8cLWzp04[/embedyt]
Just in case you have any difficulty, check the above video from 2.05 and see the complete process in action.

How to convert macOS installer [app] to ISO format
ISO is probably the best format to handle disk images in Windows, and DMG is relatively less common. Although some apps can run DMG files on Windows, having an ISO version has more flexibility. Also, some people require macOS ISO for virtualization in Windows. As I said earlier, the DMG image made through the above method is not suitable for Hackintosh, but it may work with apps like VirtualBox, especially for older versions of macOS. So if you want to convert the macOS installer to ISO, here is the simplest way.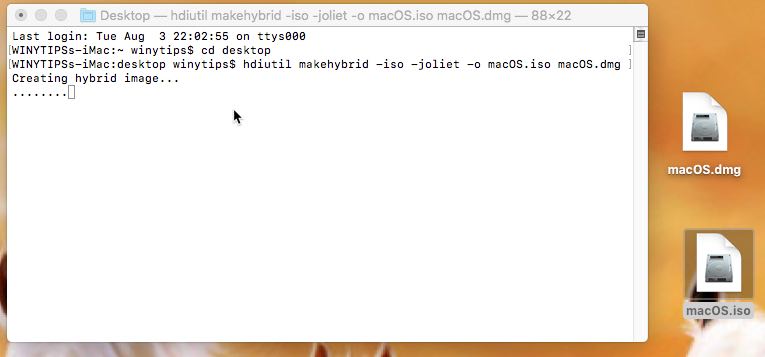 Convert macOS installer to a bootable DMG file first and then change the extension to .ISO.
Alternatively, take the Terminal app and run commands (check screenshot) to convert macOS to ISO.
Here we are actually converting the already created macOS DMG file to ISO using hdiutil. So don't forget to change the macOS.dmg and macOS.iso parts in the command to suit your requirements.
A hybrid disk image supports different file systems, as per Apple website. So the macOS ISO and DMG files made through this method will have similar bevhivour across all supported operating systems.
Convert macOS Installer .app to bootable .dmg or .iso image