Finding and playing the old childhood game titles is an occasional interest for many PC users. I'm a big fan of 16-bit DOS games that I remember playing on my first PC that ran Windows XP. Thanks to the Internet, most of those nostalgic games are now available online for download. However, the issue is that you cannot install or run some of those old games on Windows 10. While the compatibility mode in Windows 10 helps you open and play most of them natively on 32-bit edition, the 64-bit build can't do that. This article explains the ways I currently use to play PC old games on Windows 10.
Ways to run and play old games on Windows 10 PC

These days you can download the old 16-bit or DOS games in as a zip file from the Internet. If the game comes in an archive format, you have to extract it and click on the .exe file to open and play it. Another option to run an old game is connecting it's CD to the system if your PC or laptop has a slot, and the disc is undamaged. As said in the beginning, Windows 10 32-bit version allows you to play almost all these games. However, if you get an error like as shown in the screenshot, or a message that you can't install it, check our article on installing old programs on windows 10 for a solution.

The above fix is only applicable to Windows 10 32-bit. Check below for alternatives, if you use a 64-bit Windows 10 computer.
Install and play old games on Windows 10 64-bit PC [DOSBox]
DOSBox, comes as a rescue for those who use the 64-bit Windows 10 for trying out old games. DOSBox is the first-hand choice for playing old games cause it's a freeware emulator application, which is light-weight and easy to configure. Here we don't require a guest like Windows XP for virtualization if I compare it to the VirtualBox method we explain below.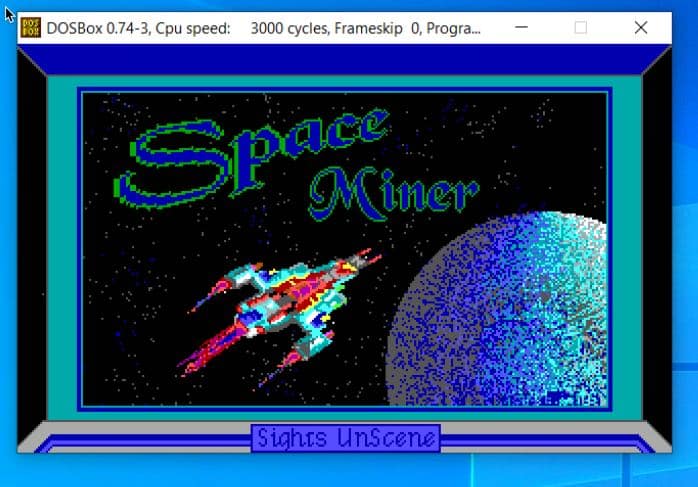 Excited? Let's check out the steps for playing old PC games and on Windows 10 64-bit using the DOSBox application.
Install the latest version of DOSBox app for Windows, here.
Download an old game of your choice from a website like myabandonware. Here I'm using a DOS game from 1983, Space Miner.
Extract the games to a folder on your C drive. I'm saying C because I use this directory in the example.
Now, run DOSBox app, and execute the commands just as shown the following screenshot.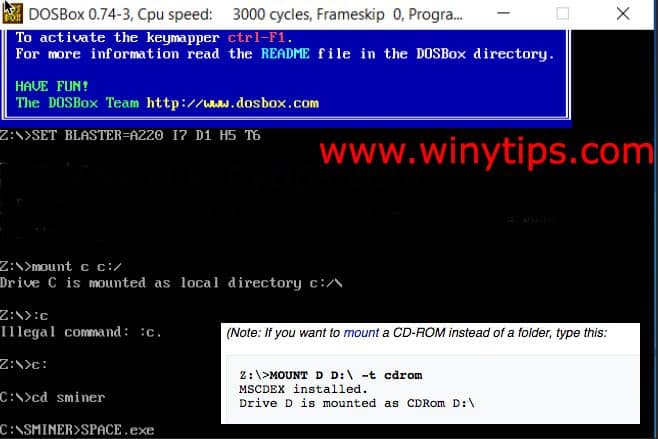 DOSBox will emulate and run the old game on your Windows 10 PC, as shown above. You can use the keyboard key combinations to play the game, as shown in the following video.
[embedyt] https://www.youtube.com/watch?v=mRB76L-XPsk[/embedyt]
DOSBox can also be used to play old games from your CD (command is given in the screenshot) drive. However, I prefer a Widows XP VirtualBox installation on Windows 10 for running more advanced games; especially, for the ones that came out in the late 1990s.
Related: Install and run old 32-bit games and apps on macOS
Install Windows XP on Windows 10 to run old PC games on a CD

When you talk about virtualization software on Windows 10, we have a lot of tools to consider. Microsoft itself provides Hyper-V in Windows 10. But the disadvantage of Hyper-V is that virtual host OS also needs a separate genuine license. Also, not all Windows 10 editions support it, and it has some specific hardware requirements. Therefore in this tutorial, we use VirtualBox, a freeware, and multi-platform virtualization program. VirtualBox works so good for installing Windows XP on Windows 10 host, as you can see in the screenshot below.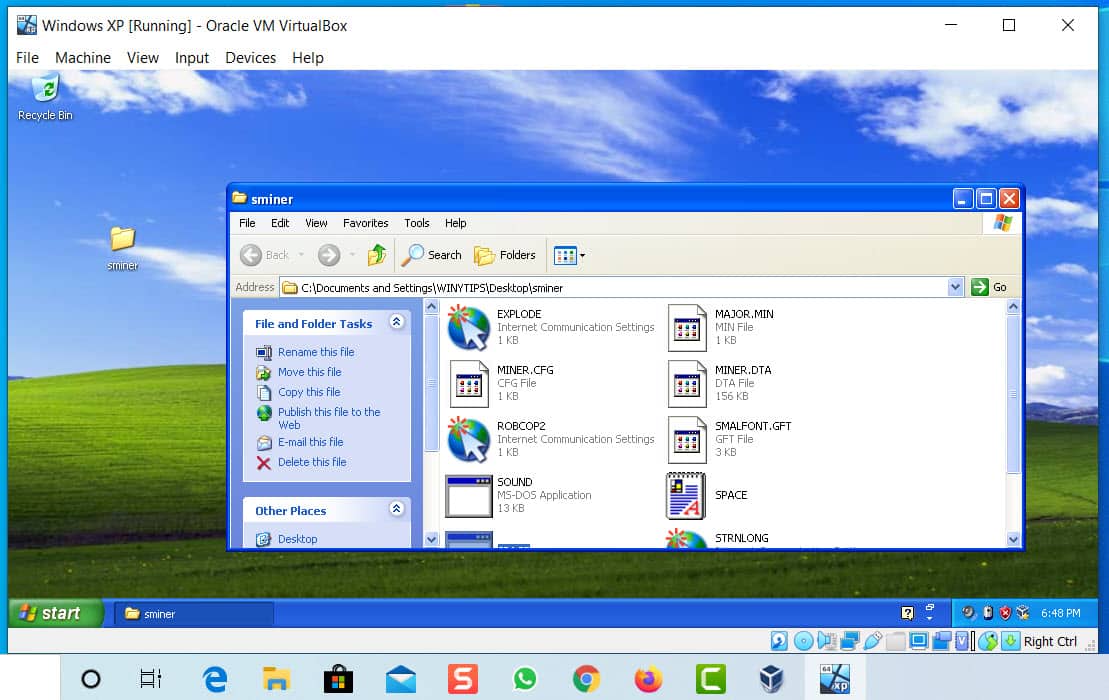 Steps to play an old game on Windows 10 through Windows XP installation
Windows XP is pretty stable in all new hardware settings and runs most of the old DOS and 16-bit games. Hence it is our choice for virtualization on Windows 10.
To begin, download a copy of Windows XP in ISO format to your desktop. I found it in Google, on a site called Softlay.
Install and setup the VirtualBox 6 app for Windows hosts, here.
Create a Windows XP virtual machine in Windows 10 as explained in the video.
Allocate the RAM and disk size as per the availability.
Start Windows XP once you complete the setup. Click on the Green arrow on Virtualbox UI to boot into the OS.

Now, go to the VirtualBox menu, click on Device> Drag and Drop and enable Bidirectional transfer, and allow Drag and Drop. This feature enables us to transfer the download games from Windows 10 host to XP guest.

Also, Install the Guest Additions add-ons from the Devices menu. They are a set of drivers in a CD image.
Double-click on the game icon or installer to set up and play it on Windows 10.
[embedyt] https://www.youtube.com/watch?v=sC0gXOZZBD8[/embedyt]
Do the following if you would like to connect an old game CD to your Windows XP installation running inside Windows 10. Please shut down Windows XP, and then open the VirtualBox settings. Click on Storage, then add an optical drive (CD or DVD), as shown below.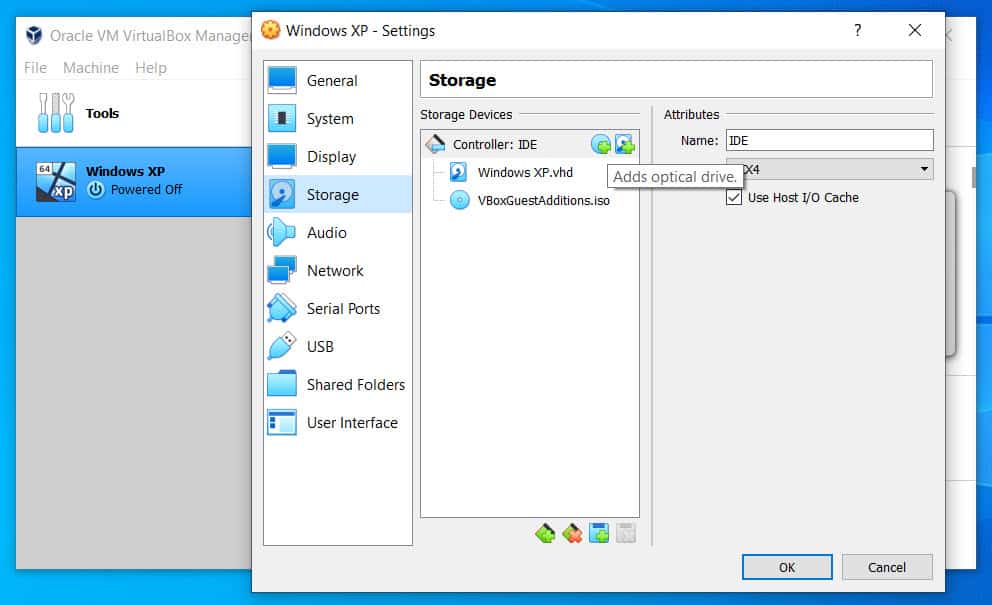 Virtualization requires a substantial amount of RAM and Graphics support. Thankfully, most of the new-age Windows 10 PCs have enough system resources to accommodate Windows XP installation. Another plus is that this method allows you to play the old games in the desired screen-size. Just click on the sidelines of the Virtualbox window and drag it to meet your requirements. You could also use the maximize icon at the top-left corner for taking it to the full-screen size.
Play old PC games on Windows 10 (DOS, CD & 16-bit)