"This program cannot be installed on Windows NT version 6.0 or later"- this is an error on Windows 8 when you try installing incompatible software. Thankfully Windows 10 is capable of running most of the old programs and apps that are necessary for the new age. But then, it has incompatibility issues with 16-bit and DOS applications that are very old. Although you can run 16-bit programs in the 32-bit version of Windows 10, the 64-bit build blocks it with an error "this app can't run on your PC." This article explores the ways to open and use old & incompatible programs on Windows PCs.


Install old programs and apps on Windows 10
Developers create programs to install and run on computers that have pre-defined specs. These conditions are related to OS, hardware, or the framework used to build the app. Authors set compatibility requirements in their programs to ensure that it runs flawlessly for the end-users. However, at times, these implementations make Windows programs incompatible on some computers which have a different profile. The system may still perhaps run it, but the pre-set incompatibility instruction stops the installation. Recently, macOS users also have this issue when Apple released macOS Catalina, which does not support the installation of 32-bit programs.

How to open and install old programs when Windows 10 says " This app can't run on your PC"
Older games and programs created for Windows XP, Windows 98, and Windows 95 runs well in Windows 10 (32-bit) with the help of compatibility mode or Virtual DOS Machine (NTVDM). One may open the settings to enable the NTVDM module in Windows 10 by typing for "Windows Features" in the search bar. Then, as shown below, tick NTVDM, and press okay. From now onward, all DOS and 16-bit programs for the old Windows editions will run on Windows 10.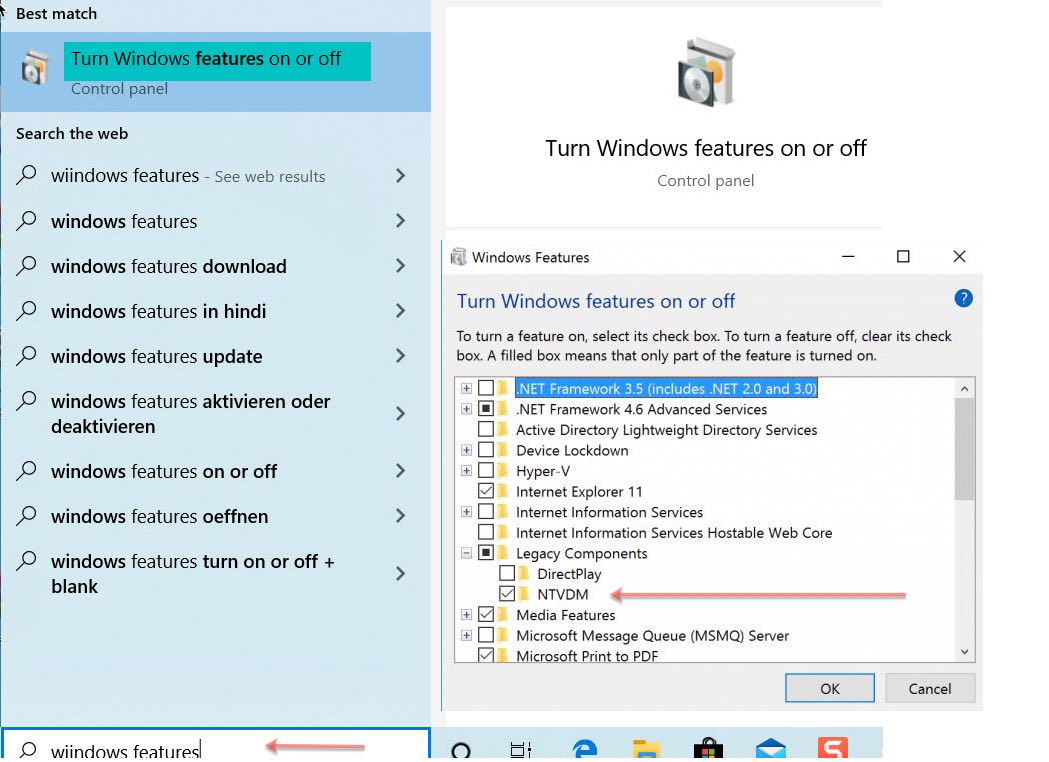 However, Windows 10 64-bit edition doesn't include the NTVDM feature. Hence, users will continue getting the error "This app can't run on your PC" for old programs, just as in the first screenshot.
If you are running Windows 10 64-bit, and want to use old DOS programs, we recommend you try software like VirtualBox or DosBox for the purpose. Usually, there are fewer instances where people need to run legacy apps on Windows 10. But, there are many takers for classic games. For them, we have created a special post on playing old games on Windows 10. Check it if you want to read the ways for running 16-bit and DOS games on 32 and 64-bit versions of Windows 10.
Related: Fix developer integrity cannot be verified error in macOS
Steps to install an old software application when Windows reports it as not compatible
Typically, Windows alerts users with error codes when it finds a program as incompatible. There are a lot of alert messages, but here is one I come across recently.
This program cannot be installed on Windows NT version 6.0 or later.
I got this error when I try installing an old software on a PC running Windows 8. You have to learn more about Windows NT versions to understand this further.
NT or New Technology is an internal code name for Windows versions. NT numbering is accessible in older Window PCs when you take the "About Windows" option in Control Panel. The NT number is 10.0 for latest Windows 10.
Now for the case above, the error implies that I cannot run the app on Windows NT version 6.0, which as per the table, is Windows Vista. The easiest way to fix these type of errors is to find the Windows edition corresponding to the NT version number, and run the PC in compatibility mode.
The following is the universal method to run incompatible programs on Windows PCs when the OS does not let you install it in the regular form. We recently found success in applying the same method to install Skype for Windows.
Right-click on the installer of the old program and take "Properties" option.
Now, find the compatibility tab, and move down to "Run this program in compatibility mode" section.
Next, choose the Windows version you think that would fix the installation.
Consider adjusting the bit-rate in the "Reduced Color mode" setting if you're trying to fix a very old game, say "Road Rash."
Apply the changes, and re-run the installer to check whether it works.
[embedyt] https://www.youtube.com/watch?v=3sMuD0b4rCo[/embedyt]
Using Windows 10 compatibility troubleshooter to run old programs
Microsoft has a built-in program for solving compatibility issues in Windows 10 and other recent OS versions. Here is how you could use this app if it doesn't open automatically.

Search for "Compatibility" in the Windows search box.
Take the first result which opens Program Compatibility Troubleshooter application.
Click Next, and then select the incompatible program from the list that appears.
Pick the "Not Listed" line if you do not see the target program on the list.
 Press Next and browse to locate the app installer and proceed.
Choose to go with the "Recommended Settings" as Windows automatically configures the incompatible installer in the next step.
Follow these steps whenever and wherever you find a Windows application that not compatible with a particular OS version. This technique works in most of the cases. However, there may be security issues associated with old software-so be careful when you do this for unknown applications.
Install incompatible & old programs when Windows 10 can't run it