The first few lines of the HDFC Credit card statement for some customers list a few charges labeled with IGST-VPS RATE-18.0. Those who are reading their HDFC Bank credit card statements for the first time would wonder what this IGST-VPS is. If you are an HDFC credit card user, read more to know about IGST VPS references in your statement.

IGST-VPS RATE 18.0 charges in HDFC Bank Credit card statement

I came across the IGST VPS Rate-18.0 entries when I was checking my billing history on HDFC netbanking site. To my surprise, it appeared in the unbilled section even though I didn't use the credit card on that month. I did a background check on this, and finally, I found the reason for having IGST VPS charges on HDFC credit cards.
The IGST-VPS at rate 18.0 percentage is a service charge as per the new integrated goods and services tax system in India.
We did a call to HDFC customer care for knowing the full form of VPS. All they say that it's banking code related to credit/debit card transactions.
IGST-VPS charges are only applicable to the Interest part your HDFC credit card EMIs.
Hence, a rate of 18% applies to interest component of your Insta Loan, Insta Jumbo Loan, Smart EMI and other loan products under the credit card.
Sometimes you may also get IGST-VPS debits for late payments and processing fees related to credit card loans.
HDFC and other banks do not charge IGST on other regular transactions you make through the card.

I found the details of IGST rates on HDFC credit card from the official site. From July 2017, HDFC charges GST at 18.0 percent on specific transactions. Again, it is clear from the screenshot that the IGST rates, if applicable, reflect on the statement, only in the next billing cycle.

Finding the source of IGST-VPS on HDFC Bank credit card bill
The main reason for having IGST-VPS in your HDFC credit card bill is the presence loans and their EMI's mapped to your account. For this reason, we have to check our existing credit card loans to locate the source of IGST-VPS charges.
[embedyt]https://www.youtube.com/watch?v=nMQoLmRfcr0>[/embedyt]
Login to HDFC credit card section on Netbanking site. Now, open "Loan Details" under "Enquire" section in the sidebar. As shown in the video, select your card number and proceed. The site will list all your existing EMIs. Click on one and see the schedule of the payment for the current month. Note-down the interest part of the EMI. Now come back to check the unbilled section for credit card. There you can see the 18% of the interest added as IGST VPS charges, as shown in the screenshot. This charge will appear your next's month's HDFC credit card statement.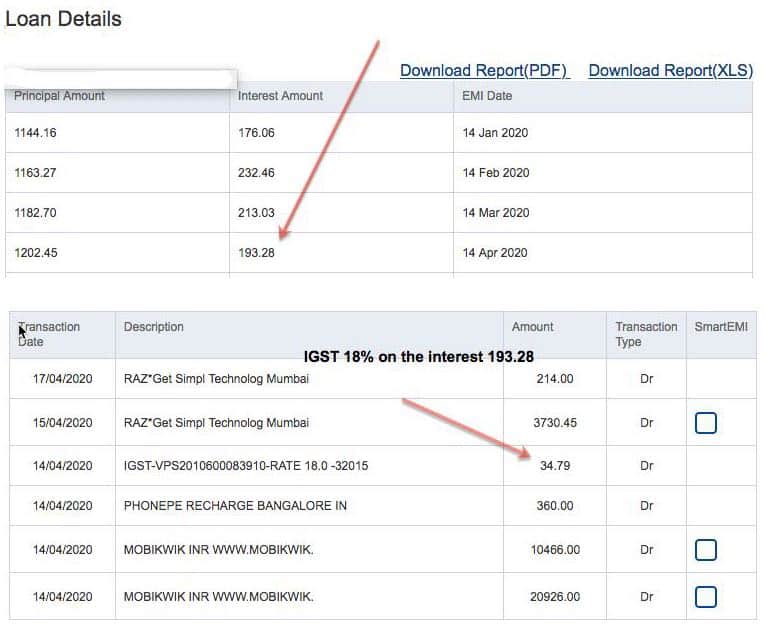 Apart from the EMI interest, HDFC Bank charges GST on various services related to Credit Card. If you apply for Insta Loan, Insta Jumbo Loan or Dial a Smart EMI, they charge GST on the processing fee amount. IGST charge is also applicable on FCY markup fee on international transactions.
IGST charges on other bank credit cards
Not only HDFC, but all other banks also collect IGST charges on their credit card bills. Expect it if you have EMIs running on the card or if you did a foreign transaction in the previous month. However, they may use different labels to mention the same in the statement. For instance, ICICI Bank uses [email protected], and SBI terms it as igst db @ 18.00. So don't take much stress- you don't need to call your bank if you see an IGST amount on your bill- it's pretty standard these days.