HDFC companies HDFC Life and HDFC bank open portals that provide free CIBIL score checks for everyone. As you know, an excellent CIBIL rating, along with stable employment, makes you eligible to apply for all HDFC Bank financial products. With the launch of these online sites, anyone, those who are not even HDFC customers can also check their creditworthiness without paying any fee. All you need is to login to the HDFC online sites below and provide your information as per the bank records.
Checking CIBIL score with HDFC companies for free

HDFC Bank has a link in the netbanking for customers wanting to check their CIBIL credit report and score quickly. Unfortunately, this facility is not free even in the premium savings accounts. It is just a connection from HDFC netbanking to CIBIL website where they charge 500 RS for checking the credit score. However, most customers don't know that HDFC Bank has a website to check CIBIL score free.
Using HDFC Bank portal for free CIBIL score and credit report
[embedyt] https://www.youtube.com/watch?v=4d1J8T8HMm8[/embedyt]
Step 1: Login to HDFC Bank-CIBIL score website here. Fill the customer identification form with your personal details, and select a password to create an account.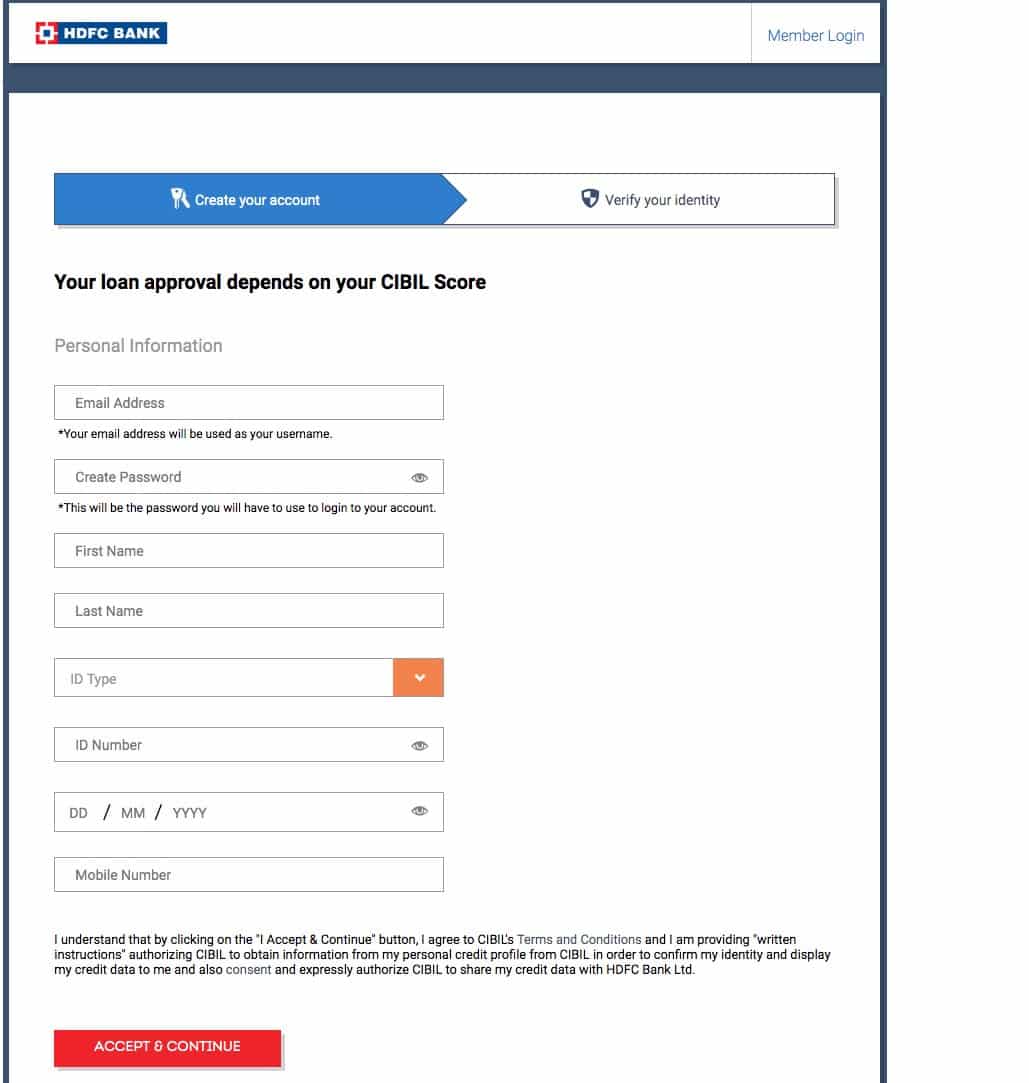 Remember to add the email ID, and mobile number that you generally give for opening bank accounts and credit cards. In the ID type you can choose all common ID cards except Aadhaar. However, it will be easy for CIBIL to find your profile if you enter the PAN card number.
Step 2: Verify your mobile number with the OTP sent to your phone number or email. Now if you are new to CIBIL score, and if you don't have any credit history, they may require additional information from you. As you can see, here CIBIL showing me some random financial information for
identity verification.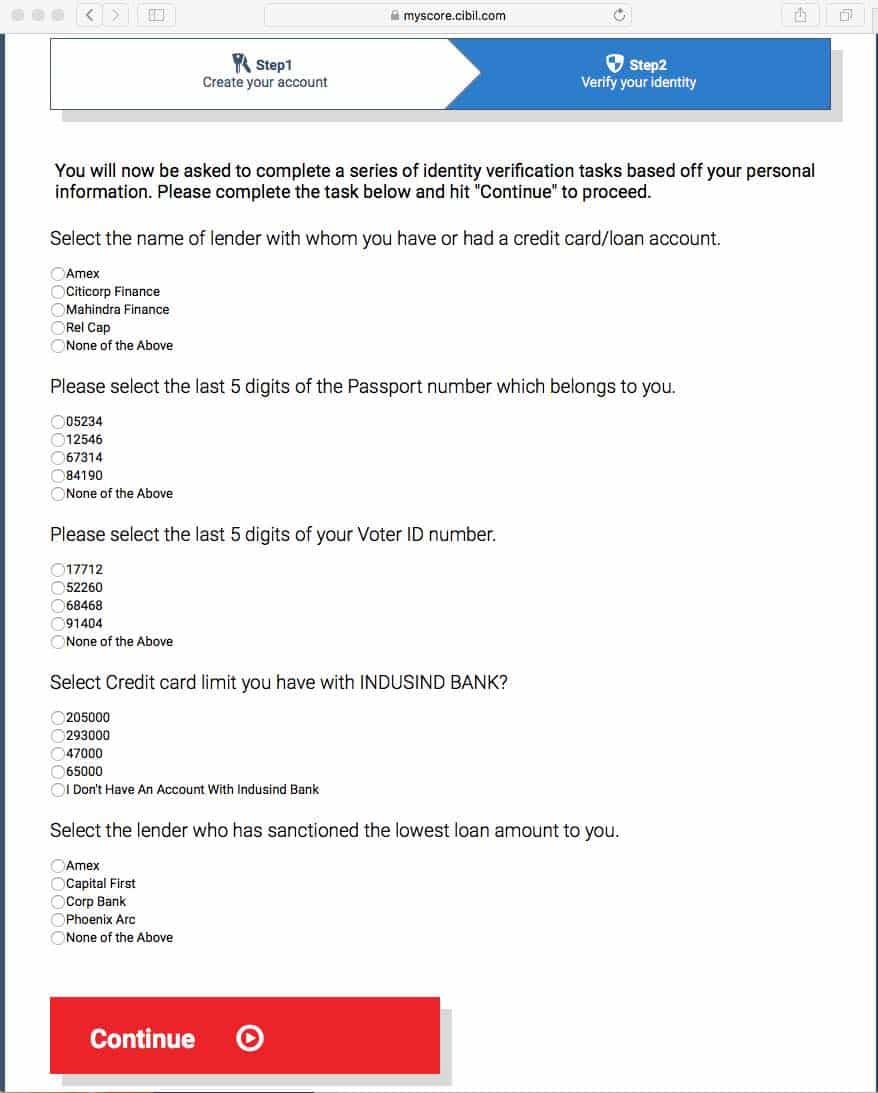 If you are seeing this page, just select the card/loan or bank accounts that belongs to you.
Step 4: Click on the "Go to Dashboard" button when you see "Successfully Enrolled" message.
Now you can view your free CIBIL score (as shown below), and the report on the HDFC's partnership site, as shown in the screenshot.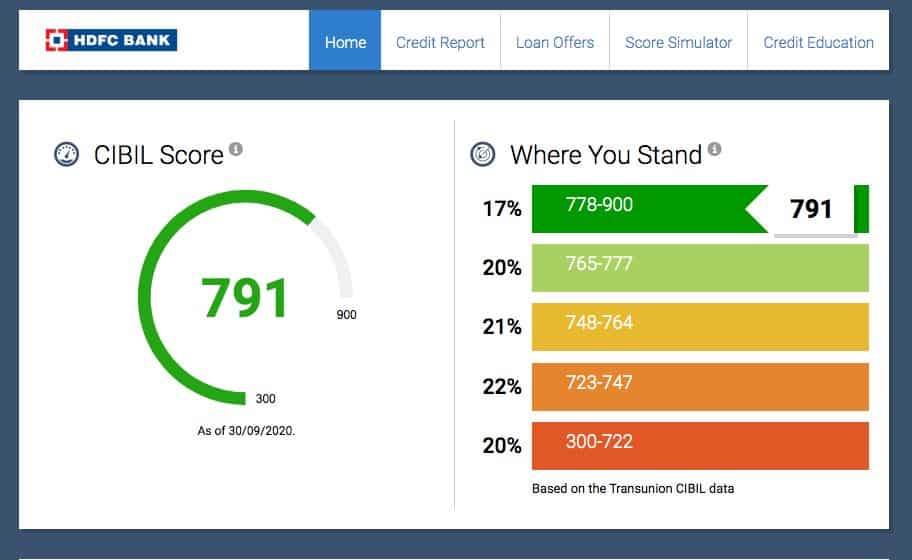 Thanks to HDFC bank, you can also check your free CIBIL credit report in this page. Click on the relevant tab at the top.
HDFC bank and CIBIL provides you the option to refresh your free score once in every month. You can return to the above URL to view your latest CIBIL Score exactly after 30 days. This method is completely free, but you CIBIL score data may be shared with HDFC bank and they may use it to target you with suitable financial products.
Related: How to check HDFC Credit Card statement
Get CIBIL Score free with HDFC Life
HDFC Life, the insurance company from the HDFC group, also has an online webpage to check CIBIL score without any fee. The portal is better than the official CIBIL website itself if you want to do a quick score check online. Do the following to get free CIBIL score through HDFC Life.
Login to HDFC Life Credit Mart website, here.
Enter your First and Last name and click on the Red "Lets Start" button. Select your Gender and click Next.
Now, enter your email and mobile number. Give the same that you have in the bank and financial records.
Provide the DOB as per official records.
Provide the PIN code, State, and District.
In the next page, choose an ID of verification, preferably PAN card. Apart from this, Voters ID, PAN Card, Driving License, Ration Card, Passport Number are also available as options.
Now it will take you to the result page where you could see the CIBIL score as shown in the screenshot.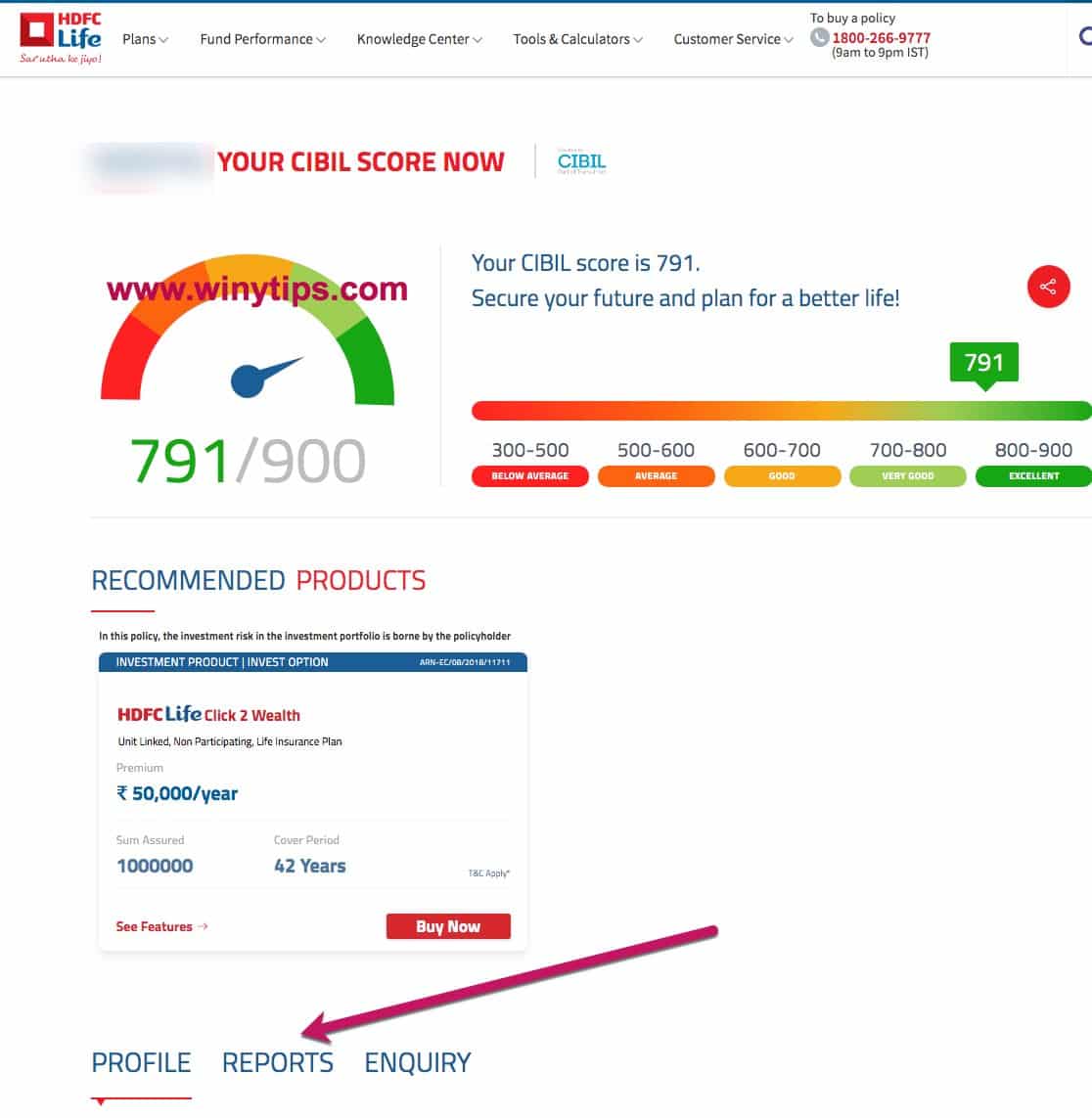 There is a disadvantage of using HDFC Life to check your CIBIL score. Expect a call bomb from HDFC agents post checking your CIBIL in this way. But yes, you can, of course, add HDFC Life to your blacklist if you have no plans to take an insurance plan.
Alternative: check CIBIL score using HDFC netbanking
The only advantage of using HDFC banking for accessing the CIBIL score is that they pre-fill some data in the registration form. It may also be useful HDFC bank customers who are new this CIBIL status and application process. Check below for details, if you wish to use HDFC netbanking for checking CIBIL score.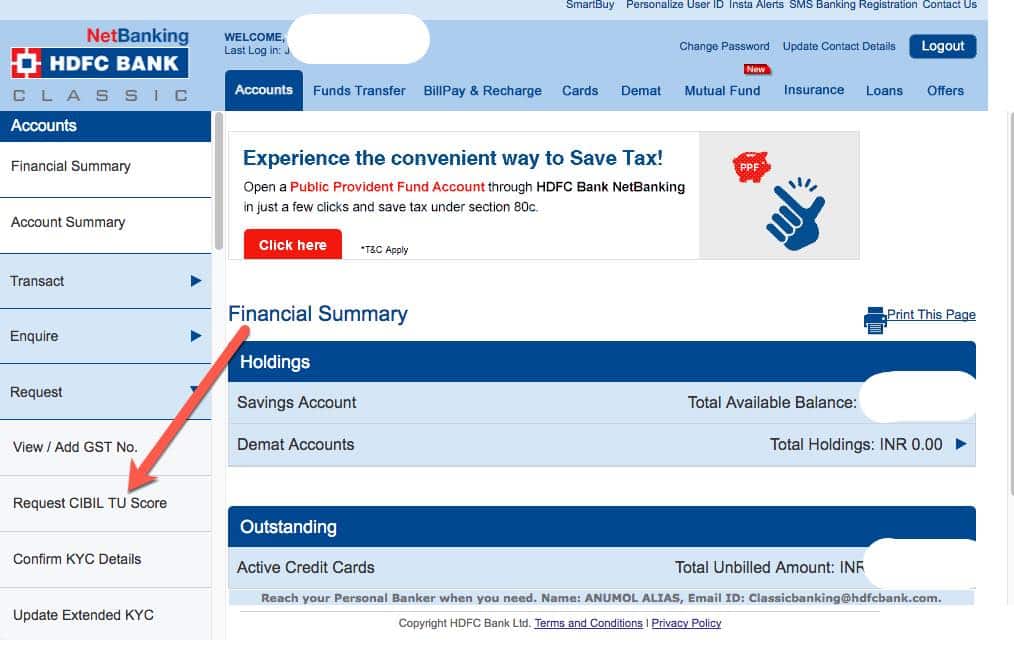 Login to HDFC Bank netbanking site: Click Here.
When you are in the Accounts tab, find the link for Request CIBIL TU Score, in the left side.
Verify your PAN card number, DOB, and email address.
Agree and Confirm the details shown on the HDFC Bank website.
Now it will take you the CIBIL website for completing the rest of the formalities.
You have to complete a form, make payment, and answer a few questions about your financial history before CIBIL displays your score.
Is it the right way to use netbanking for checking your CIBIL score? I would say no. CIBIL charges 500 INR when you go through the link on HDFC netbanking. Many people fall for it, because, they don't know that CIBIL itself gives one free credit report, every year, for free. Hence, its a waste of money if you apply for the CIBIL score through the option inside HDFC netbanking website.
CIBIL score for HDFC Credit Cards, Car, Home, and Personal Loans
As said earlier, a good CIBIL score is a must for applying many of the HDFC Bank products. It is important decision factor for approving unsecured instruments like HDFC Credit Cards and Personal loan.
When you open the CIBIL score page, you can find sections like "Reports" and "Inquiry." It displays companies which ask your CIBIL score and report. Since I hold an HDFC credit card from 2011, I can show you how it looks like.
Following is the screenshot is taken from HDFC Life Creditmart portal, where you can see HDFC inquiring about my CIBIL score in 2011, before sanctioning me a credit card. If I'm remembering it correct at that time, I had a CIBIL score around 780.

So what's the ideal CIBIL Score for HDFC Credit Card or Personal loan? In my experience, it is more than enough if you have a CIBIL score above 780. HDFC Bank sanctions pre-approved credit cards and personal loans for customer with high CIBIL score (above 800). These offers automatically appear in the netbanking site, under the Offers tab, when you do frequent online transactions and maintain a clean credit history.
However, the CIBIL score requirement is low for HDFC's secured loan products such as Home Loan, and Car Loan. I have seen HDFC accepting Home loan applications from customers when they CIBIL score as low as 680. However, having a low CIBIL score will reflect on the time taken for approvals, and HDFC often charges an additional processing fee for applications, also, sometimes, more interest rate.
Check CIBIL score free with HDFC Bank & Life