An iOS ipsw (offline installer) may come helpful when the OTA-based software update fails on an iPhone. It often happens when there are storage, billing, or network connectivity issue with the iOS devices. In iPhone, you will get errors like "unable to check/verify update." in such scenarios. Thankfully, it is possible to download iOS 16 older versions like iOS 15 directly from Apple as an IPSW file. One can use the downloaded file (full iOS installer) to update multiple iPhones offline and fix all issues with installation.
Download iOS 16.6 &15.7.8 ipsw (firmware) for iPhone
Recently I had to download iOS 16 IPSW for resetting my iPhone and test an issue with my contact photos. Of course, you can do it from the iPhone's settings, but "factory reset" is a safer option when you want to sell your device. Also, an offline software update is the best way to recover an iPhone if it's bootloader is corrupt, the screen is stuck, or it is not getting detected on a desktop system.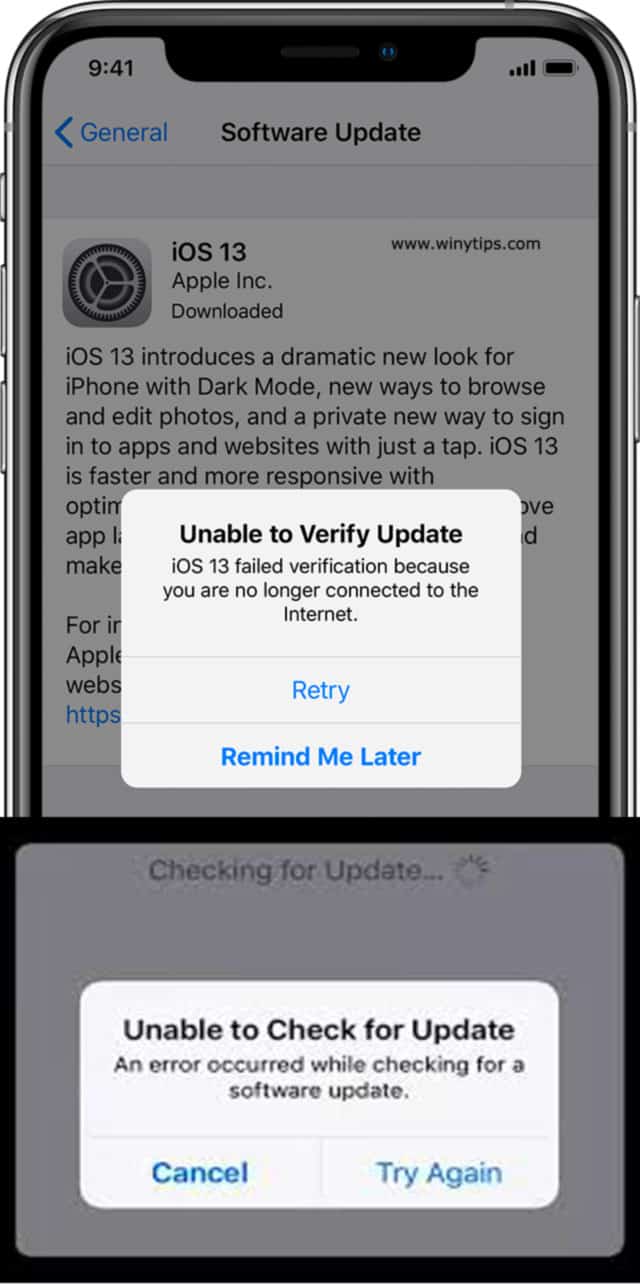 Downloading iOS offline installer helps you fix the software update issues like,
Unable to verify update- iOS 16.6/15.7.8 failed verification because you are no longer connected to the internet.
Unable to check for update- an error occurred while checking for a software update.
Some of the jailbreaking tools for the iPhone also needs iOS IPSW for offline update requiring through a desktop computer.
Apple does not provide a direct link for the iOS installer on their website or other public platforms. So one has to search the internet to find the iOS IPSW links every time if he wishes to do an offline restore. The disadvantage here is the size of the iOS offline installer, which is about 5-6 GB when you download the full file.
Direct link for downloading iOS 16/15 IPSW (iPhone software)
Sometimes iPhones may not get a quick update to the latest versions of iOS as soon as they are released. When you check the software updates, it says "update requested", and the screen stays there so long for many users. If you are facing any update error issues and want to update your iPhone to the latest version immediately, download the iOS ipsw and do an offline restore.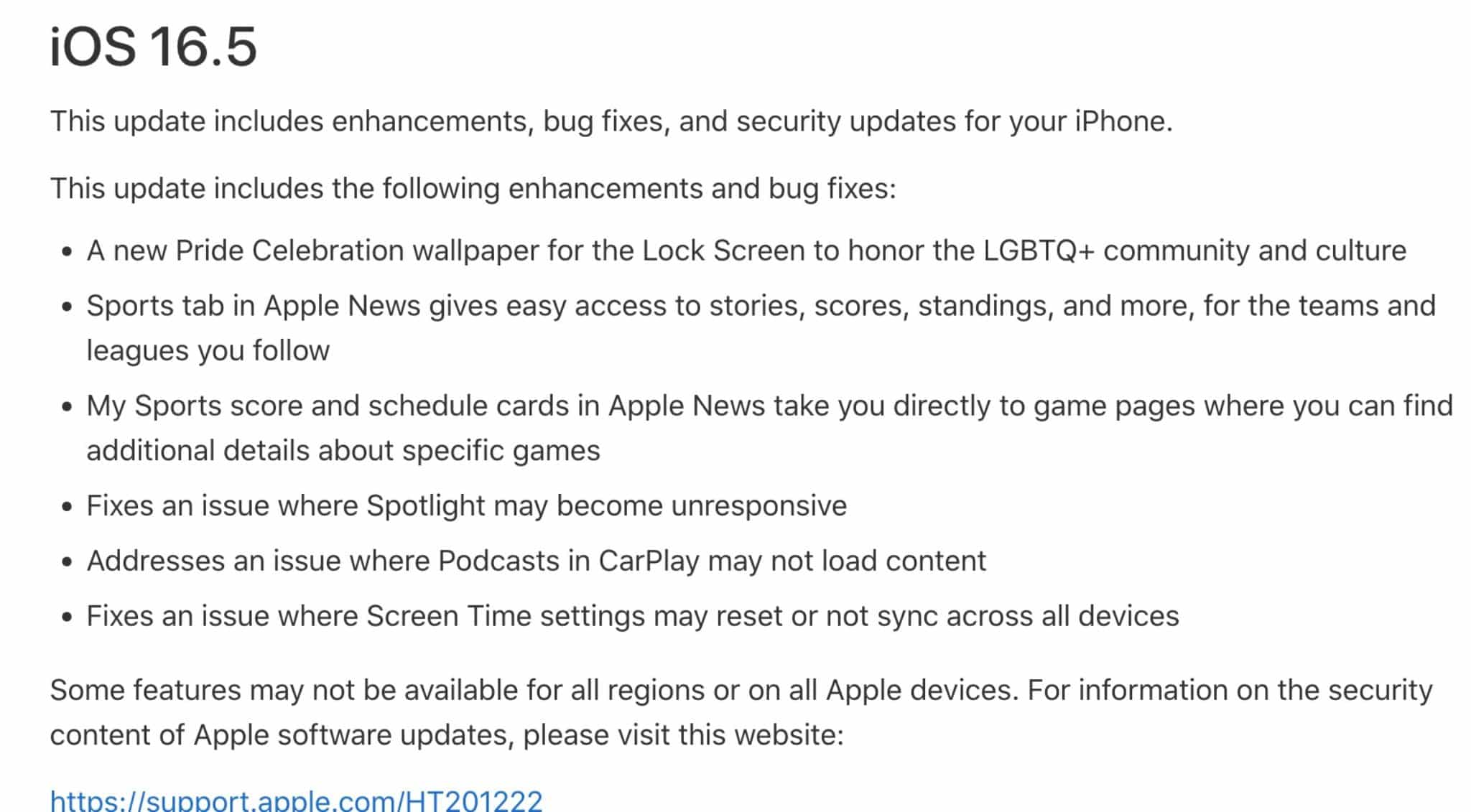 What you see above is iOS 16.5 changelog. Now if you want to know about iOS 16.6 release or iOS 15.7.8, please visit the Apple webpage for iOS 16 and iOS 15. Select a version number to read all about old and new updates.
The following downloads of iOS firmware for iOS 16 & iOS 15 works only on the latest iPhone models released after September 2016. Upgrade your device or download iOS 15.7.5 if you are still using an old device.
Direct download links for iOS 16.6 ipsw
Download iOS 16.6 ipsw for iPhone SE 2020 (2nd gen), iPhone 8 Plus, iPhone 8, iPhone X, iPhone XR, iPhone XS, iPhone XS Max, iPhone 11, iPhone 11 Pro, iPhone 11 Pro Max, iPhone 12 Mini, iPhone 12 Pro, iPhone 12 Pro Max, iPhone 12, iPhone 13 mini, iPhone 13, iPhone 13 Pro, iPhone 13 Pro Max, iPhone SE 2022 (3rd Gen), iPhone 14, iPhone 14 Plus, iPhone 14 Pro, iPhone 14 Pro Max.
Legal disclaimer: All links are direct and from Apple web servers. We never upload or store copies of iOS firmware on our website.
As of 2023, iOS 16 is not compatible with iPhone 6S/7 Plus, iPhone 7, iPhone 6S & iPhone SE which many people are still using. Those who own these old devices may get iOS 15.7.5 offline installer from the link given below.

Download iOS 15.7.8 firmware update for iPhone 7 Plus, iPhone 7, iPhone SE, iPhone 6S Plus & iPhone 6S
Prefer downloading the iOS ipsw installers using the web browser if you have a stable internet connection. Using third-party software like IDM may speed up the download, but it might save the downloaded iOS ipsw as a ZIP file. However, it is easy to convert back; change the extension of the file to .IPSW before restoring it through iTunes.
How to install iOS 17.0 beta with IPSW file.
Beta testing for the upcoming iOS 17 is still going on, and the final iteration its expected to land in the month of September 2023. However, if you sign-up for the iOS 17 Beta program and install the Beta profile on your iPhone, you could try and experience the new OS right now.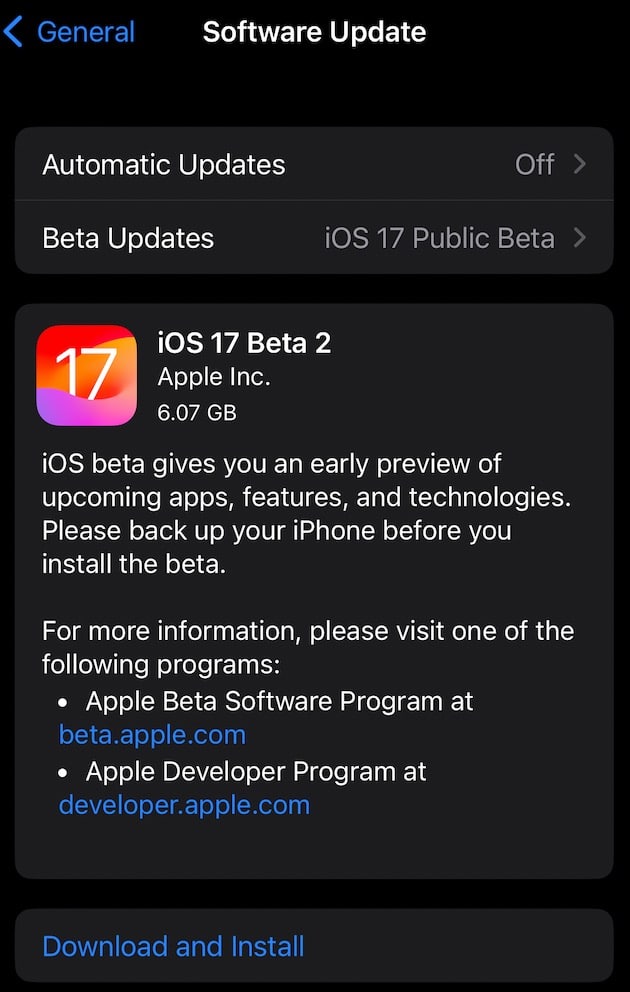 02/08/2023 Update
Download
iOS 17 Beta 4 ipsw
for
iPhone SE 2
(2nd gen),
iPhone XR
,
iPhone XS/Xs Max
,
iPhone 11
,
iPhone 11 Pro/Pro Max
,
iPhone 12 Mini
,
iPhone 12/12 Pro
,
iPhone 12 Pro Max
,
iPhone 13 mini
,
iPhone 13
,
iPhone 13 Pro
,
iPhone 13 Pro Max
,
iPhone SE 2022
(3rd Gen),
iPhone 14
,
iPhone 14 Plus
,
iPhone 14 Pro
,
iPhone 14 Pro Max.
(All direct links from Apple)

After installing the Beta profile, you can download and install iOS 17.0 ipsw iPhone using the built-in software update feature, after turning-on the option to receive the Beta updates. You can also restore the 17.0 firmware offline, as explained below.
Steps to update iPhone software offline with iOS 16.8/iOS 15.7 ipsw
Remember to take a local backup of your iPhone before proceeding with the iOS 16.6 or iOS 15.7 offline update. It helps you quickly setup your new iPhone or re-install the data on the same device after a factory reset. We use iTunes for offline installation of iOS on iPhone in Windows and macOS versions up-to Mojave. Those who are upgraded to macOS Catalina may just use the Finder to complete the update process.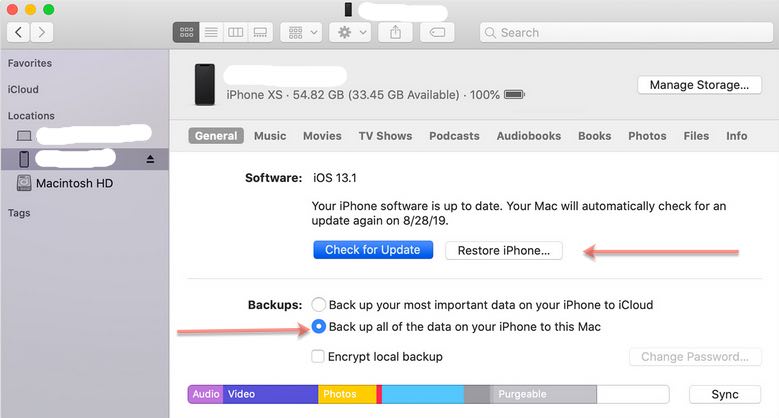 Connect the iPhone to a Mac or PC.
Using an old version of macOS, or Windows? Download and install the latest version of iTunes for Mac, or Windows 32-bit or 64-bit.
Now open iTunes or a new Finder window and wait for the system to detect your iPhone.
Once the iPhone shows up, take a local backup if your device is in working condition.
When you are ready, click on the "Restore iPhone" button, and at the same time, press the Option/Alt key (Mac) or Shift key (Windows).
Then select the downloaded iOS 16/15 IPSW files, and wait for the system to complete the offline software update.
You might need to put your iPhone in DFU mode if it is not appearing on Finder or the iTunes app for some reason. Have a look at this guide on Apple.com for more details on this process.
Location of iOS offline installer (ipsw) saved on a Mac or Windows PC
If you update iPhone software directly on iTunes, the app saves a copy of the IPSW file on one of the system folders. It is the same offline installer we get through the direct links on this page. Now if you want, you can copy and save this full iOS installer from the directory shown in the screenshot.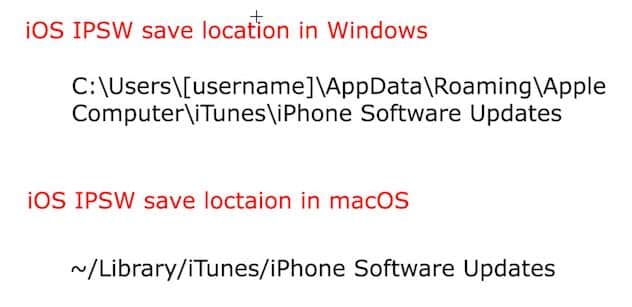 I'm able to find iOS 16 firmware from the above location in macOS High Sierra, but I couldn't confirm the same for Big Sur.
Get iOS 16.6 & 15.7.8 IPSW (offline software update) for iPhone