I usually rely on Steam to play old Windows games on my macOS. Some of my all-time favourites, like Counter-Strike, are available through the Steam client on macOS. However, things changed when Apple released macOS Catalina, which doesn't support installing 32-bit apps. This became an issue as Counter-Strike and many other Windows and Mac games are 32-bit.
Unfortunately, Steam and game developers have no plans to update these old games for 64-bit operating systems. This poses a challenge for those wishing to play classic games on Catalina and newer macOS versions like BigSur, Monterey & Ventura. This article reviews CrossOver & WineSkin (free) software that can bypass the restrictions for 32-bit apps and games on more recent macOS versions like Ventura.
Install and play 32-bit games and old Windows apps on MacOS
If you have upgraded to a macOS version after Catalina (released in 2019), you may be aware that it no longer supports 32-bit Mac apps and games. This change also affects 32-bit Windows applications on Mac. As a result, nowadays, a standard method for playing 32-bit games on Mac is creating a new partition and installing an older macOS version like High Sierra, which supports 32-bit gaming. On the other hand, some users use virtualization tools like VirtualBox or Parallels to run older macOS versions within their current macOS installation.
However, not many people know that free apps like Wine allow you to run Windows apps on Mac, and the unofficial version of WineSkin can specifically help with running 32-bit games, such as those available on Steam.
Using unofficial WinSkin to run 32-bit games on macOS for free
Due to being an unsupported tool developed by third-party developers, WineSkin has many disadvantages. However, it is worth noting that WineSkin is based on CrossOver, a well-known tool with a long-standing reputation for supporting Windows applications and games on macOS. CrossOver has now become the best solution for running 32-bit games and apps (Windows) semi-natively on a Mac.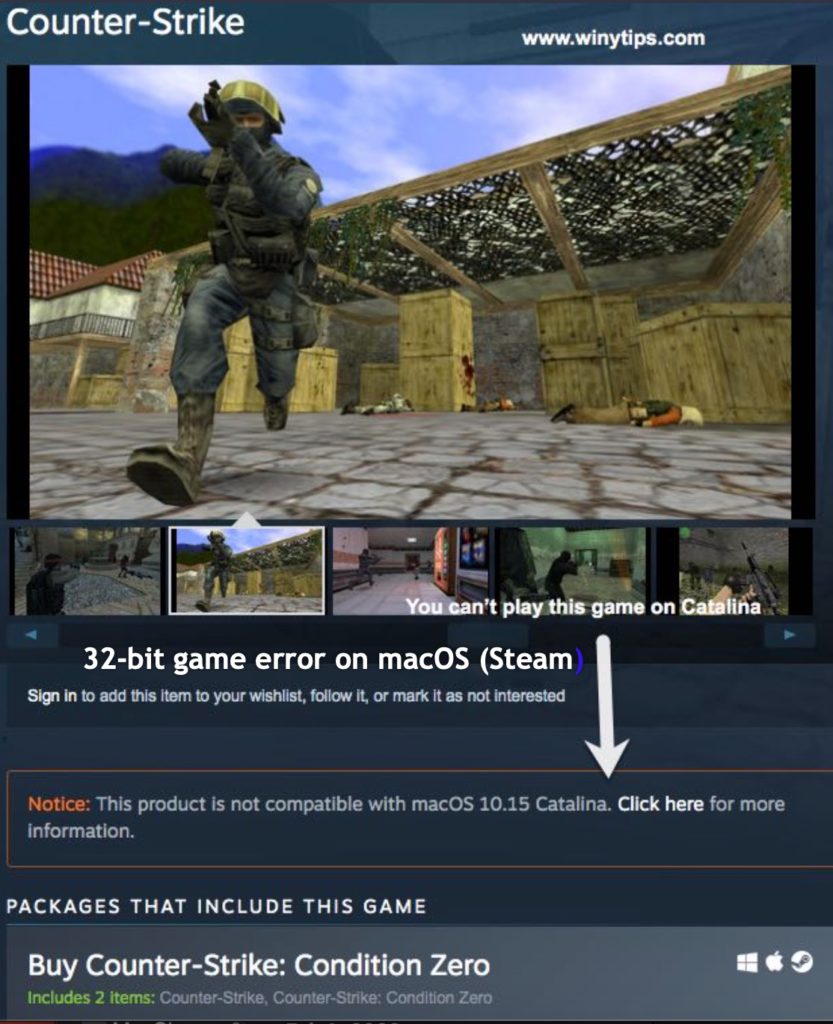 If you attempt to access any 32-bit game from your Steam Library after updating to Catalina or using any newer versions of macOS released after that, you will encounter an error notice similar to the one shown below.


How can CrossOver help you here? CrossOver is an app that can run Windows programs on Mac, and it is fully compatible with the Windows version of Steam. Since Steam for Mac doesn't support downloading 32-bit games from Libaary, we use Crossover to run its Windows edition as a guest program on macOS Catalina above; it can fix issues like "unable to run 32-bit games". As it's the Windows client of Steam that runs 32-bit games, you can play them directly on your Mac- just as you are doing it from Catalina, Monterey, Ventura or Big Sur.
Download a trial or purchase the latest version of CrossOver for macOS Catalina and above
Positives of buying CrossOver for 32-bit gaming on Mac
Run 32-bit Windows apps & games natively on Mac.
Save space by not creating a new MacOS partition or installing VirtualBox or Parallels.
It can run many other (non-Steam) and old Windows-only titles on macOS.
Country-Specific pricing (for eg: if you buy from Indian IP it's only $25 for single-user license).
Very smooth and bug-free app when compared to WineSkin.
Easy to learn GUI and tech support.
Constantly improved for new Windows apps and games.
14-day trial version. You can try and test the functionalities of CrossOver before buying.
Negatives
CrossOver is not free.
Yearly renewal may be needed to get updates and continued tech support.
Some Windows games or apps may be unsupported or too buggy to install, but you can of course request for support.
Costly in some countries ($75 for full version in USA).
Though CrossOver is not a free software, costing approximately $25 (in India), it is incredibly affordable compared to other options, such as owning a license for Parallels or Windows 11. Considering the total value of games in my Steam library is over a hundred dollars, CrossOver is undoubtedly the best application for me to play Steam and old Windows games on my Mac, without a doubt.
Steps to install and play old 32-bit games on a Mac with CrossOver
CrossOver and makers Codewevers have been in Industry for a few years now, but the software became beneficial for me after the release of Catalina. CrossOver is a fork of Wine, an app that provides a compatibility layer for running Windows programs on Unix-based operating systems like macOS, Linux, etc., without virtualization or emulation. The latest version of CrossOver, version 21.2.0, allows you to open classic Windows games and apps on macOS and addresses the long-standing issue of 32-bit gaming on Mac from Catalina all the way up to Ventura. With CrossOver, you can now run 32-bit games on your Mac without any hassles, especially if it's a Steam title.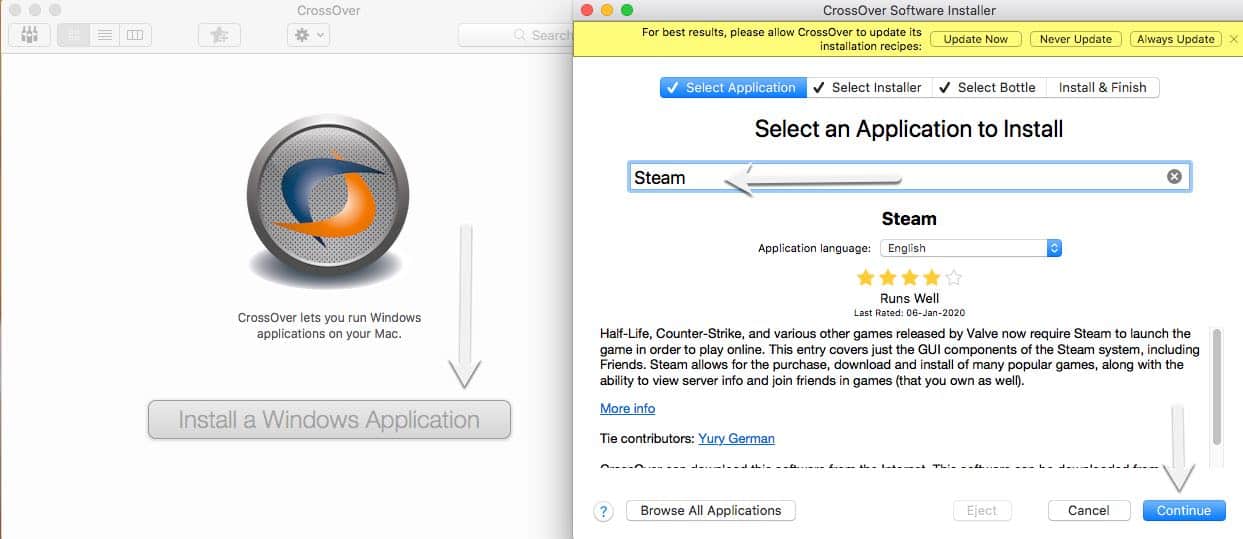 For this example, we install Steam for Windows on macOS Catalina using CrossOver. Then we use Windows client of the Steam to download and play the 32-bit games from it's library.
First of all, purchase or get a trial version of Crossover from link given above.
After installation, open the app, and click on "Install a Windows application."
Now, search for Steam (which is fully supported) and continue with the installation. Wait for CrossOver to download all the needed files.
It may ask permissions for installing some fonts, and Microsoft XML Parser 3.0- allow it.
Once it is ready, you will see the Steam installer appearing on your macOS desktop- permit for any additional file download and sign-in.
Login to Steam as usual and open the Library. Here, you will find that the circle with cross marking has gone. Hence, you can download and install the 32-bit games as shown screenshot.
Once downloaded, Click on the Play button to start playing your 32-bit Seam game on Catalina (works on macOS Ventura too).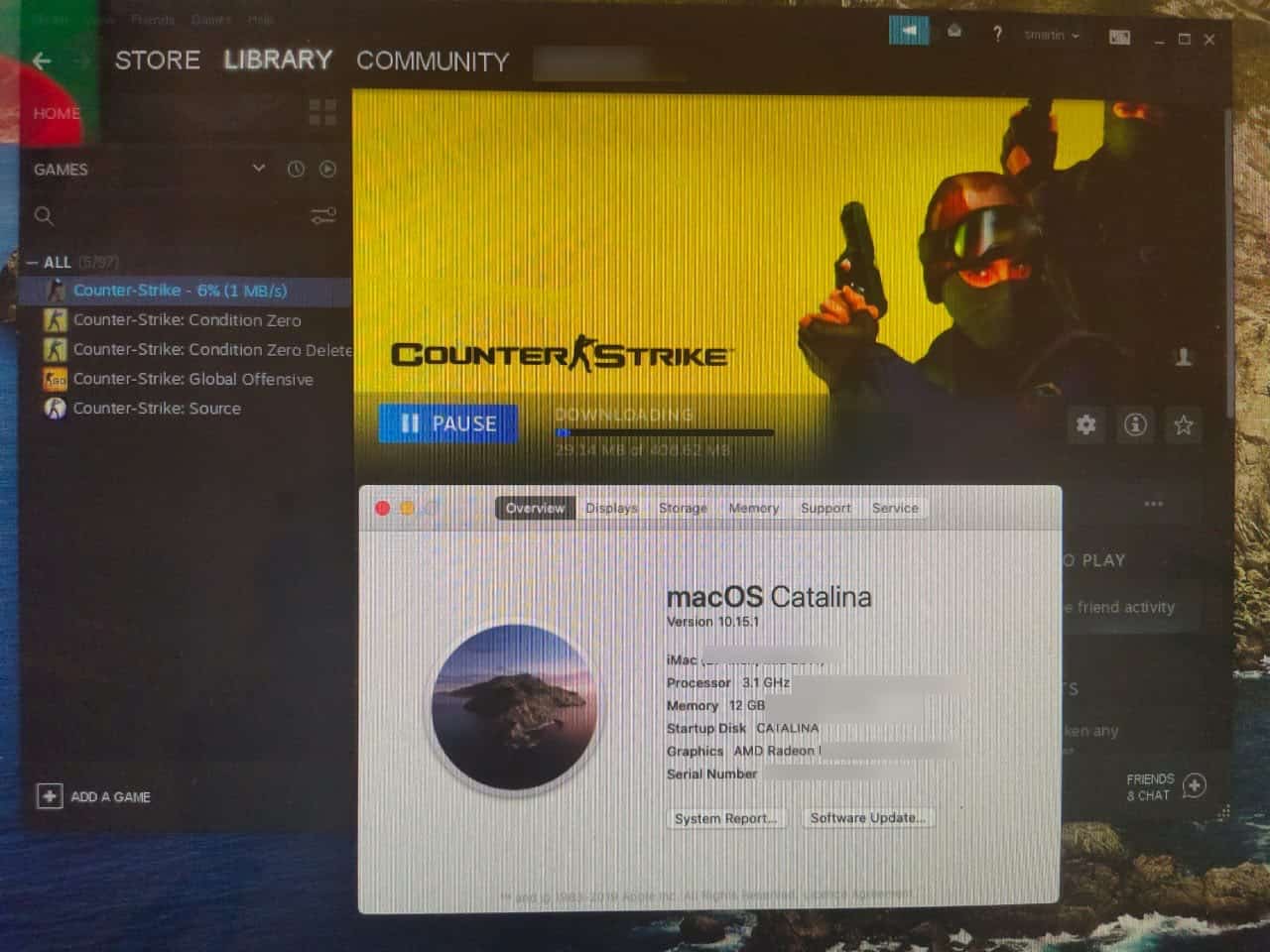 Using CrossOver to install and run old Windows 32-bit games and programs on macOS
CrossOver can run almost all popular and old Windows games although we talk mainly about Steam 32-bit titles in this page. One may use the search function for non-steam Windows games, for example, "Alien Terminator." Many of the popular titles are already supported. You can see the compatibility status, with a rating, within the application itself. If the score is four stars or above, then you can assuredly use CrossOver to play that Windows game on Catalina.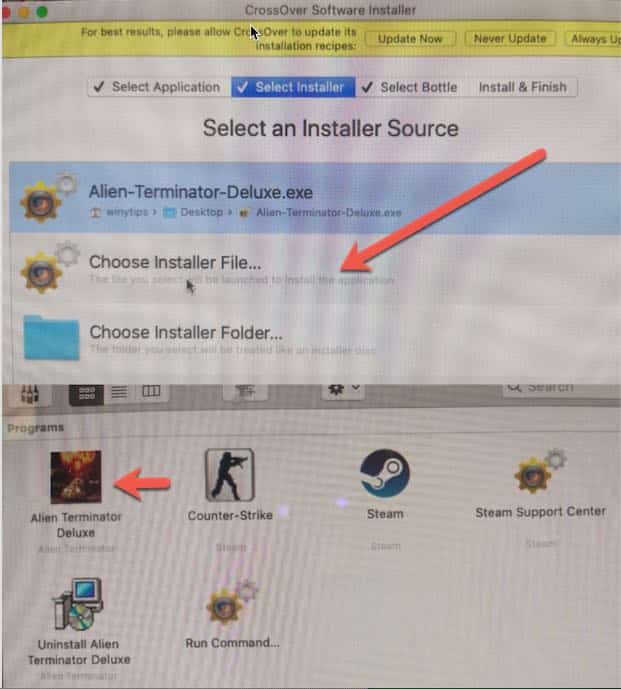 There is a "Select Installer" option at the top section of the CrossOver app- click on that, and then point your game installer (.exe) or the game folder. CrossOver then bottles the game for macOS, and adds it's icon into the app in window as shown above. It works for old Windows programs too.
Play 32-bit games on MacOS ( Run old Steam & Windows titles)