An HDFC Bank customer can login to their credit card account through online netbanking or a mobile app. If a first-time user wants to register for a credit card account, an existing customer would be looking to check their HDFC CC statement, make payments, or convert their reward points. A few other people may want to regain access to their locked accounts. We are here to help: check our collection of all HDFC Credit card related login URLs.
HDFC Credit Card (CC) login (netbanking and mobile app)
HDFC Bank netbanking users would have seen the Cards tab while viewing the online account page. It lists tools and settings for the debit and credit cards mapped to the account. If you apply for a credit card and HDFC approves your request, the CC automatically gets added to this section. Hence, the cards tab in HDFC netbanking is your starting point for all credit card related activities.
HDFC Bank CC portal login
Sign in with your mobile number to the HDFC MyCards App for mobile/web to manage all your HDFC credit cards. You can do it in the app if the card is not already added. HDFC My Card is a PWA that works across all your devices.
If you have a savings bank account with HDFC Bank, you can access the credit card section after login in to netbanking and moving to the Cards section at the top.
Those with only a credit card relationship with HDFC must use the dedicated credit card portal to access and manage their HDFC credit cards; click the button above to register and login.
Accessing HDFC credit card netbanking login page
Let's see how you can login to HDFC's credit card section from the netbanking portal.
Step 1: Sign-in to HDFC Credit card page on netbanking, here. The user ID and password for the login is your netbanking credentials.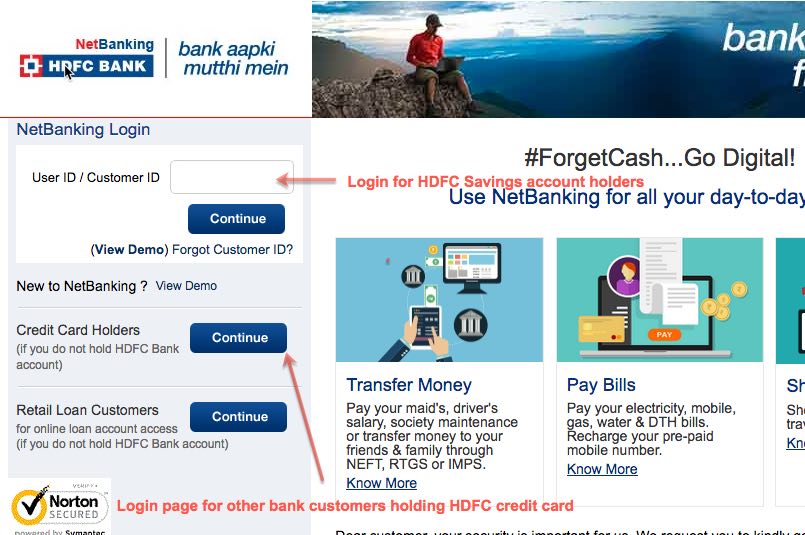 HDFC Savings account, and and other bank customers (holding HDFC CC) may use the above link login and manage their credit cards.
Step 2: Open on the Cards tab, the fourth menu in HDFC netbanking.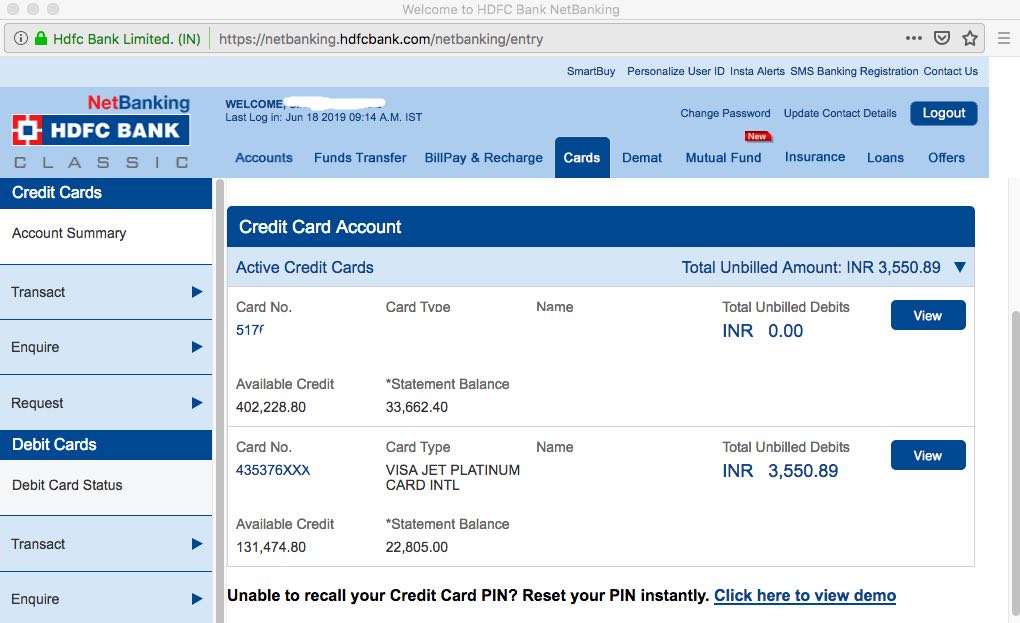 Step 3: Press the arrow next to Total Unbilled Amount, and click on "View" button to expand credit card summary.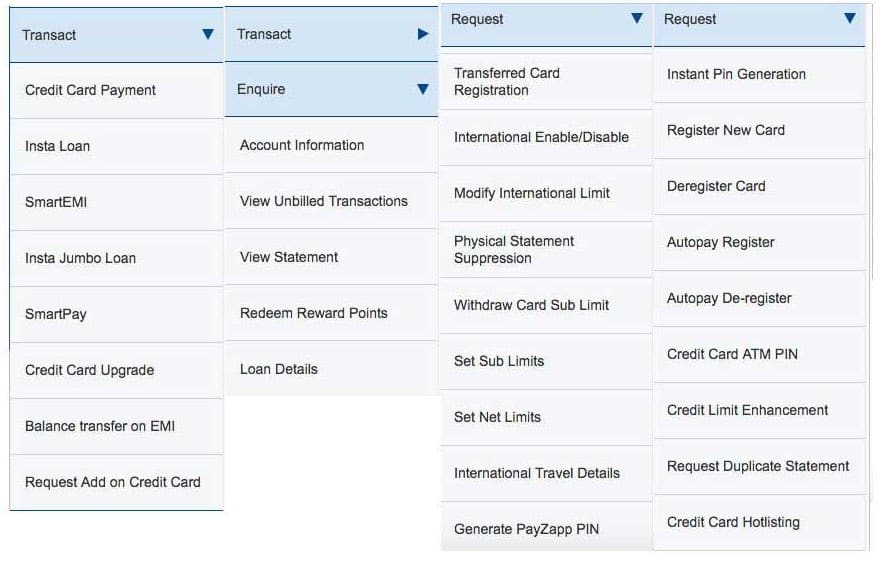 Depending on the requirement, choose a suitable sub-menu, Transact, Request or Enquire, from the left side of the site.
You can manage more than 30 options relating to your CC through the HDFC credit card login page on netbanking. It is possible to make a credit card payment, regenerate the PIN, block the card, check hdfc credit card statement, redeem reward points, block international transactions, increase the credit limit, convert transactions to EMI, apply for Insta or Jumbo loans, and many more.
HDFC Credit card first-time user registration
HDFC Bank automatically registers the card number to customers netbanking account. It happens when you mention savings account details in the credit card application form. If you can't find your credit card after the first-time login, you may do the following to register it on netbanking.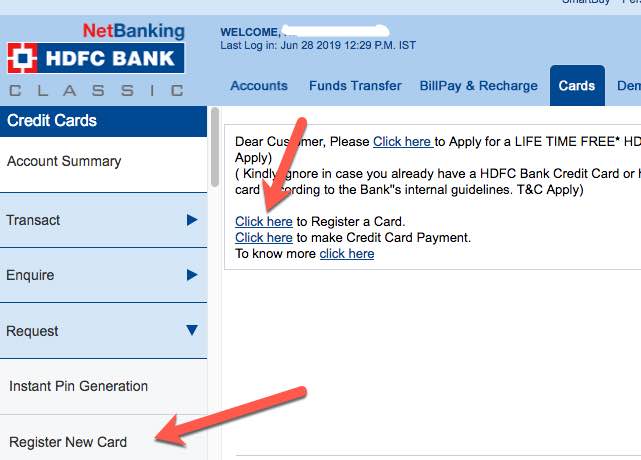 Also, If you wish to apply for a new HDFC credit card, click on the first link to start the application.
Creating HDFC CC login ID and password (for other bank customers)
There is a unique online portal for non-HDFC bank customer holding HDFC Bank credit cards. These people have their savings account on another bank, but they HDFC bank as their credit card issuer. Such a customer should register for a new HDFC credit card netbanking account before they could access the site and its features.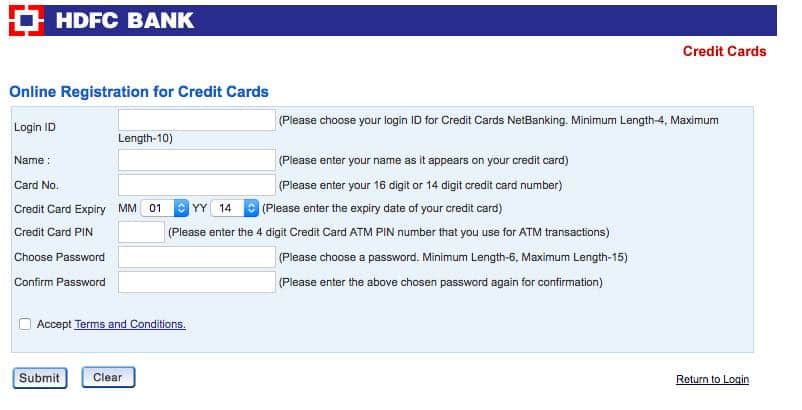 Pick a user ID and password by providing the details in your HDFC credit card welcome kit. The bank will send an OTP number to the registered mobile number to confirm your login choices.
Login to credit card account using HDFC Bank mobile app
It is very unfortunate that the largest credit card issuer in the country is unable to provide a mobile app. Yes, they don't have one if you wish to download a standalone HDFC credit card mobile app. Thankfully, saving account holders can use the existing HDFC bank mobile app for iPhone and Android to login and access their CC relationship.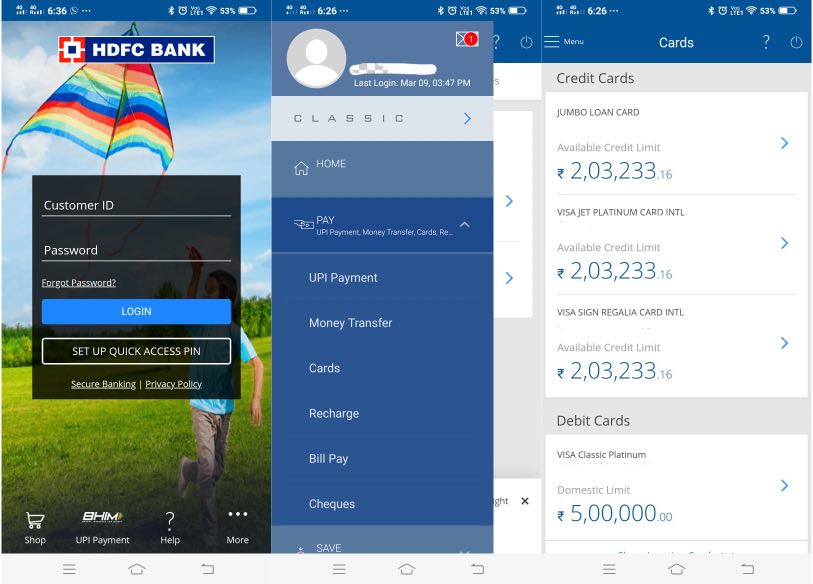 Use the HDFC netbanking login ID and password to sign in to this app. After this, click on the Menu button at the top left corner to access the credit card section, just as shown in the screenshot.
How to reset the password if HDFC CC login is disabled?
HDFC website disables credit card logins if a customer enters the password or PIN wrong a few many times in a stretch. Usually, it's a temporary security measure and the lock lifts in 24 hours. However, if you want immediate access, you can get it by resetting the password.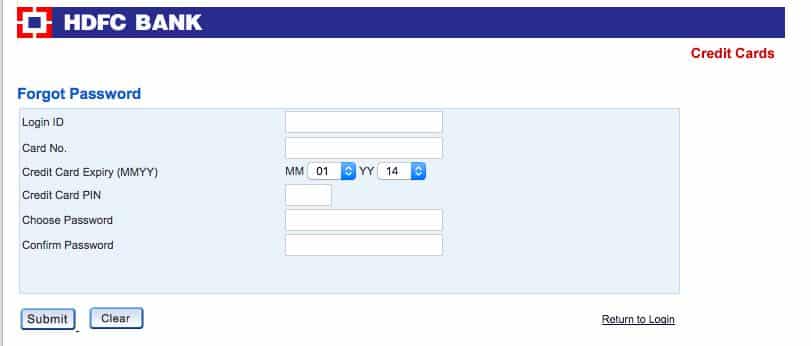 It is easy to change the credentials if you have the user ID and card details with you. A non-HDFC bank customer may visit this URL to generate a new password. People using HDFC netbanking for their credit card have to provide their debit card details for resetting the login password, here.
HDFC credit card bill payment login (BillDesk) for other bank customers
Nowadays, a lot of third-party companies have the facility for HDFC and other credit card payments. The advantage of using services like PayTm and Cred for paying your bill is their support for almost all banks in India and of course the user-friendly mobile apps. They also provide offers and discounts if you pay bills through their platform.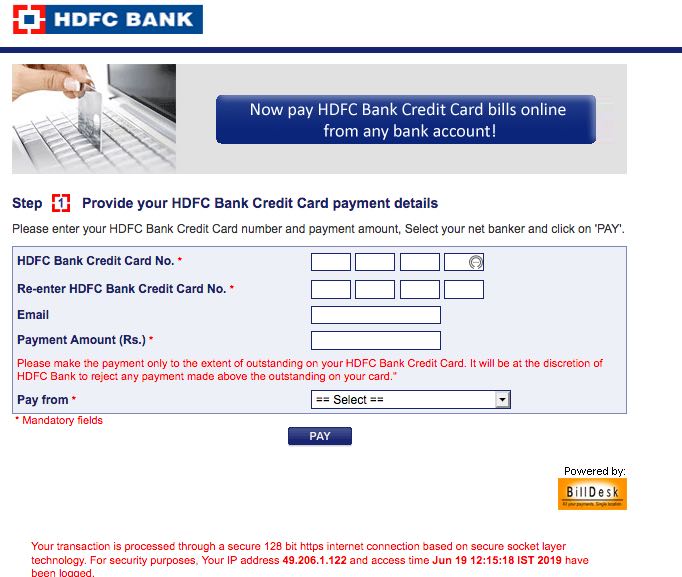 However, in my experience, the payments through Cred and other apps should be made at least 3-4 days before the due date. The most reliable alternative to HDFC netbanking for paying credit card bills from another bank is Billdesk. Click here to pay HDFC Credit card bill with other bank account.

HDFC login page for Credit Card point redemption
Wish to redeem the reward points accumulated in your HDFC Bank credit card? The netbanking and credit card portal offers a solution for most of the cards. This setting is available under the "Enquire" menu, only in the online site. A pop-up re-directs you the HDFC MyRewards redemption site when you select the CC and proceed.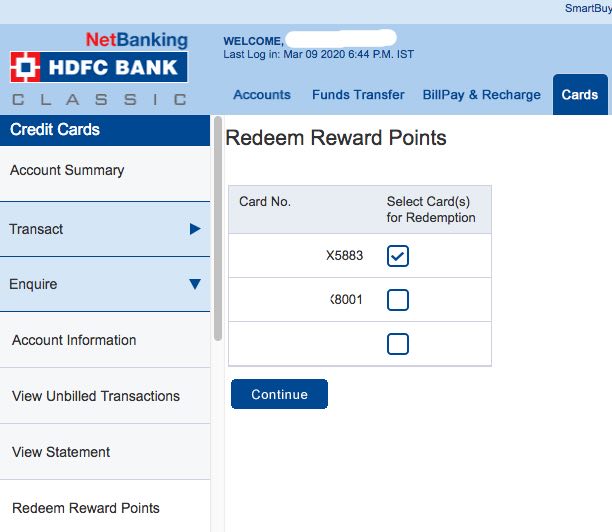 There are separate reward stores (myrewardz.com) for premium HDFC credit cards like Infinia, Diners Club, Regalia, etc. Use your mobile number or login details to redeem reward points as flight tickets or gift vouchers for Flipkart, Amazon, Uber, etc.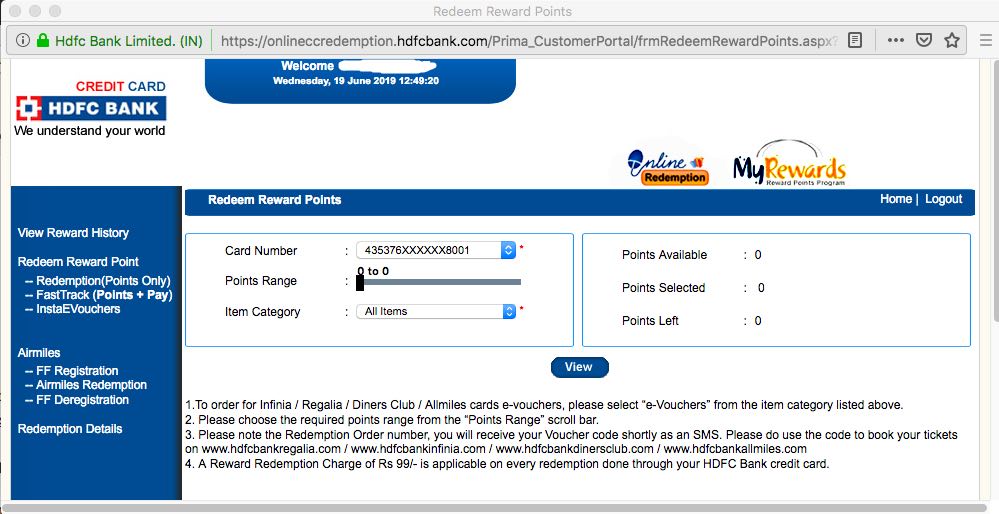 Those who are holding JetPrivilege HDFC Signature/World, Platinum, Titanium/Select may login to this page for converting their Intermiles. It is possible to convert Intermiles to cash (Amazon Pay or Flipkart gift voucher) if you sign-up for the site with your JP number.
HDFC Credit Card (CC) login – netbanking & mobile app (2023)