Downloading Google Chrome offline installer helps when the inbuilt updater cannot upgrade the browser to the latest version 87.0.4280.66 on a Windows 32-bit or 64-bit PC. Chrome usually checks for updates automatically from time to time. But sometimes the About section displays "update failed: error 3, 4, 7, etc." while downloading new versions. It happens when Chrome files are damaged, or if something blocks updater module from accessing the Internet. There are a few solutions to fix Chrome's update issues on a Windows PC, but getting a full Chrome installer is the most comfortable option for novice users.
Google Chrome web browser offline installer [2020]
When you open the Google Chrome browser portal here, the site recognises your system configuration and offers a download link as per the profile. If you are on Windows, the download is a stub installer, which then connects to the internet to download the Chrome 64-bit/ 32-bit version. Several other web browsers using the Chrome engine, for example, Brave browser, also provides a similar experience. The online installation often enables automatic updates, so that the upcoming versions are quickly downloaded.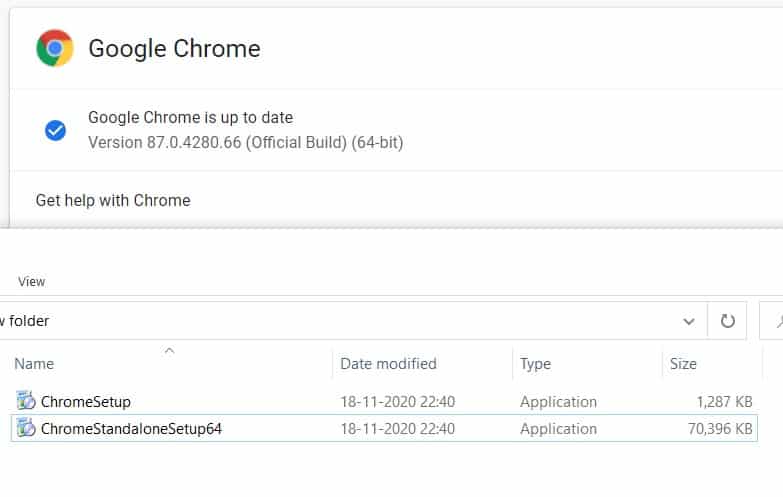 However, Chrome's online update fails for some users. If you are one of them, we recommend you download Chrome offline installer to get the latest product and security features. The main advantage of the standalone Chrome update is that it lets you install the browser on as many as PCs or Laptops you like, without new downloads. Wondering were to get Chrome browser's full installer packages? Check the links below.

Download Chrome offline update installer 87.0.4280.66 (32-bit/64-bit) for Windows PC
Check this page for all new changes (for developers) in Google Chrome 87.0.4280.66. Here you may also find the proposed features in upcoming version 89 releasing on January 2021. Google Chrome offline installer comes in different packages; choose one depending on your system and requirements.
Download Chrome 64-bit or 32-bit offline update for Windows PC. Alternate link to Chrome standalone installer [Click here]
Google Chrome 87 portable offline installer: If you want to open and use Google Chrome without installing, download Chrome portable ZIP installer (archive).
Google Chrome web browser MSI: Click here. Although it is mainly network admins, regular users may also try Chrome's MSI installer as it is also good for offline updates. One may use this version to manage Chrome upgrades through a network, using Google's Group policy templates.
Finally, if you are an enterprise or cloud user, click here to the official page where you could find the link to download Chrome's full installer package in ZIP format for Windows and Mac computers. This package contains Chrome MSI installer, and many ADM/ADMX templates, and resources for managing and updating Chrome browser on the systems under your control.
How to install and update Chrome to the latest version
If you are installing the Chrome web browser on your PC for the first time, go to the Windows setting and check whether it is 32-bit or 64-bit and download an offline installer accordingly. When it is ready, double-click on the Chrome's installer file, and go with the on-screen instructions.

The usual way to update Chrome in a Windows PC/Laptop is to open Help settings and take "About Google Chrome" option from the menu. The Chrome will update automatically to the newest version 87.0.4280.66 if there isn't any issue with the updater. However, if you get errors like 3, 4, 7, etc., assume that there is a problem with the online update. In this case, download the full Chrome installer from the above link to replace and fix the existing installation. You can also check our video for dealing with the common Google Chrome update errors.

Old version of Google Chrome standalone installer (v.49) for Windows XP/Vista
New releases of Chrome browser is incompatible with Windows XP, Vista, and a few macOS versions before Mountain Lion. Still, Chrome is the best web browser for these platforms, as it can render many of the new and SSL enabled websites and web apps. If you are an old version of Windows, download Chrome 49 offline installer for your old PC (32-bit & 64-bit), here. The Google Chrome 49.0.2623.112 is the last version of the browser suitable for Windows XP SP3 and other older versions of Windows.
Download Google Chrome 87 Beta, Dev 88 & Canary 89 full offline installers
It is good to follow the feature changes in Google Chrome web browser if you are a designer or developer. As Chromium engine is the heart of most of the web browsers, tracking it helps you update your sites and web applications to meet the future requirements. Check out the following screenshot, which says, how Google is going to flag files served from unsecured URLs in future versions of Chrome. If it is as per the current plan, Chrome will block mixed content (non-SSL) downloads from an SSL enabled site from January 2021, with the release of version 88.
Those who download the Chrome Beta and Canary builds, can test and prepare their websites for the upcoming changes in the browser world, right now.

Google Chrome 87 (beta) is the upcoming version of the browser, now in the front line of the development channel.The Chrome 88 & 89 download links given below are offline installers for Windows and macOS. You get a file based on the system from which you access the URL. Please note that you cannot install Chrome 87 (Stable & Beta) and Chrome Dev 88, versions at the same time. However, you can always install the Canary edition separately as a browser.
Chrome 87.0.4280.66 (Beta) offline installer: Click here.
Chrome  88.0.4315.5 (Dev) offline installer: Click here,
Chrome 89.0.4329.0 (Canary) offline installer Click here.
Download Dev version if you want to test the upcoming features of Chrome browser, without worrying much about the bugs. Chrome Canary may have some features that might take at least 3-4 months to come to the stable version.